Welcome to March and the anticipation of spring.  We learned this week that the weather during March can be like a lion (wintery, cold) or a lamb (spring-like,warm breeze). The kinders made a lion or lamb based on how they think March will begin.  Check out our results….
POPCORN WORDS:    AND. GET
MATH: Number bonds were introduced to the kinders this week. This is just another way to see number partners.  The kinders did an amazing job working with this new skill. They were also introduced to Tiny Tumblers who live on Math Mountains. The Tiny Tumblers practice their tumbling all day long.  Some Math Mountains have a lot of Tiny Tumblers on one side of the mountain and not so many on the other side, but when you count all of the Tiny Tumblers they equal the Math Mountain number. These math mountains help the kinders learn and practice number partners. For example, on math mountain 6 there are 4 tiny tumblers living on one side and 2 tiny tumblers living on the other side.  (4+2=6)  Here is a YouTube video that explains how we use the tiny tumbler concept in math that you might like to watch.  We also practiced identifying 3D shapes, positional words such as under, above, behind, between, in front of, etc, compared numbers using the terms GREATER THAN and LESS THAN and writing numbers.
READING: We started learning about reading playdates!  We learned that avid readers don't only share books, they are always inventing fun things to do with books and friends.  We used the chart below to guide us with our reading play dates!  Students were able to pick if they wanted to play school, play games or play pretend! The students had fun working with their partners and taking part in the reading playdates!  We also learned that really good readers act out the story in their mind, every time they read.  We are learning that reading is a lot like going to the movies because of all the pretending we are doing!  The kinders practiced reading non-fiction texts and talking like an expert about the books we read. They read books as groups and found things they thought were WOW about the books or moments when we want to ask questions, to learn more!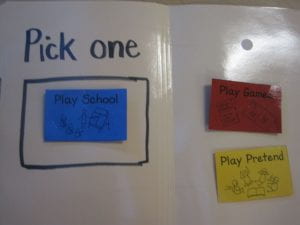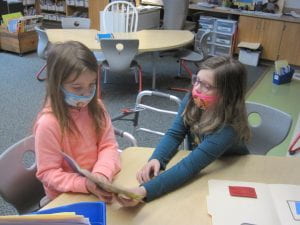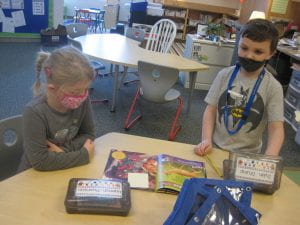 WRITING:  We finished opinion writing by writing about the topics of: 1. Our favorite breakfast. 2. Our favorite color. 3. Our favorite snack. 4. What we like about Georgetown.  We finished our learning by taking an assessment to show what we know about writing an opinion paper all by ourselves! That is called an "on demand" writing. The kinders had to decide on their own opinion, give reasons why to support their opinion and remember to write sentences that start with an uppercase letter and end with punctuation. That's a lot to do all by themselves.  I am so proud of them!  I am excited to share these writings with you at our conferences. 
LITERACY/PHONICS:  The kinders identified sight words, blended and segmented sounds in words, identified final sounds in words and created new words by adding different letter sounds at the beginning of sight words (and, get).
BLACK HISTORY MONTH:  GEORGE WASHINGTON CARVER This week we learned that George W. Carver was a scientist and inventor. He invented many uses for his favorite snack…peanuts.  Thanks to him, we learned that we can be curious about many things.
We also learned about Mae Jamsion by reading a Scholastic newspaper.  She was the first black female astronaut.
KOOL KINDERS SPREADING KINDNESS AND A BEING BOOK LOVER
REMINDERS
WINTER GEAR: Hooray for a bit of warmer weather and the snow starting to melt.  Unfortunately, the melting snow is causing a LOT of water puddles on our playground. Please continue to send your kinder with snow pants, boots, a hat, gloves/mittens and coat every day!  We are planning to continue to wear it outside to help keep us warm and protect our clothes from the mud.
SNACK & WATER BOTTLE:  Please remember to send 2 healthy snacks AND a water bottle with your kinder each day. 
VACATION:  If you have a vacation coming up and your kinder will be missing school, please contact the office for a vacation request form. 
CALENDARS:  Here is the MARCH calendar  You can read about upcoming events, birthdays and more.  It is also posted under CALENDARS at the top of our blog.  Here is the March lunch menu
UPCOMING DATES
*Monday, March 1—MUSIC
*Tuesday, March 2—GYM. Dr. Seuss' Birthday…Dress in your Seuss-ish attire (black, white, red colors or your favorite Dr. Seuss character?)
*Wednesday, March 3—ART; TAKE HOME BOOKS & LIBRARY Don't forget your books!   Homework packet due
*Thursday, March 4—STEAM; If your kinder would like a sack lunch from the lunch service, please email me or write a note by Thursday, 3/4
*Friday, March 5—GYM;  Fast Friday (Early Release) 12:15 p.m. Dismissal. HATS OFF FOR READING!  Wear a cowboy hat or bandana
*Monday, March 8 and Wednesday, March 10…Parent/Teacher Zoom style conferences
***Have a fabulous weekend!  Mrs. Bohl