POPCORN WORDS:  A week of review!
OUR AMERICAN SYMBOLS:  The symbols that were studied this week were:  The Bald Eagle, The Liberty Bell and the American Flag.  We learned that Bald Eagles have sharp talons, they build their nests high in trees near water and they eat fish.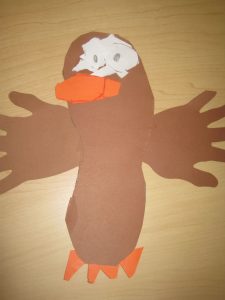 The Liberty Bell cracked the first time it was rung, it is made from copper and tin and it hangs from a wooden yoke.
The American Flag has 50 stars and 13 stripes, it has many names like "Old Glory" and it is red, white and blue.
We talked about what it means to be patriotic and what we do to show patriotism. Examples were wear red, white and blue, hang a flag, say thank you to veterans, say the pledge.  At the start of each day, the kinders are learning to recite the Pledge of Allegiance by standing tall, still and straight.  They have learned what those very special words really mean and what sacrifices the men and women of our country made for our freedom. We THANK them so much!!! We practiced identifying ending sounds by sorting pictures, We made & read  books and made patriotic hats. It was fun to learn how to do a crossword puzzle and word search too. Be sure to have your kinders teach you some cool and interesting facts about ALL of the American symbols we have studied.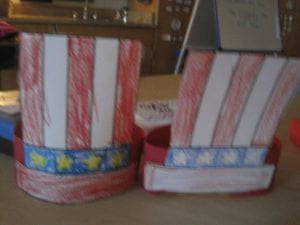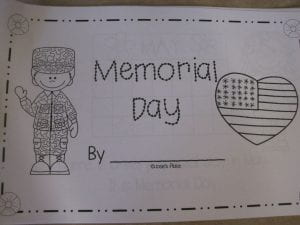 It was fun to see the kinders dressed in red, white and blue clothing, Thank you for participating!  The kinders were EXCITED (to say the least) to learn that I brought "dessert" for them to eat after lunch…..RED, WHITE  and BLUE POPSICLES!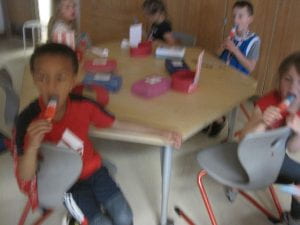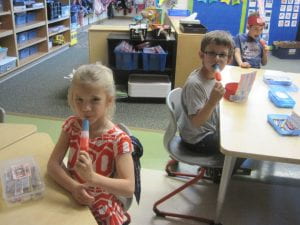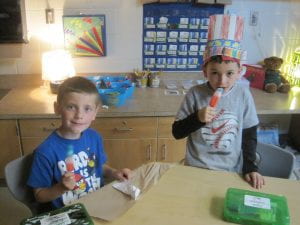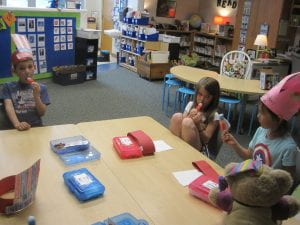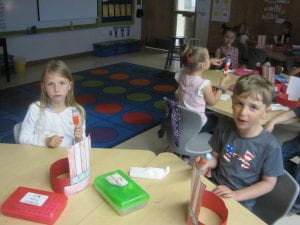 MATH:  The kinders took their LAST unit #5 math test.  They did an AWESOME, FABULOUS, WONDERFUL job!  They worked hard showing what math skills they learned.  These tests arrived home this week.  I know that you are as proud of your kinder as I am!  We spent the other days "dipping our toes" into first grade math.  The kinders were very excited to use their own mini clocks to show the time by the hour.  
WRITING WORKSHOP:  Each day the kinders met with a group that had the same opinion on a topic, talked about the reasons for their opinion and then wrote about it.  These topics were saying why we like Georgetown school, what holiday we like best and which sport we enjoy playing. Our opinion writing ended by having the kinders  write their ON DEMAND piece about their favorite restaurant. This is when they do all of their writing independently, without teacher assistance. The kinders did an AMAZING JOB!  I am so very proud of them. I am in the process of grading them and will send home the writings home soon.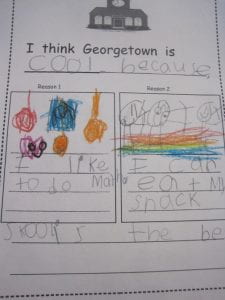 COUNTDOWN TO SUMMER:  Can you believe it? Ten more days of kindergarten!  Oh my! 🙂 The countdown to summer has officially begun in our classroom.  Each day we will open an envelope to see what fun activity is scheduled.  Today the first activity was…..EXTRA RECESS!!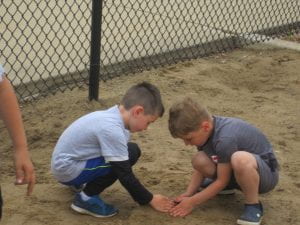 BIRTHDAY CELEBRATIONS:  We enjoyed giving the kinders who have "summer birthdays" (June, July, August) an early celebration.  Thank you for all of the birthday treats.
 Happy early Birthday Brooks!
 Happy early Birthday Aria!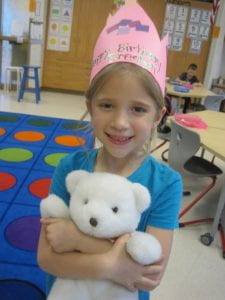 Happy early Birthday Breslyn!
 Happy early Birthday Elliot!
 Happy early Birthday Alesha!
MYSTERY  READER:  Brooks was so surprised and happy to see his dad step into the room.  He read another new story…one that Brooks' grandpa gave him.  It was called  The Wolf, The Duck and The Mouse. Thank you so much for coming in….again!
REMINDERS
*LIBRARY BOOKS:  Almost all of the kinders have returned their library books.  Please return your book this week.
*BACKPACK SNACK:  Please remember to send TWO daily healthy snacks for your kinder, as we take a moment to refuel each day.  Thank you.
*KINDERGARTEN OLYMPICS:   A fun morning of games with all of the kindergarteners!  Kinders will need to wear TENNIS SHOES…NO FLIP FLOPS, SANDALS OR CROCS PLEASE!  They will also need a WATER BOTTLE, LABELED WITH THEIR NAME!  Don't forget the SUNSCREEN…if we have sun :)!  Volunteers  should arrive at 8:45am for instructions. PARENTS & YOUNGER SIBLINGS, YOU ARE WELCOME TO JOIN US FOR A PICNIC LUNCH ON THE PLAYGROUND IF IT FITS INTO YOUR SCHEDULE.  WE WILL BE EATING AROUND 12:00PM
UPCOMING DATES
*MONDAY, MAY 27:   MEMORIAL DAY, No School
*TUESDAY, MAY 28:  MUSIC; Birthday celebration for Colton and Jase;  Countdown to Summer Day 9
*WEDNESDAY, MAY 29:  GYM;  Countdown to Summer Day 8
*THURSDAY, MAY 30:  ART;  Countdown to Summer Day 7
*FRIDAY, May 31:  STEAM;  KINDERGARTEN OLYMPICS  Countdown to Summer Day 6
*FRIDAY, JUNE 7:  Last Day of School.  Dismissal at 12:15p.m.
~~~Have a great long weekend. Enjoy the wonderful weather while you celebrate Memorial Day!  Mrs. Bohl