POPCORN WORDS:   NOT   WHO
READING:  The kinders practiced using their retelling skills all week long.  After listening to a valentine story, the kinders retold the story by recalling the characters, setting (where did it take place) and the order of events.  While they were reading with their partners, the kinders were able to put their retelling skills to work using the books inside of the blue book boxes.  Enjoy hearing your kinder retell you The Day it Rained Hearts using the picture cards at home.
MATH:  It was all about showing teen numbers using tens and extra ones, comparing numbers using the terms GREATER THAN and LESS THAN and solving addition and subtraction math stories.  The kinders completed pages in their math workbooks, used 11-20 mats and manipulatives.  We read another Love Monster story called Love Monster and the Last Chocolate before creating our own math story.
After reading and talking about this week's newspaper, we decided to combine math and our opinion.  First we tasted candy hugs and candy kisses. Next we colored our paper kiss to reflect our choice.  Then we created a graph of Hugs or Kisses on the board. Last we gave a reason why we liked a candy hug or a candy kiss.
SPLIT LIT: The kinders worked on skills such as syllables, writing and reading CVC words, reading popcorn words, identifying ending sounds and identifying "h brothers" (th & sh sounds).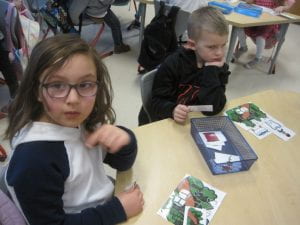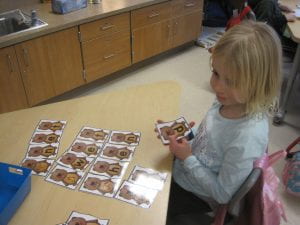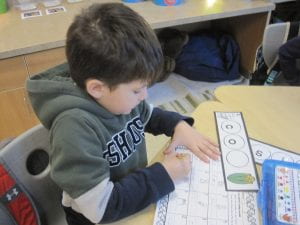 WRITING WORKSHOP: The kinders began learning how to write a new style  of writing…..Opinion writing.  We started with learning the difference between fact and opinion.  Then we sorted statements into an opinion or fact column.  After hearing a story that relates to the day's writing, the kinders give their opinion, write two reasons to support why they feel that way and write a closing sentence such as "_____ is my favorite." or "I really like _______."  WOW!  WOW!  The kinders are writing like almost first graders! Do I dare say that?  🙂 They are including popcorn words, spaces between words, sentence stoppers as well as giving awesome reasons. Our topics this week were: 1. What animal would you take home from the zoo? 2. Liking winter or summer.  3. Choosing hot lunch or home lunch.  Have I said lately, how proud I am of them! 🙂 . This is difficult writing but they are off to a GREAT start!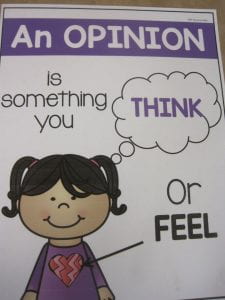 HANDWRITING:  We learned the proper formation of the SLANT TO STRAIGHT upper case letters, A, Y, V, W, X.  We will continue to work on writing our letters (upper and lower case) for the remaining school year.  Any extra practice at home would be helpful.  Some fun practice might consist of shaving cream, salt trays, watercolors, markers, bath crayons, etc.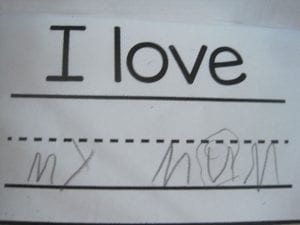 WHERE IS MRS. BOHL?: I want to let you know that I will be out of the classroom Monday morning. I will be screening next year possible kinders.  Mrs. Voss is coming back and will be the teacher. Hooray!  🙂 Mrs. Bynum will still be in the classroom. I will be back in the afternoon. Please take a few minutes this weekend to talk with your kinder about showing Mrs. Voss kindness and respectfulness by following our class rules and making green choices.
KOOL KINDERS ARE BOOK LOVERS:
Ellery likes to read Unicorn Day because she likes unicorns.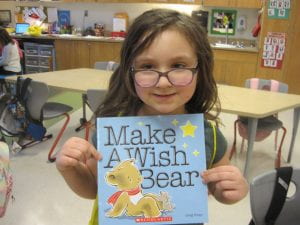 Katelyn thinks this little bear is cute in Make a Wish Bear.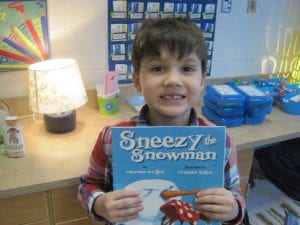 Adrian likes the repeating pattern in Sneezy the Snowman.
Jude likes bugs in the book Bugs in my Hair.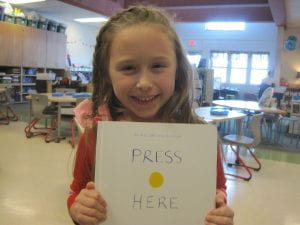 Evelyn thinks Press Here is a funny book.
MYSTERY READER:  Sabrina was so happy to see her dad come into the room.  He read The Day the Crayons Quit.  A fun story about using ALL of the crayons when drawing pictures.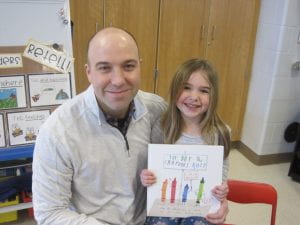 REMINDERS
*WINTER GEAR:  Please send your kinder with all that they need to stay warm on the bus ride and while playing outside….snow pants, hats, mittens, boots. Just a reminder,  we will be outside for recess if the temperature is above 0 degrees. We play out in the fields, and our playground does not get plowed, thank you for your help. 
*MONDAY, FEB 17—GYM; TAKE HOME books;  Mrs. Bohl out of the classroom in the morning. Mrs. Voss is here.
*TUESDAY, FEB 18—ART 
*WEDNESDAY. FEB. 19—STEAM;  LIBRARY Return library book!  Homework due 
*THURSDAY. FEB. 20—MUSIC;  If your kinder would like a sack lunch on Friday, please email me or put a note in their folder by 2/20
*FRIDAY. FEB. 21—-GYM;  Fast Friday…dismissal at 12:15pm
~~~~Have a fantastic weekend.  Stay safe and warm . Mrs. Bohl