Look what we learned in kindergarten this week

ALL ABOUT PRESIDENTS:  In honor of Presidents' Day this past Monday, the kinders learned some interesting facts about 2 famous presidents.  We learned that George Washington was our very first president, he owned 5 farms, he wore white powder in his hair (Ewww…many thought this was strange), his picture is on the quarter and the one dollar bill.  Abraham Lincoln was an honest man who lived in a log cabin. He was the 16th president, he wore a stove pipe hat and kept important papers inside of it and his picture is on the penny and the five dollar bill. We read a newspaper to learn facts and placed facts on posters. The kinders enjoyed making a fun President flip craftivity to complete their learning. Did you ask them what they learned?
SOCIAL STUDIES:  The kinders began learning about and seeing various kinds of maps.  We read Me on the Map to help us broaden our understanding of the world around us.
So far, we have learned that we live in NORTH AMERICA, which is part of the UNITED STATES OF AMERICA and our state is MICHIGAN.  We are making a booklet to assist us in our learning. We will continue our study of maps next week.  Thank you for completing and sending back the picture map of your kinder's bedroom.  You can return it on Monday if you need to finish it this weekend.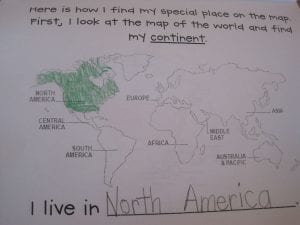 MATH:  We told math stories using our fruit  from our 'fruit & vegetable market' adding written equations.  Remembering what each symbol (+ – = ) means and using them correctly is challenging but the kinders are doing a great job. We continued to learn how to show teen numbers as tens and extra ones as well  as learning that you can write a teen number equation two different ways but they mean the same thing.  One way is to write the partners first and then the total (10+4=14) or write the total first and then the partners (14=10+4). The kinders counted, matched compared numbers by telling which number was greater and which number was less. We also practiced finding partners of ten and showing them with a break apart stick. We finished up the week by learning more about the attributes of 3 dimensional shapes. 
READING: This week the kinders learned that an AVID READER reads a lot, finds places everywhere to read, keeps a stack of book nearby, can't stop reading and really pays attention to the book but a BLAH READER is disinterested. The kinders sorted pictures to decide if it showed an avid reader or not an avid (blah) reader. They also learned that AVID READERS try to feel what the characters are feeling.  Are the characters feeling happy, sad, excited, scared?  This makes the story enjoyable to read. We re-visited an old favorite The Carrot Seed to notice feelings along with the poems Mary Had a Little Lamb and The Itsy Bitsy Spider. The kinders worked in small "book clubs" to find important parts in books and by themselves by putting a sticky note on that page.  All of the kinders worked so well together, taking turns, sharing and talking.  I was very impressed!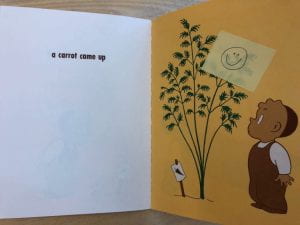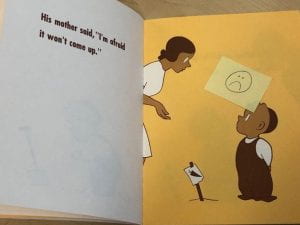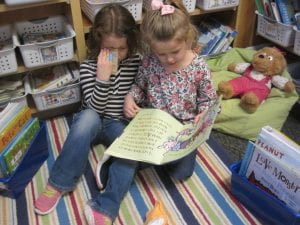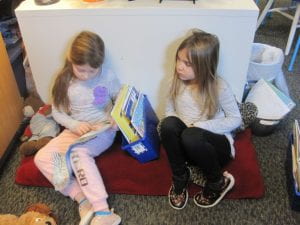 ASSESSMENTS:  Assessing your kinder in their literacy and math skills are underway.  I am so proud of the progress I am noticing. Notes stating your kinder's independent reading levels are starting to come home.  Notice that their TAKE HOME books have reflected the change in levels. Please continue to work with your kinder at home by writing upper and lower case letters with proper formation, reviewing their popcorn words, reading books with them and listening to them read to you.  Don't forget the math skills of counting by 1's and 10's to 100, writing numbers 1-20 with proper formation, telling, drawing and solving addition/subtraction stories and looking for number partners (2+4=6 & 10+4=14). As you can see, we are very busy learning and reviewing many skills in kindergarten.  I am excited to share your kinder's personal progress with you at conferences.
WRITING WORKSHOP: We finished opinion writing by writing about the topics of: 1. Playing on swings or slides. 2. Swimming at the beach or pool. 3. Eating ice cream in a bowl or cone. 4. Favorite holiday…Halloween, Christmas or Valentine Day.  We finished our learning by taking an assessment to show what we know about writing an opinion paper all by ourselves! The kinders had to decide on their own opinion, give reasons why to support their opinion and remember to write sentences that start with an uppercase letter and end with punctuation. That's a lot to do all by themselves.  I am so proud of them!
POPCORN WORDS:      HAD     BAD     MAP
SPLIT LIT: We practiced reading & writing CVC words, rhyming words and  popcorn words.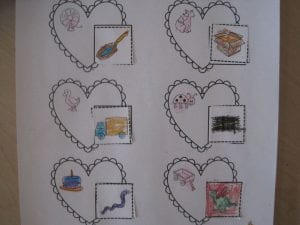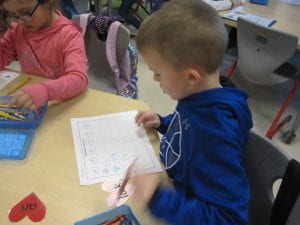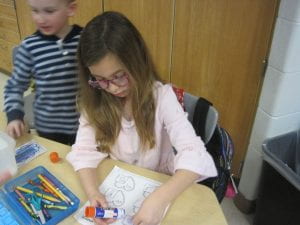 BEHAVIOR:  As we move into the last of February and hopefully the beginning of spring as well as our curriculum grows it is essential for our kinders to be ready to learn. Following classroom rules class rules (in the classroom, in the hallway, on the playground) is a must. Our rules are simple: 1.FOLLOWING DIRECTIONS QUICKLY. 2. RAISE YOUR HAND TO SPEAK. 3. MAKE SMART CHOICES 4.BE KIND. 5. MAKE EVERYONE HAPPY.  Being in a large class can be a challenge for a 5 and 6-year-old.  We always strive to help the kinders to remember "how is my behavior helping or hurting my team (class)?"  We also let them know that mistakes are important because it helps us to learn red choices (bad) and green (good) choices.  Please encourage your kinder to try to be their best.  Thanks for your continued support!
MYSTERY READER:  It was Sutton's turn to welcome her mom as the mystery reader.  We listened to her mom read Froggy gets a Doggy.  We LOVE Froggy books!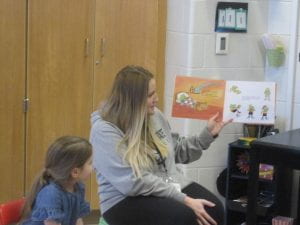 KOOL KINDERS ARE BOOK LOVERS:
Reese likes to read The Christmas Story.
Nora's favorite book is a Shimmer & Shine book called Friendship Divine.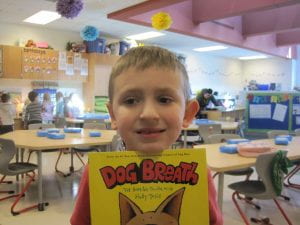 Elliott thinks Dog Breath is a funny book.
Rowan reads The Very Hungry Caterpillar every night before bedtime.
Piggy & Elephant I Will Take a Nap! is Skyler's favorite book.
BIRTHDAY CELEBRATION:  
We celebrated Isla's birthday this week.  Thank you for the fun birthday treats!
REMINDERS
*WINTER GEAR:  Thank you for sending your child with all that they need to stay warm outside….snow pants, hats, mittens, boots. Just a reminder, we will be outside for recess if the temperature is above 0 degrees.  The playground is VERY WET, VERY ICY.  Please continue to send all of their snow gear.
*TAKE HOME BOOKS: Please notice that your kinder is taking home 2 books inside of their baggie.  The lower letter (ex: level B) is their independent reading level.  This is the book that your kinder will read at school.  The higher letter (ex: level C) is to be read together at home, exposing them to what is to come.  Your kinder will need help to read this book.  If you have questions, please contact me.  Thank you for returning BOTH books each MONDAY and THURSDAY.
*BACKPACK SNACK:  Please continue to send 2 healthy, quick snacks with your kinder each day.  Your kinder needs to be refueled so that they be ready to learn.
*KIDS HEART CHALLENGE: You can make donations online until Feb 28. Check out the PE blog for more information.
*LUNCH CALENDAR:  The March lunch menu  has also been posted under the side tab Hudsonville Food Service.
*SPRING CONFERENCES:  We will be meeting in March to discuss your kinders progress.  Our Spring Conferences will be on March 9 and 11.  These dates and times were sent home on Monday.  Did you check your kinder's blue folder? Your time will be the same as it was in the fall.  Please let me know asap if you need to make a change.  I want to ensure I accommodate everyone! 
UPCOMING DATES
*MON. FEB. 24—GYM;  reading TAKE HOME BOOKS
*TUES. FEB 25–ART
*WED.FEB. 26––STEAM; LIBRARY Please remember to return your kinder's book. 
*THURS. FEB 27––MUSIC; reading TAKE HOME BOOKS 
*FRI. FEB 28—GYM
*FRI, MARCH 6–FAST FRIDAY (Early Release Dismissal at 2:15pm)
*MON. MARCH 9—Spring Conferences  4:00-8:00pm
*WED. MARCH 11—Spring Conferences  4:00-8:00pm
Enjoy your weekend and the sunshine!  Mrs. Bohl