POPCORN WORDS:  A week of review!
Hooray for the U.S.A!  This week the kinders learned about our most popular American symbols.
First, we learned what a symbol is (it is a picture that stands for something). Next, we practiced identifying some common symbols for popular spots such as Dairy Queen, Target, Jet's Pizza, etc.  Then we looked at some American symbols like The White House, The Capital, Air Force One, etc.
 After reading a non-fiction book and watching an informational video about each symbol, the kinders labeled parts of each symbol and choose 1 interesting fact to write on their paper. It was fun to make a craft relating to the symbols too.
Fun facts about the Statue of Liberty were:
it was a gift from France

it is made from copper

she is called "The Lady of Liberty"

she holds a torch in one hand and a tablet in the other.
Fun facts about the White House were:
the President lives in the White House

John Adams was the first president to live there

You need 570 gallons of paint to paint the outside. 

It has 132 rooms, 35 bathrooms 3 elevators, a swimming pool, movie theatre, a bowling alley

some rooms are named after colors like The Red Room, The Blue Room.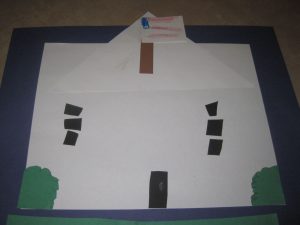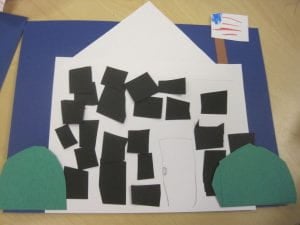 Fun Facts about the Bald Eagle were:
they have sharp talons

they build their nests high in trees near water

they eat fish.

they are the national bird of the United States of America
Fun Facts about the Liberty Bell were:
it cracked the first time it was rung

it is made from copper and tin

it hangs from a wooden yoke.
Fun Facts about The American Flag were:
it has 50 stars and 13 stripes

it has many names like "Old Glory"

it is red, white and blue.

Betsy Ross sewed the first flag in 1776
We talked about what it means to be patriotic and what we do to show patriotism. Examples were wear red, white and blue, hang a flag, say thank you to veterans, say the pledge.  At the start of each day, the kinders are learning to recite the Pledge of Allegiance by standing tall, still and straight. They have learned what those very special words really mean and what sacrifices the men and women of our country made for our freedom. We THANK them so much!!! Be sure to have your kinders teach you some cool and interesting facts about ALL of the American symbols we have studied.
We had a RED, WHITE  and BLUE snack today
LITERACY/PHONICS: We practiced identifying ending sounds, H brothers, middle (vowel) sounds and unscrambling sight words.  We also read some books that included popcorn words. It was fun to do a crossword puzzle and word search too.
MATH: We worked on addition, subtraction, number order and teen numbers that had an American Symbols theme.
The kinders once again dipped their toes into doing some first grade math by learning about odd and even numbers.   We used EVEN STEVEN and ODD TODD to help us understand this math concept better. ( I would love to take credit for this fun game but alas it came from this fabulous website called First Grade Parade.)  This is what we did….   
First, I told the story that Even Steven LOVES things to be fair among his friends.  Everyone always needs to have the same amount.  It is all about being fair! 🙂  However, Odd Todd does not care if friends get a different amount.  It fact, he LIKES that! 🙂  We chose a number between 1-20 and a kinder counted out that many "crackers" (mini unifix cubes). We decided who would get the "crackers"…EVEN STEVEN or ODD TODD. Then, a kinder placed the "crackers" ,one at a time, onto each hand until the cubes were gone. This was a great way for the kinders to visually see if the "crackers" were equal or not equal.  Finally we decided if we were correct in our choice.  Were the "crackers" divided fairly in each of EVEN STEVEN'S hands or was there a different amount in each hand that ODD TODD would like?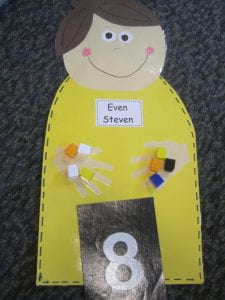 READING: The kinders LOVED retelling books that we have read by acting them out again this week.  We acted put  Goldilocks and the Three Bears by James Marshall. Each kinder was able to practice being an audience member and actor/actress (if they wanted too).
BIRTHDAY CELEBRATIONS: We began celebrating end of May and summer birthdays.  Happy Birthday to everyone and thank you for the birthday treats!!!
UPCOMING DATES:
*Monday, May 31––NO SCHOOL  Memorial Day
*Tuesday, June 1–MUSIC. Please have ALL donations for Kindergarten Olympics at school
*Wednesday, June 2—GYM. Kindergarten Olympics
*Thursday, June 3––ART  If your kinder would like a sack lunch from the lunch service, please email me or write a note by Thursday, 6/3
*Friday, June 4—RECESS. Fast Friday (Early Release) 12:15 p.m. Dismissal.  LAST DAY OF SCHOOL!!!