OUR AMERICAN SYMBOLS:  Hooray for the U.S.A! This week the kinders began to learn about some of our most popular American symbols.
First, we learned what a symbol is (it is a picture that stands for something). Next, we practiced identifying some common symbols for popular spots such as Dairy Queen, Target, Jet's Pizza, etc.  Then we looked at some American symbols like The White House, The Capital, President Trump, Air Force One, etc.
The Statue of Liberty and The White House were the first two symbols we studied.  After reading non-fiction books and watching an informational video about each symbol, the kinders labeled parts of each symbol and choose 1 interesting fact to write on their paper. It was fun to make a craft relating to the symbols too.
Some fun facts we learned about the Statue of Liberty were it was a gift from France, it is made from copper, she is called "The Lady of Liberty", she holds a torch in one hand and a table in the other.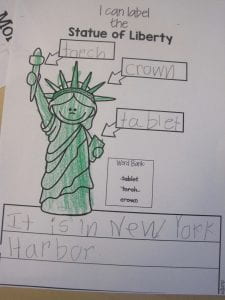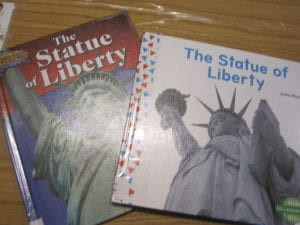 It was fun to learn that The White House is big and white! You need 570 gallons of paint to paint the outside.  It has 132 rooms, 35 bathrooms 3 elevators, a swimming pool, movie theatre, a bowling alley and some rooms are named after colors like The Red Room, The Blue Room.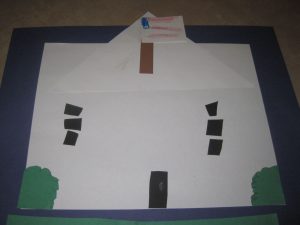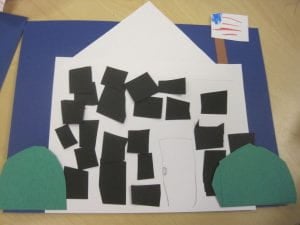 WRITING:  More topics were introduced, more opinions were given, more reasons were written and more writings were shared with friends this week.  These topics included preferring to eat home lunch or hot lunch, playing at the beach or at the pool; eating ice cream in a bowl or a cone; deciding which special class (art, STEAM, gym or music) they like best.  I am very proud of them. We will write a few more opinion writings as a whole group before ending the week with the kinders writing their ON DEMAND Opinion writing next week.  This is when the kinders use all of the strategies they have learned and write without teacher assistance.  I know that they will do awesome job!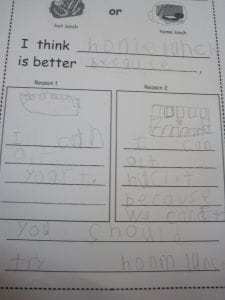 MATH:  The kinders showed tens and extra ones for teen and twenty numbers and compared numbers using terms Greater than, Less than and Equal.  They compared objects using math terms such as longer than, shorter, heavier than, lighter than.  Friday math games had an American symbols theme and consisted of adding tens and extra ones for teen numbers, putting numbers in correct order, solving subtraction problems, counting by 10's to 100 and sorting 3D shapes.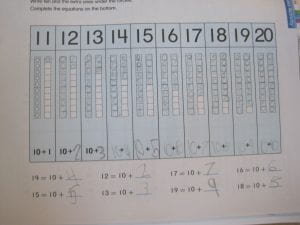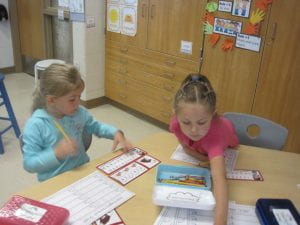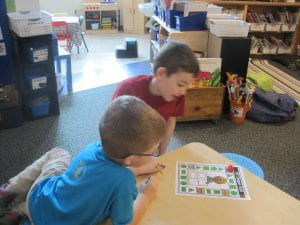 The kinders will be reviewing various math skills the first part of the week and taking their LAST math test…Unit #5 towards the end of the week. Please encourage your kinder to do their best.  The test will cover addition & subtraction problems; comparing numbers using terms shorter, longer, heavier, lighter; showing tens & extra ones for teen numbers; and  more.
READING:  We are AVID Readers and we LOVE to read.  We are working on staying focused on reading for 115-18 minutes.  What an accomplishment as the kinders move into first grade. It was SO much fun reading each other's clothing of places in Michigan such as Mackinac, Central Michigan, Michigan State, John Ball Zoo and of course…Hudsonville.  We also read some books written by Michigan authors. Thank you for helping your kinder participate.  Next week we will celebrate AMERICA! by coming to school wearing red, white and blue clothes.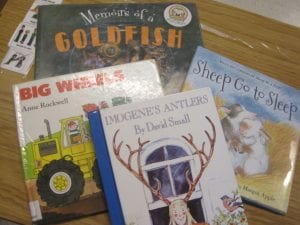 MYSTERY READER: Wednesday Sidney was glad to see her mom in the doorway.  She read Dream I'll Be.  A sweet story reminding the kinders that they can be whatever they want to be when they grow up.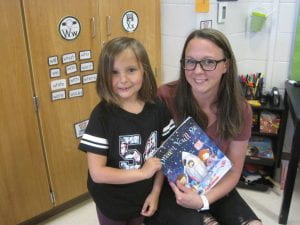 Friday it was Jacob's turn to jump up and welcome his mom and younger brother, Austin into the room.  She read Bunny Cakes, a Max and Ruby story by Rosemary Wells.  We like Max and Ruby stories!  Thank you so much for stopping by.  We love your visits.
TAKE HOME BOOKS: Thursday was our last day of reading our TAKE HOME books. I can't believe it that we are finished. Thank you so much to everyone for reading each night at home with your kinders! They have become such good readers! Thank you so much to all of the parents and grandparents who came to listen to our readers! I couldn't have done it without you!!! 
SPLIT LIT:  During our time this week, the kinders wrote popcorn words, read sentences and matched them with pictures, identified vowel sounds, worked with rhyming words, read books and sorted H brother (ch, sh, th) pictures.
OUR 5TH GRADE BUDDIES:  In preparation for our buddies going on their "sleep over field trip" (actual term is 5th grade camp) on Thursday and Friday, the kinders made them a card.  They also gave them a fun bag filled with a mini game booklet, a marker, starbursts, fruit snacks and a rice krispy treat because "we hope they had "bursts" of fun at camp."  Another way to spread random acts of kindness.  Our buddies were surprised!  Yeah!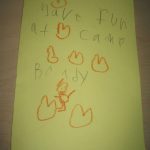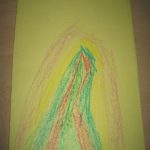 POPCORN WORDS:    TODAY    PLAY     AWAY      UP    Thank you so much for working with your kinder to learn their sight words.  They know soooo many words!  Oh my goodness!  I am so proud of them!
BIRTHDAY CELEBRATIONS:
 Alivia will celebrate her " real" birthday on June 22.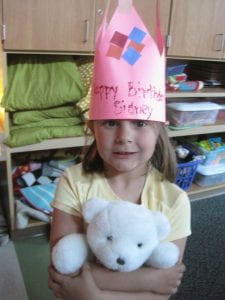 Sidney will celebrate her "real" birthday on July 8.
REMINDERS
*PLEASE RETURN….LIBRARY books   Please return your library book if you still have it at home.  Inventory has began.  Please consider checking out library books from the public library throughout the summer.  
*BACKPACK SNACK:  Please remember to send TWO daily healthy snacks for your kinder, as we take a moment to refuel each day.  Thank you.
UPCOMING DATES
*MONDAY, MAY 20:  STEAM; Celebrate Brooks' (July 18) birthday
*TUESDAY, MAY 21: MUSIC; Celebrate Aria's  (July 19) birthday
*WEDNESDAY, MAY 22: GYM; LIBRARY…we are finished checking out books for this year. Please return any library books you have at home to school. Thank you! Celebrate Breslyn's Aug 8) birthday
*THURSDAY, MAY 23:  ART;  Celebrate Elliot's (Aug 13) birthday
*FRIDAY, MAY 24: STEAM; Celebrate being READERS: CELEBRATE AMERICA!  Wear Red, White and Blue to school!!  Celebrate Alesha's (Aug 15) birthday;  Popcorn Friday
*MONDAY, MAY 27:  Memorial Day, No School
*FRIDAY,MAY 31:  Kindergarten Olympics  If you'd like to help, we are still looking for volunteers! Please email me or return the sheet that was sent home. Looking forward to a fun day! Thanks!