We had fun learning this week in kindergarten.  Look what we did.
Again, thank you for taking the time to attend your kinder's conference this week.  You have amazing kinders and I am so grateful to spend my days with them.  If you have any questions, please do not hesitant to contact me.
MATH:  We completed some pages in our math workbooks.  We found partners within a park scene like 1 duck + 3 ducks=4 ducks.  We met 10 Bug.  He loves to see groups of 10 things.  We counted blue dots and found out that the arrangement of the dots doesn't change the amount. We looked for 10 within teen numbers. (10+4=14) We also put numbers in order by writing them correctly.  During our Friday math games we played HOW MANY TURKEYS? (writing & solving addition problems); I SPY THANKSGIVING FOODS (writing the number of foods found); ROLL, COUNT & COVER ACORNS (number ID); WHERE ARE THE TURKEYS? (matching numbers to ten frames).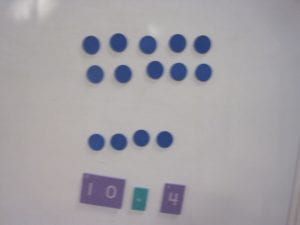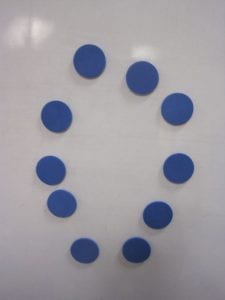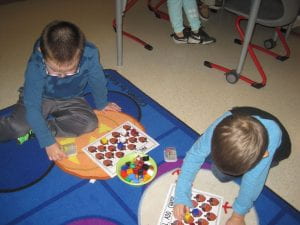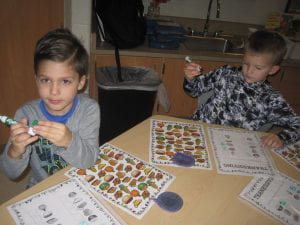 SOCIAL STUDIES:  We began our discussion on who the Pilgrims were and their journey on the Mayflower. We worked together and "shared the marker" to write why the Pilgrims left England, who was on the Mayflower and where they landed. We looked at the parts of the Mayflower ship, stretched out the sounds in the words and wrote them on our paper.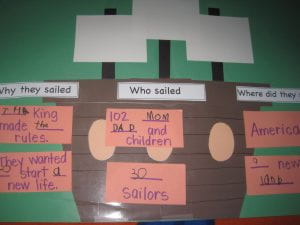 We thought of things that we would need if we packed our bags and went on the Mayflower.  This lead to a deeper discussion about wants vs needs.  The kinders "packed their own trunks" with items they would take along if they were on the Mayflower by creating a list and drawing pictures to match.  Our weekly newsletter was timely as we compared Native Americans to the Pilgrims.
It was fun to see their reaction when they learned how the Native Americans taught the Pilgrims to plant their gardens.  I used cookie crumbs for dirt, candy corn for seeds and fish crackers to explain this.  We all agreed that we are glad that the farmers don't use fish as fertilizer today!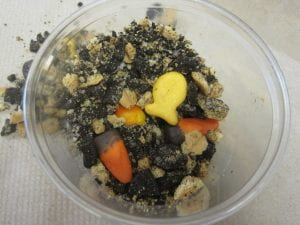 WRITING: We continued to work on writing our narrative/read stories this week.  The kinders thought of a real story that happened to them.  They told the story to a friend and then wrote the beginning, middle and end of their story in a 3-page writing booklet.  They added a speech bubble to their story to help readers see that someone was talking in their story.   They were reminded to use ALL of our writing charts when writing real stories. They learned that writers say their sentence, working hard to write word after word on their paper.
READER'S WORKSHOP:  We added 2 more Super Powers to our chart.  SOUND POWER teaches us that sometimes picture power isn't powerful enough, you need to use the sound of the first letter to read the word. PERSISTENCE POWER reminds us to never give up when trying to tackle unknown words. Using our Super Powers really helps us be Super Readers!
z
POPCORN WORDS:  AN,  CAN,  MAN,  RAN    The kinders were excited when they noticed that "an" was hiding inside of our other popcorn words.  Our shared poem and book also included this week's word…..can.  We had fun making up a new story for when Max gets ready for school after reading how he gets ready to play outside.
HANDWRITING:  We had fun practicing writing our lower case letters this week.  Once a bird was safely by their birdhouse, we wrote the lower case letters (tracing upper case) on our papers.
MYSTERY READER:  Landon was so excited to welcome his grandma into our classroom.  She read us Green Eggs and Ham because she loves to eat eggs and ham and she reads this story often to Landon.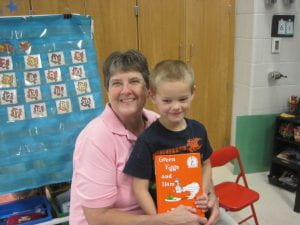 BIRTHDAY CELEBRATION: 
Allan turned 6 on Monday!  
REMINDERS
Now that the snow season has arrived, please remember. When snow is on the ground, please have the following in your kinder's backpack:
Snow pants
Boots-designed for the snow
A Warm Coat
Mittens/Gloves
A Hat
BACKPACK SNACKS:  Please talk with your kinder about the snacks that they are taking to school.  Many are saying that they don't like the snacks that are packed and don't want to eat them.  I have graham crackers and Cheerios for those kinders who forget.
UPCOMING DATES
*Monday, Nov 25—ART   Book Order forms coming home
*Tuesday, Nov 26—STEAM:  Bring Stone Soup ingredient!  Refer to the note that was sent home.
*Nov. 27—Nov. 29—NO SCHOOL, Thanksgiving Vacation
*Dec. 2–Book Orders due (paper form or online) 
*Dec 12—Wrapped books due for our Holiday Book Exchange if you would like to participate.  
*Dec. 12—Holiday Program… 6:30 p.m. at Fair Haven Church in Jenison.  More details coming as date approaches. The kinders are very busy practicing their songs!
*Dec 18—Grinch Day
*Dec 19—Holiday Party   Activities are being planned.  Details about donations and volunteers will be available soon.
*Dec 20—Polar Express Day   Wear jamies to school