Our busy week of learning in kindergarten…..
COLOR WORDS: BLACK    WHITE       We read Harry the Dirty Dog, Harry and the Neighbor, Harry goes to the sea, Please, Mr. Panda and I'll wait Mr. Panda as our color theme books.  We also watched a non-fiction video about panda bears. We all agreed they are cute black and white bears so it was obvious that we needed to make panda bears.  It was fun to use a fork as our paint brush. Thanks for participating by wearing black and white! 🙂 We also made our weekly color flip book, went on a I Spy hunt for black & white pictures and drew a picture of Harry the Dirty Dog.  Our surprise black & white snack this week was OREO cookies.  Not very healthy, I know, but very tasty.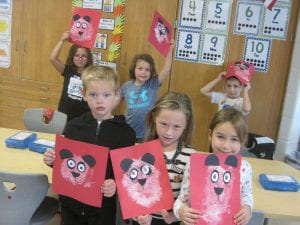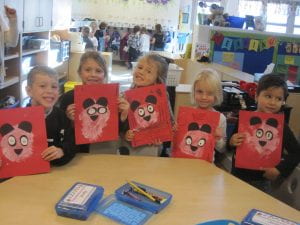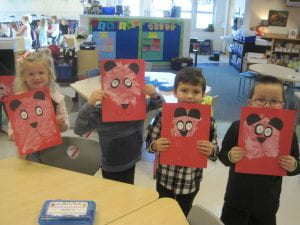 HANDWRITING:  We learned about the three different handwriting lines and how some letters are small, some are tall, and some fall below the lines.  Remembering to always start at the top is tricky so extra reminders at home is helpful. We started practicing the proper formation of Counter Clockwise letters (f,c,a,d).  We will finish the rest of these letters next week.
POPCORN WORDS:   YES   NO  STOP  GO We wrote these words in our journals, found/wrote them in our popcorn paper books, used magnets to create new words by changing the beginning sound (go, no, so, OR stop, mop, top, hop) and in our shared reading poem.  
READING:  As readers, we learned another strategy to use when we get stuck on unknown words.  Tryin' Lion is a cute beanie baby that tells us to "reread and never give up."  He joins Eagle Eye ( look closely at the words and picture) and Stretchy Snake (stretch out sounds in words) as useful reading strategies.   Readers also notice that important words have labels to make reading them easier.  We practiced this by labeling important words in two emergent books. The kinders were given a sticky note to use when they located a character showing a feelings.  A good review from last week's lessons.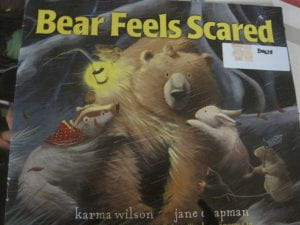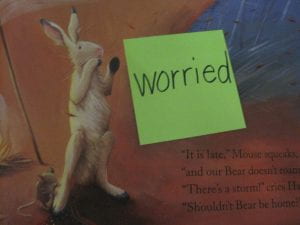 MATH: This week the kinders found out that they can tell math stories and solve the answers to their math stories. For example:  3 teddy bears came and sat at a table.  2 more teddy bears joined them.  How many teddy bears are at the table?"  3+2=5  In addition, they practiced drawing pictures of math stories on whiteboards. They used their math toolboxes to show groups of 5 within numbers (5+1=6) and to compare numbers by using a 5 strip and extra one tiles.  They drew groups of 5 and extra ones, wrote number 6 and counted groups of objects inside their workbooks.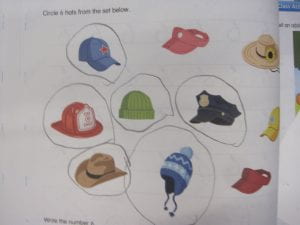 WRITING WORKSHOP: During our writing time we learned that writers stretch out sounds in words, the words match the pictures, they talk and share with their partners. We worked together to create another Show and Tell book.  This time it was about our Homes.  The kinders shared information about where they eat, where they sleep and where they like to play with their writing partners before actual drawing and writing each day.  They are doing a fabulous job drawing detailed pictures, labeling parts of their drawings and trying their best to write a matching sentence such as "I eat at the table. I sleep in my bed. I play in the playroom." (We try to use as many popcorn words as possible when we write together!)  On Friday, we met with Mrs. Tindall's class to read our books together and celebrate being awesome writers!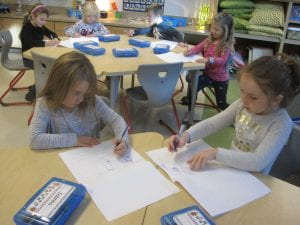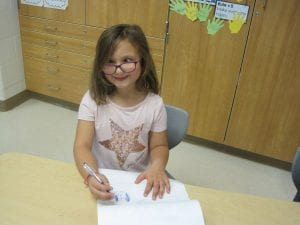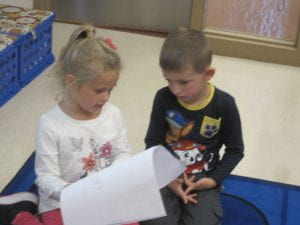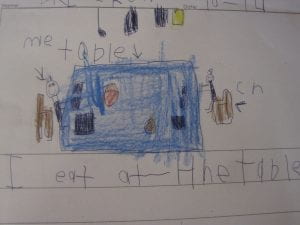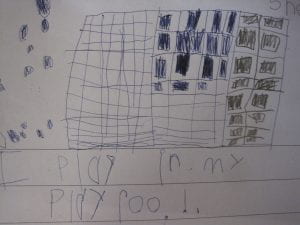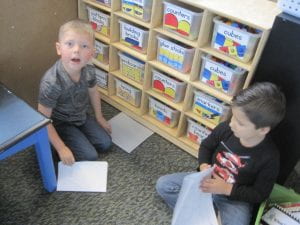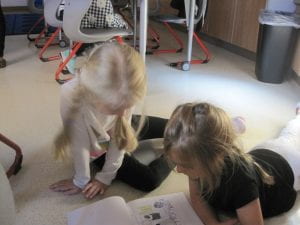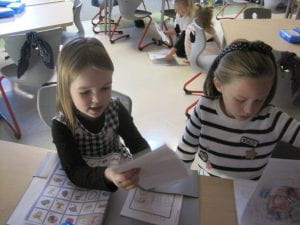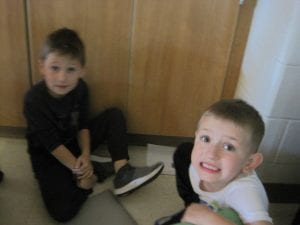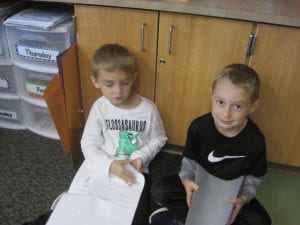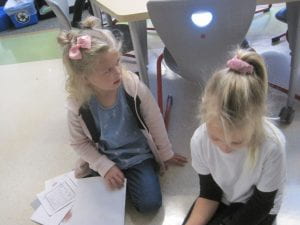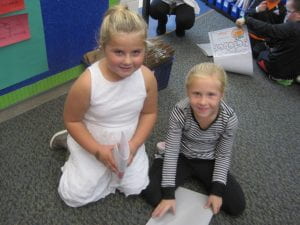 LITERACY:  This week the kinders worked as a whole group with Mrs. Bynum while I reassessed the kinders are their letters/sounds and rhyming words.  We have been working hard in mastering these skills during Split Lit and in small groups.  Their activities focused on sight words, rhyming words, distinguishing between letter b and letter d and listening for sounds in the beginning, middle and end of words.  Look for a note in your kinder's folder informing you of your kinder's progress in the coming weeks.  Our shared reading book was filled with rhyming words.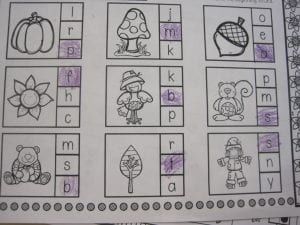 MYSTERY READER: On Wednesday afternoon, Kennedy was surprised…again.  This time it was her grandma who came to read a story to us.  She brought The Day the Crayons Talked because Kennedy LOVES to color. A fun story to hear especially since we are learning our colors words!
IMPORTANT INFORMATION
BACKPACK SNACKS…THANK YOU SO MUCH for being conscientious about sending ONLY TWO healthy, NUT FREE snacks…one for the morning, one for the afternoon.  Our snack time is short but enough time to become refueled.
BLUE FOLDERS and BACKPACKS:  Please get in the habit of taking out your kinder's blue folder each night and removing the papers, art work, etc.  Please place any notes back inside the folder.  That is the best place for me to find them.  Cleaning out your kinder's backpack of extra things will make it less heavy and allow more room for their folder and lunch box.  Thank you!
UPCOMING DATES
*Monday, Oct 21—ART
*Tuesday, Oct 22—STEAM 
*Wednesday, Oct 23—MUSIC; Library–Please help your kinder remember their library book.  Homework packet is due 
*Thursday, Oct 24–GYM    
 *Friday, Oct 25—ART; Wear ORANGE
*Tuesday, Oct 29—Picture Re-Take Day AND Turkey Trot 
*Tuesday, Oct 29—Fall Party games and craft items should be sent into school
*Thursday, Oct. 31—Fall Class Party, 2:00-3:00 p.m.  Food items should be sent into school in the morning 
*Nov. 15—Fast Friday (early release) Dismissal at 12:15
*Nov. 18—Parent-Teacher Conferences
*Nov. 20—Parent-Teacher Conferences
*Nov. 27—Nov. 29—NO SCHOOL, Thanksgiving Vacation
*Dec. 12—Holiday Program…Details coming
Have a fabulous weekend with your kinder.  They are very special little people who I am so thrilled to be spending my days with.  Mrs. Bohl