See what was on our agenda for this week.
MATH:  The kinders practiced number writing 1-20, told addition and subtraction stories and built teen numbers using 10 stick cubes and mini cubes during this week's lessons.
Friday math games consisted of….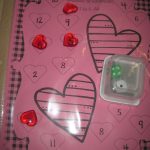 ROLL AND COVER (practicing adding 2 numbers)
  GOOFY GROUNDHOGS (identifying shapes)
  WHICH BURROW IS MINE? (solving subtraction problems using a number line)
SPLIT LIT:  The kinders are enjoying working on various literacy skills like rhyming, practicing their handwriting by writing sentences containing lots of sight words, reading and writing popcorn words and listening to stories on a CD and drawing their favorite part of the story.
HANDWRITING:  Lower case letters p,r,n,m are called DIVER LETTERS because we need to dive down and come back up to finish writing the letter. We also practiced writing them correctly within words too.
WRITING WORKSHOP:  We worked hard this week telling and writing shared small moment stories.  We wrote about our blubber experiment, Split Lit time and making our valentine bags.  We learned what is needed to write a 5 star sentence by editing a small moment story. The kinders are doing an amazing job remembering to add details and labels in their drawings.  They are also working very hard to use popcorn words, spaces between words and sentence stoppers (.  !  ?)  I am so proud of them!
GROUNDHOG DAY: On Thursday 19 kinders predicted "Will we have an early spring?"and 4 kinders thought "Will we have 6 more weeks of winter?  On Friday, the kinders found out that YES the groundhog did see his shadow by watching a video from USA Today. Six more weeks of winter….we are ready!! 
We read a popcorn word book and watched a video to learn some true facts about groundhogs. We found out that groundhogs CAN eat leaves, berries, bugs, live in burrows, gnaw on wood, whistle and hibernate all winter.  They HAVE fur, sharp claws and teeth. Groundhogs ARE rodents, can be a big as large cat and can be called woodchucks. We practiced making patterns and hearing sounds in words too. We also made a fun groundhog puppet to use when retelling a poem in addition to a celebration groundhog hat. A fun day of learning!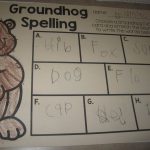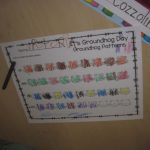 READER'S WORKSHOP:  The kinders LOVE using their SUPER POWERS when they read.  They are continuing to use their SUPER READING POWERS (Lips the Fish, Chunky Monkey, Flippy the Dolphin, etc) to figure out unknown words. In addition to using POINTER POWER & SNAP POWER, the kinder learned how to use PICTURE POWER, SOUND POWER and PARTNER POWER.
"PICTURE POWER" is when we look at the pictures to help us figure out what the words might be.
"SOUND POWER" is when we practice listening to the sounds we read because just looking at the picture is not enough.  We practiced covering the pictures in books to really practice this super power.  Focusing really hard on the sounds we hear to figure out words.
"PARTNER POWER" is when we read with our friends, each taking turns being the 'jelly reader' and 'peanut butter listener', giving helpful tips to the reader when needed.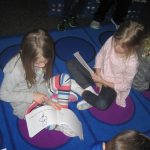 *POPCORN WORDS:           BIG       WITH                                             The kinders are doing a fabulous job of learning their sight words.  Each day I try to include the week's words in the daily message and they are able to locate them every time.  Hooray!
*KOOL KINDERS ARE BOOK LOVERS: 
 Peyton likes to read about the different cars in Cars Galore.
 Star Wars is a favorite of Anderson.
  Mia enjoys watching Shimmer and Shine on TV as much as she likes reading Shimmer and Shine and their Enchanted Bottle.  
  Bentley's favorite book is The Day the Crayons Came Home.  
NOTES FOR MOM AND DAD
*TAKE HOME BOOKS:  The kinders really are enjoying reading and choosing books to read at home. Parents, thank you for your help and support by allowing your kinder the opportunity to read to you, practice their strategies and sight words, as well as instilling in them the pride and responsibility of being a reader.  A HUGE thank you to many parent volunteers who have committed their time!   We could not do this without your help and support. Thank you!! Remember we read books on MONDAY, TUESDAY AND THURSDAY.  Popcorn word lists are read each THURSDAY!
*WINTER GEAR:  Thank you for sending your child with all that they need to stay warm outside….snow pants, hats, mittens, boots. Just a reminder, we will be outside for recess if the temperature is above 0 degrees. 
*BOOK IT CALENDAR:  A new monthly calendar arrived home with your child this week.  Be sure to log all their wonderful reading each day!  Reading the TAKE HOME books counts!!  Return your completed January calendar this week.
*100 DAY CELEBRATION:  Information has been sent home.  Please note that all collections are to be sent to school on Friday, February 9.  I know it will be so much fun for the children to share.  These collections will be returned home the same day.  Thank you for assisting your child in this great math learning opportunity!
*VALENTINE PARTY:  We will celebrate as a class Tuesday, Feb 13 from 1:50-3:00pm. Party center volunteers please arrive by 1:40pm for instructions and set up. PLEASE HAVE NON FOOD DONATIONS BROUGHT INTO SCHOOL BY THURSDAY, FEB. 8. FOOD DONATIONS DUE ON TUESDAY, FEB 13. Thank you to all the parents who are donating and preparing our activities.  If you would like to sign up, please go the the link on the side bar under VOLUNTEER OPPORTUNITIES. 
UPCOMING DATES
 *NO SCHOOL: Monday, February 5 WINTER BREAK
*NO SCHOOL: Tuesday, February 6 WINTER BREAK
*WED. FEB. 7—Back at school; STEAM; HOMEWORK DUE….math and literacy;  LIBRARY Please remember to return your child's book.    Mailing Valentines  Take 4-5 valentines to mail
*THURS. FEB. 8—GYM; reading TAKE HOME books & Rainbow word list;  Mailing Valentines  Take 4-5 valentines to mail 
*FRI. FEB. 9—- MUSIC;  Day 100 Celebration….100 Collections are DUE
*TUES. FEB. 13—Valentine's Day Party  1:50-3:00pm  Non food donations due at school by Thursday, Feb 8. Food donations due Tuesday, Feb. 13.  Parent volunteers who are working at a party center, please arrive by 1:40pm for instructions & set up.  *NO TAKE HOME books this day.
   ~~~~Have a fantastic Winter Break!  I will see the kinders on Wednesday, Feb. 7.   Mrs. Bohl