A very short week but yet full of learning….
SOCIAL STUDIES: We completed our learning about the pilgrims, Native American Indians and the first Thanksgiving. We sort pictures of Long Ago and Today.  That resulted in good discussion. 🙂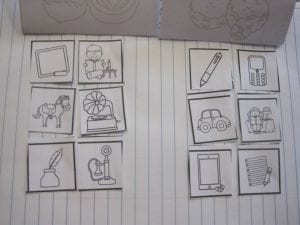 MATH: We practiced telling addition and subtraction stories by using Native American Indians (brave & squaw), a canoe, blue paper for water and fish crackers. "The brave caught 3 fish.  Then he caught 2 fish. How many fish did he catch?" or "The squaw cooked 6 fish. The brave ate 2 fish. How many fish were left in the pan?" A fun way to learn! We practiced making partners of ten too.  First we rolled a giant die to find out how many dots we needed to color on the turkey feather. Then we used a second color to color the remaining dots to make 10.  An example is: 4 orange dots + 6 yellow dots = 10 dots.  Finally, we cut out the feathers and attached them to our turkeys.  Please ask your kinder to count the dots and tell you the number partners of their turkey feathers.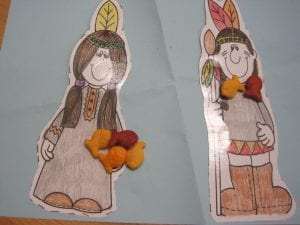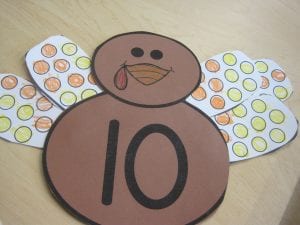 WRITING: Thank you so much for assisting your kinder in choosing an item that they are thankful for. The kinders wrote about what they are thankful for and why.  It is so exciting to see how they have progressed thus far in their writing. We have so much to be thankful for! 🙂  We are truly blessed!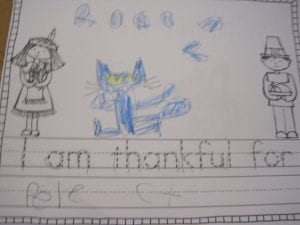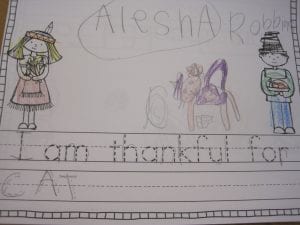 We wrote popcorn words to fill in a poem about a turkey.  Enjoy!
We read Bear Says Thanks.  Then we became storytellers.  We retold the story by sequencing the characters who visited bear and shared the marker to write labels of what food items they brought.  The kinders did a fabulous job!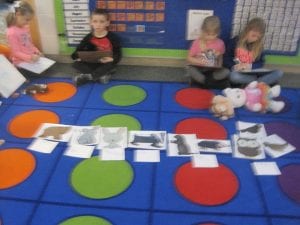 THANKSGIVING CENTERS:  The kinders enjoyed rotating to different spots in the classroom. A HUGE thank you to these parents for helping us learn!! They made a storytelling bracelet with Bronwyn's mom to retell the First Thanksgiving story. 
Kinsman's mom and Zander's dad assisted the kinders in making their own Mayflower boat from various supplies. Hooray!  All of the boats floated in water!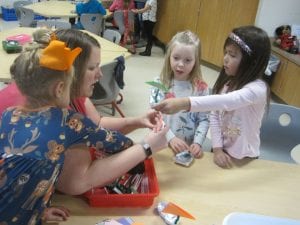 They played Where's the Turkey? with Lily's mom. Turkey was sneaking and hid behind various numbered leaves. The kinders had to try and find him by identifying the numbers.  A fun version of "hide and seek". 🙂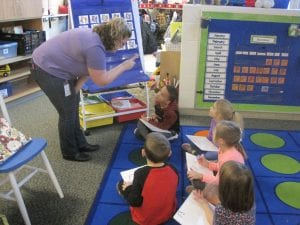 Sidney's mom helped the kinders create a Thankful Bag that was filled with various objects to tell a special someone they are thankful for them. 
Brooks' mom worked with the kinders to think of people they are thankful for as they made a turkey with colorful feathers.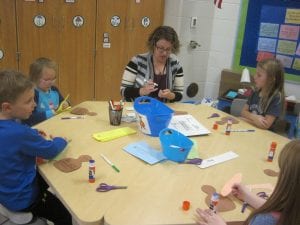 LITERACY:  On Monday the kinders enjoyed writing popcorn words that they could read onto feathers and attaching them to a turkey.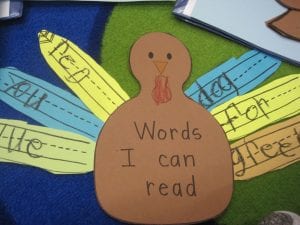 On Tuesday they practiced identifying beginning letter sounds and finding the correct picture on the turkey.  We will go back to our small group rotations next week.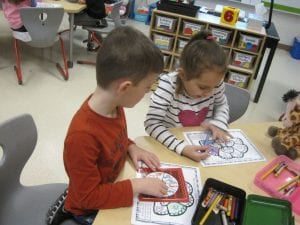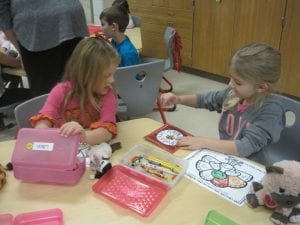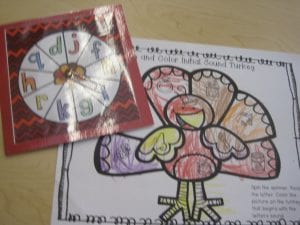 REMINDERS
*WINTER OUTSIDE CLOTHES:  THANK YOU for sending your kinder in warm outside clothes so that they can enjoy their time outside while staying dry. They can wear their gym shoes inside of school each day if you do not want to send shoes each day.  
*DECORATED GINGERBREAD BOY/GIRL:  They are due back to school next week.  Have fun being creative! 🙂  Watch them closely so that they don't run away! 🙂
UPCOMING DATES:
*THANKSGIVING VACATION:  November 21-23 No school.  Enjoy the time with family.
*Monday, Nov 26—ART; Book orders due (online & paper forms) 
*Tuesday, Nov 27—STEAM;  
*Wednesday, Nov 28—MUSIC;  LIBRARY…Don't forget to return your child's book!
*Thursday, Nov 29—-GYM;  
*Friday, Nov 30— ART;  
*Dec 4-7—PENQUIN PATCH HOLIDAY GIFT SHOP: We are scheduled to shop on Wed. Dec 5. More details soon
*Thursday, Dec 13–HOLIDAY MUSIC PROGRAM  Kinders arrive at 6:15pm Program begins at 6:30pm . More details soon
*Wednesday, Dec 19–Grinch Day!  Wear green or dress in grinch fashion
*Thursday, Dec 20–Holiday Party  A google sign up document will be available at the end of the week. Thank you for being part of our second class party.
*Friday, Dec 22-Polar Express Day Wear jamies to school!
*Monday, Dec 24 – Friday, Jan 4:  NO SCHOOL, Holiday Break.  School resumes on Monday, January 7!
I wish you a wonderful Thanksgiving.  I am so very thankful for your kinder.  I feel very grateful that I have the awesome privilege of teaching them each day.  Thank you so much for your support!         Mrs. Bohl