Look what we learned in kindergarten this week

ALL ABOUT PRESIDENTS:  In honor of Presidents' Day this past Monday, the kinders learned some interesting facts about 2 famous presidents.  We learned that George Washington was our very first president, he owned 5 farms, he wore white powder in his hair (Ewww…many thought this was strange), his picture is on the quarter and the one dollar bill.  Abraham Lincoln was an honest man who lived in a log cabin. He was the 16th president, he wore a stove pipe hat and kept important papers inside of it and his picture is on the penny and the five dollar bill. We read a newspaper to learn facts and placed facts on posters. The kinders enjoyed making a fun President flip craftivity to complete their learning. Did you ask them what they learned?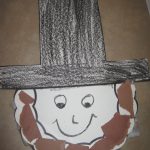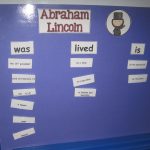 SOCIAL STUDIES:  The kinders had fun learning about and seeing various kinds of maps.  We read Me on the Map to help us broaden our understanding of the world around us.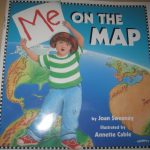 We now know that our CLASSROOM is inside of GEORGETOWN SCHOOL and our school is located in HUDSONVILLE. Hudsonville is in the state of MICHIGAN, Michigan is part of the UNITED STATES OF AMERICA which is located in NORTH AMERICA. The kinders will be bringing home their booklet on Monday to share with you. Thank you for completing the picture map of their bedroom.
MATH:  The kinders observed the differences between 2D shapes (circles, triangles, etc) and 3D shapes (cone, sphere, cube).  We learned that 2D shapes are flat but 3D shapes take up space.
They were introduced to Tiny Tumblers who live on Math Mountains.  The Tiny Tumblers practice their tumbling all day long.  Some Math Mountains have a lot of Tiny Tumblers on one side of the mountain and not so many on the other side, but when you count all of the Tiny Tumblers they equal the Math Mountain number. These math mountains will help the kinders learn and practice number partners. For example, on math mountain 6 there are 4 tiny tumblers living on one side and 2 tiny tumblers living on the other side.  (4+2=6)   We also compared numbers to decide which number is greater or less. The kinders practiced figuring out the unknown partner when given the total and one of the partners by using beads they put on pipe cleaners. They did quite well with this different way of learning number partners.
We will do more with these math skills in the upcoming weeks. Thank you for completing the homework each week.  It helps in your child's learning!  
Friday math games were….
  SUBTRACTION SMASH (subtraction problems
  SPIN & COVER 3D SHAPES (identifying 3D shapes)
  HEADS & TAILS PENNY FLIP (identifying sides of a penny & noticing number partners of 6)
READER'S WORKSHOP:  PUNKY PELICAN and JABBER THE RETELLER were met this week. 
PUNKY PELICAN helps us, as readers, to pay attention to punctuation and make it show in our voice. We practiced making our voice go up and down depending on punctuation. Jabber helps us, as readers, to remember to retell the story we read. We practiced retelling what happened in the beginning, the middle and the end of a story. We re-read Pete the Cat and his White Shoes, ;a book we read earlier in the year, and had to retell the events in order.
ASSESSMENTS:  Assessing your kinder in their literacy and math skills are underway.  I am so proud of the progress I am noticing.  Please continue to work with your kinder at home by writing upper and lower case letters with proper formation, reviewing their popcorn words, reading books with them and listening to them read to you.  Don't forget the math skills of counting by 1's and 10's to 100, writing numbers 1-20 with proper formation, telling, drawing and solving addition/subtraction stories and looking for number partners (2+4=6 & 10+4=14). As you can see, we are very busy learning and reviewing many skills in kindergarten.  I am excited to share your kinder's personal progress with you at conferences.
WRITING WORKSHOP: The rainy morning on Tuesday was the perfect topic for the kinders'  "On Demand" writing piece. This is when they needed to do their own writing without help from their teacher. They practiced telling their small moment story across their fingers, sketching their pictures, adding labels to their pictures, adding words (and stretching out the sounds all on their own), using capital letters and sentence stoppers (punctuation). Wow…that is a lot of work!! They worked so hard!!  I am so impressed and proud of their writing.  All of their small moment stories will be coming home next week for you to enjoy.
WINTER OLYMPICS:  We have been following the medal count of the Winter Olympic Games.  Each morning or so we have add tally marks to see how many gold, silver and bronze medals the USA, CANADA, GERMANY & NETHERLANDS have won.  This morning we practiced counting the syllables in various olympic pictures.  This afternoon we read a easy reader book about what athlete we would like to be. Enjoy watching the last events this weekend showcasing these amazing athletes.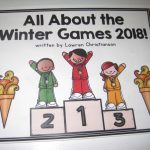 BEHAVIOR:  As we move into the last of February and hopefully the beginning of spring, please encourage your child to remember to make good, green choices.  Remembering to follow our class rules (in the classroom, in the hallway, on the playground) is a must. The rules are simple: 1.WE WILL BE KIND AND USE GOOD MANNERS. 2. WE WILL BE READY TO LEARN. 3. WE WILL WORK HARD. 4.WE WILL FOLLOW DIRECTIONS QUICKLY. 5. WE WILL LISTEN WHEN OTHERS TALK AND WE WILL RAISE OUR HAND TO TALK. We have a lot of learning and listening left to do in our school year.  Thank you for your continued support!!
POPCORN WORDS:      ABOUT           WENT           HOME                          The   February popcorn words were sent home today.  Please add them to your collection for practice and review at home.
MYSTERY GUEST READER:  Anderson literally jumped up and ran to give his mom a big hug.  He was so excited!  His mom is a nurse so she read Outside-In. a book about the parts of our body.  It was fun to make Kitty Cat connections because we learned about the parts of our body in STEAM class.  Thank you so much for stopping by.
KOOL KINDERS  ARE BOOK LOVERS:
  Izabel likes to read Pinkalicious books.
 Blake likes the popular books Fly Guy's Big Family.
  Caleb likes to read Monsters LOVE Underpants.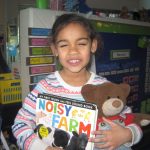 Victoria likes the noises that the animals make in Noisy Farm.
KOOL KINDERS AND THE SURPRISE BOX:  Friday was the first day for guessing the item inside of the Surprise Box.  When the Surprise Box arrives at your house, you will need to select an item to place inside.  Then you and your kinder will need to think of 3 clues that describe the item. Example:  1.  It is red.  2.  It is hard.  3.  It bounces.  Answer: a ball.  Your kinder will tell the class the clues, having their friends try to guess what the item is. The items inside the Surprise Box were a band-aid and football cards.
  Happy Birthday to Mia!  Thank you for the goodie bags. 🙂
NOTES FOR MOM AND DAD
*WINTER GEAR:  Thank you for sending your child with all that they need to stay warm outside….snow pants, hats, mittens, boots. Just a reminder, we will be outside for recess if the temperature is above 0 degrees.  The playground is VERY WET.  Please continue to send all of their snow gear.
*BACKPACK SNACK:  Please continue to send 2 healthy, quick snacks with your kinder each day.  Your kinder needs to be refueled so that they be ready to learn.
*JUMP ROPE FOR HEART:  Due Feb. 28. A form was sent home with your kinder. Check out the PE blog for more information. 
*CALENDARS: The MARCH calendar  has been posted under CALENDARS.  A lot of fun events, popcorn words, birthdays are listed on this document.  The March lunch menu  has also been posted under the side tab Hudsonville Food Service.
UPCOMING DATES
*MON. FEB. 26—GYM;  reading TAKE HOME BOOKS
*TUES. FEB 27–MUSIC;  reading TAKE HOME BOOKS 
*WED.FEB. 28––ART;  HOMEWORK DUE….math and literacy;  LIBRARY Please remember to return your child's book. 
*THURS. MARCH 1––STEAM; reading TAKE HOME BOOKS & Rainbow word list;
*FRI. MARCH 2—GYM;  Dr. Seuss's birthday.  Come to school wearing red/black/white (in honor of Cat in the Hat) or dress Seuss style.
*FRI, MARCH 9–FAST FRIDAY (Early Release Dismissal at 2:15pm)
*MARCH 12 & 14–Parent-Teacher Conferences: Parent slips stating your specific date and time (same as in Nov)  will be sent home on Monday.
Enjoy your weekend!  Mrs. Bohl