Look what your kinder did at school this week.
WRITING:   Can I say it again?  I am so proud of the kinders and their writing. This month's genre was about HOW TO….  do various things.  This week the kinders wrote How to marble paint, How to make a (birthday) wish, How to eat a snack and How to eat an Oreo.   Enjoy writing some more How to…. stories at home by using the idea chart that was sent home this week. 
SCIENCE:  Hooray! We have learned that not all plants grow at the same rate but thank goodness they all sprouted!  The warmer spring weather helped so much.  We are watering  and journaling about the growth of our bean plants.  
We explored each part of flower by reading informational books, labeling the various parts (seed, roots, stem, leaves, petals) and creating a craft.
 We also read and discussed a Let's Find Out newspaper relating to the growth cycle of a butterfly.  We continued our learning about Living and Non-Living too.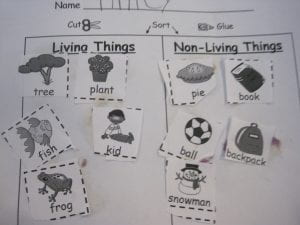 MATH:  Our math lessons this week focused on number partners.  We wrote number partners of 10 by drawing sun and clouds in a ten frame (5+5=10 or 9+1=10).  We wrote number partners of 7 & 10 by looking at colored dots and white dots in different arrangements. We also wrote number partners by drawing tiny tumblers on their math mountains.  During Friday math games, the kinders were able to choose from activities such as identifying 3D shapes, solving addition and subtraction problems, showing tens & extra ones in teen numbers.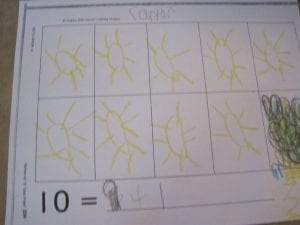 POPCORN WORDS:        HAVE     ON      OF 
LITERACY:  The kinders this week did various literacy activities while I listened to each kinder read a book.  They are doing AMAZING!  A progress note came home this week, letting you know your kinder's independent reading level.  I will continue to support and monitor their progress during these last weeks of school.  Remember it is the goal to have kinders read independently at Level D at the end of the school year.  If you have any questions, please contact me.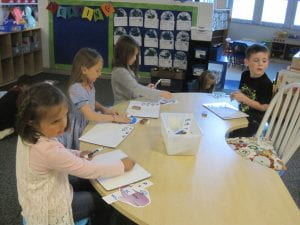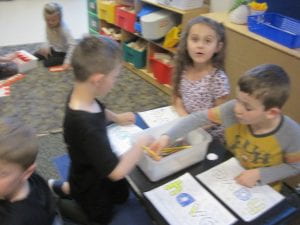 READING:  When reading non-fiction books, the kinders were reminded to ask themselves questions such as "I wonder why…?" "Where does….?' or "What is this…?"  During read to self time, we are working on retaining and increasing our reading stamina.  On a good day, we are up to 15-18 minutes.  Wow!  
 We are constantly celebrating being READERS!   We had SO MUCH FUN today reading the jokes the kinders brought into school.  A LOT of giggles and laughs!!!  Thank you so much for helping your kinder participate.  Next week we will celebrate BEING CRAZY FOR READING! by coming to school with CRAZY HAIR.
TAKE HOME BOOKS:  Thank you  so much for encouraging and supporting your kinder this year as they participated in our TAKE HOME book program.  We have two more weeks of reading. Then we will begin to collect all of the books for summer inventory. Thank you so much to all of the volunteers who came into school each Monday, Tuesday and Thursday to listen to the kinders read.  It would not have been possible without your assistance.  I am so grateful for your help!
MYSTERY READERS:  We were lucky to enjoy two visits this week.
Brooks' dad come on Wednesday afternoon and read This Moose belongs to Me.  A fun book where many people thought the moose was their pet.
Jace was so surprised to see not only his mom but also his brother, Caden (who is in 2nd grade) come in the room Friday morning.  His mom read TWO of Jace's favorite books, The Dinosaur who lived in my backyard and Froggy plays T-Ball.    
Some rainy day inside playtime pictures
REMINDERS
*BACKPACK SNACK:  Please remember to send TWO daily healthy snacks for your kinder, as we take a moment to refuel each day.  Thank you.
*BOOK ORDERS:  All orders (online or paper forms with a check) are due on Monday, May 6.  This is the LAST book order for this school year.
*PLAYGROUND:  Our playground is very wet and muddy and then it is dry and dirty.  Please keep this in mind as you send your kinder to school. Rain boots or outside play shoes might be a good idea until the spring weather clears.  Thank you for being considerate of helping to keep our inside floors and rugs clean.
*MAY CALENDAR:  The May calendar can be found at the top of our blog under CALENDARS.  You can also refer to the paper copy that was sent home this week.  I will send home the June calendar soon.
UPCOMING DATES
*MONDAY, MAY 6:  ART; reading TAKE HOME books;  Book Orders due (online or paper forms);
*TUESDAY, MAY 7: STEAM; reading TAKE HOME books; LIBRARY…Return you library books.  NOTE CHANGE IN DAY DUE TO OUR FIELD TRIP;    JET'S PIZZA LUNCH
*WEDNESDAY, MAY 8:  Field Trip to Hemlock Crossing Nature Center &  Hager Park  HOME LUNCH WITH DRINK INSIDE OF LABELED PAPER BAG IS NEEDED. We will not be ordering hot lunch. Please feel free to join us for our picnic lunch. Younger siblings are welcome. We will be at the park around 12:00pm. Your kinder will need a home lunch and water bottle to enjoy during our picnic lunch.  NO SANDALS, FLIP FLOPS OR CROCS. TENNIS SHOES NEED TO BE WORN!!  We will be walking through woods and trails and playing on a big playground.  Please dress your kinder according to the weather. We will be OUTSIDE for most of the day! 
*THURSDAY, MAY 9:  GYM;   EMAIL ME OR SEND A NOTE BY THURSDAY (5/9) IF YOUR KINDER WOULD LIKE A SACK LUNCH.   reading TAKE HOME books
*FRIDAY, MAY 10:  ART: FAST FRIDAY (Early Release  Dismiss at 12:15pm);  Celebrate being READERS:  CRAZY HAIR DAY  Celebrate Lillian's birthday (5/11)
*FRIDAY, MAY 17: Celebrate being READERS: OUR STATE IS GREAT! wear clothing with places from Michigan on it
*FRIDAY, MAY 24: Celebrate being READERS: CELEBRATE AMERICA!  Wear  Red, White and Blue to school!!
*MONDAY, MAY 27:  Memorial Day, No School
*FRIDAY,MAY 31:  Kindergarten Olympics  A note asking for parent volunteers came home.  Volunteers will be notified shortly with details.  This special day would not be possible without your help.  Thank you so much.  If you still would like to be part of this fun day, please let me know soon.
~~~Have a great weekend.    Mrs. Bohl