Welcome to March and the anticipation of spring.  We learned this week that the weather during March can be like a lion (wintery, cold) or a lamb (spring-like,warm breeze). We are not sure when the 'lambs' will arrive but we all think that they should come soon to Georgetown.  🙂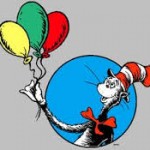 HAPPY BIRTHDAY DR. SEUSS:  We had fun on Friday with rhymes that made sense and some that were just silly.  We learned that Theodore Seuss Giesel was Dr. Seuss's official name and he wrote books under two names….Dr. Seuss and Theo. LeSeig. We read so many of his stories like Green Eggs and Ham, The Tooth Book, One Fish, Two Fish, Red Fish, Blue Fish, The ABC's book and The Cat in the Hat Comes Back. We learned that his birthday is on March 2. We read a newspaper that was filled with fun facts about Dr. Seuss and the books that he wrote.
We had fun practicing reading our popcorn words by playing TIC TAC TOE, GREEN EGGS IN A ROW!  Enjoy playing at home with your board games and green eggs and ham. The kinders practiced their rhyming skills by playing games like, GREEN EGGS AND HAM ANYONE?….flipping eggs to make real or not real (silly) rhyming words. It was also fun to make and record rhyming words inside our Cat in the Hat books. We practiced telling addition & subtraction problems using fish crackers based on One Fish, Two Fish, Red Fish, Blue Fish Making a Cat in the Hat craft finished our day of learning. Maybe you can celebrate at home by reading your favorite Dr. Seuss book.  Oh, what a great day it was!!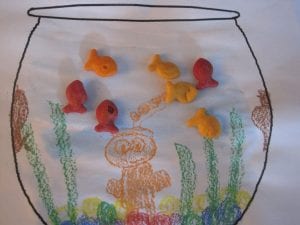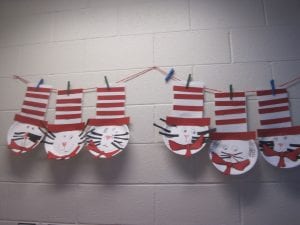 MATH: The kinders observed the differences between 2D shapes (circles, triangles, etc) and 3D shapes (cone, sphere, cube).  We learned that 2D shapes are flat but 3D shapes take up space.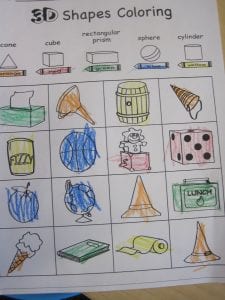 They were introduced to Tiny Tumblers who live on Math Mountains.  The Tiny Tumblers practice their tumbling all day long.  Some Math Mountains have a lot of Tiny Tumblers on one side of the mountain and not so many on the other side, but when you count all of the Tiny Tumblers they equal the Math Mountain number. These math mountains will help the kinders learn and practice number partners. For example, on math mountain 6 there are 4 tiny tumblers living on one side and 2 tiny tumblers living on the other side.  (4+2=6)   We also compared numbers to decide which number is greater or less and explored partners of 10.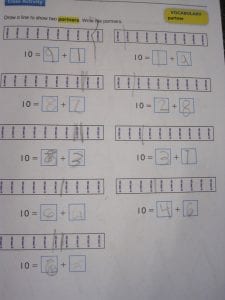 WRITING: The kinders wrote small moment stories about going to bed and lunch time at school after we told the steps over our fingers. Choices was the perfect topic for the kinders' "On Demand" writing piece because they are experts about what happens during this time each day. This is when they needed to do their own writing without help from their teacher. They practiced telling their small moment story across their fingers, sketching their pictures, adding labels to their pictures, adding words (and stretching out the sounds all on their own), using capital letters and sentence stoppers (punctuation). Wow…that is a lot of work!! They worked so hard!!  I am so impressed and proud of their writing.  All of their small moment stories will be coming home next week for you to enjoy.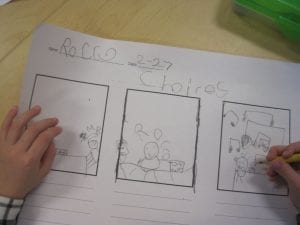 READING:  We used a book this week called Can you see our eggs? to help us learn that readers notice blends, like "gr" in "ground" or "fl" in "flower" to solve unknown words. It also helped us to practice reading all the way to end of a word to figure it out and to look for familiar popcorn words before reading. It is so exciting to see the kinders making a connection to these reading skills when we are reading or writing together. Our quiet reading time is up to 12-14 minutes. Yippee!!
MYSTERY READERS: We had 3 of them this week!  Wednesday, Breslyn's dad had time off from teaching his 5th graders and he read us Memoirs of a Goldfish.  A lovely, cute story about friendship.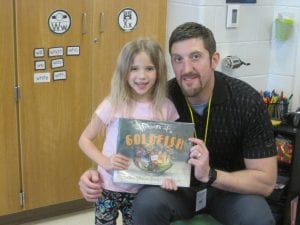 Thursday, I had a surprise visit from my oldest daughter, Hannah, Madeline and baby Abigail. (She goes back to teaching herself in a week or so) Hannah read Goodnight, Mr. Panda because getting ready for bedtime is a fun part of their day.  The kinders were excited and so kind to Madeline and Abigail.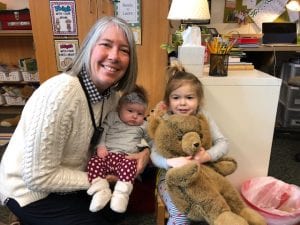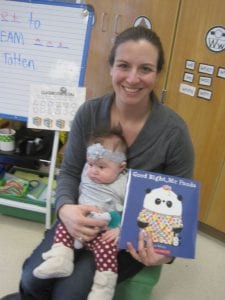 Friday, Lily's mom read Step This Way by Dr. Seuss. We learned about how different animals use their feet. A perfect book for our Dr Seuss celebration day.  
POPCORN WORDS:  AND    GET  Our popcorn words were fun this week because we could make so many rhyming words from them.  The popcorn words are becoming a bit harder to recognize so I can not stress it enough that practice at home is so crucial to your child's growth.  We practice identifying our words many times and in many different ways throughout the day but your child needs to practice them at home too.  Thanks for taking on this important role.
KOOL KINDERS ARE BOOK LOVERS:  
 Colton likes the story How the Grinch Stole Christmas!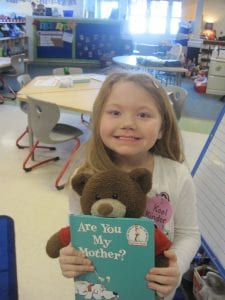 Aria enjoys reading Are you my Mother?
 Addison's favorite book is Little Bea and the Snowy Day.
 Olivia likes the funny story of The Cat in the Hat.
REMINDERS
*WINTER GEAR:  The cold weather is still here.  THANK YOU for sending your kinder with all that they need to stay warm outside.  Just a reminder, we will be outside for recess if the temperature is above O degrees.  Keep watching the weather forecast each day.
*BACKPACK SNACK: Please, please remember to send 2 quick, healthy snacks for your kinder, as we take a moment to refuel each day. Thank you.
*TAKE HOME books:  Your kinder is doing an awesome job reading books.  You may have noticed that many of the kinders have moved up a level and there are different colored stickers on their books. Continue to assist and encourage them as needed.  Please help your kinder to remember to return their book baggie EACH Monday, Tuesday and Thursday so that they are consistent with their read aloud practice and are able to check out a new book each time to build their reading experiences.  Don't forget to sign the parent sheet and include comments or observations you feel may be helpful.  The kinders are doing a fabulous job…thanks to your work at home and the reading volunteers.
UPCOMING DATES:
*MONDAY, MARCH 4––GYM; reading TAKE HOME books
*TUESDAY, MARCH 5––ART; reading TAKE HOME books
*WEDNESDAY. MARCH 6––STEAM; LIBRARY  Please remember to return your kinder's book.
*THURSDAY, MARCH 7–—MUSIC; reading TAKE HOME BOOKS;  EMAIL ME OR SEND A NOTE BY THURSDAY (3/7) IF YOUR KINDER WOULD LIKE A SACK LUNCH.
*FRIDAY, MARCH 8—GYM;  FAST FRIDAY Dismissal at 12:15pm WEAR WORDS! and ALL SCHOOL PJ DAY wear jamies/comfy clothes with words
*MARCH 10: Daylight Savings…spring forward! 
*MARCH 11 & 13–—Parent-Teacher Conferences: Parent slips stating your specific date and time were sent home.  I am looking forward to sharing your kinder's awesome progress with you.
*MARCH 11-14–SPRING BOOK FAIR:  We are scheduled to purchase books on Wednesday, March 13. If you would like to have your kinder purchase books, please send the money inside an envelope labeled with their name.  Parent volunteers will be available to help your kinder shop.  The Book Fair will be open during the conference evenings.
*MARCH 28-—Kindergarten PJ Day!  Wear jamies (or comfy) clothes.
*MARCH 29-APRIL 7––SPRING BREAK:  NO SCHOOL
~~Have a great weekend.  Mrs. Bohl