In between our "regular" learning  we squeezed in some fun bunny, chick and decorated egg activities.  An exciting event was being able to decorate an egg before it was taped to the seat of our chair.  It was the kinders' responsibility to keep their egg warm by sitting on it while waiting for it to hatch.  Throughout the day on Friday, the eggs began to hatch chicks….PEEPS chicks that is.  What a lot of fun it was when the kinders realized their egg had hatched.  You just have to LOVE kinder humor and excitement!  
POPCORN WORDS:  THEY    THESE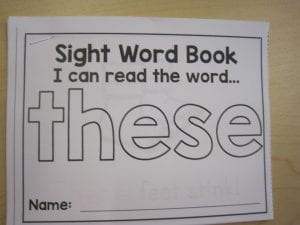 SCIENCE…IT ROCKS!   This week we focused our learning on rocks.  We read non-fiction books about rocks and learned about three types of rocks and did a fun activity to go along with each one.
(1) Igneous Rocks – Igneous rocks are formed by heat. We began with lots of little "rocks" (butterscotch/chocolate chips). Then we applied heat to the rocks (using a microwave) until the rocks turned to magma! Our magma cooled and hardened to form igneous rocks that we could eat.  The igneous rocks tasted pretty good too.  🙂
(2) Sedimentary Rocks – Since sedimentary rocks are formed by pressure, we applied pressure to three different colored marshmallows to form a new sedimentary rock.  The kinders layered 3 colors of marshmallows, applied some pressure to create sedimentary rocks before eating them. Yum, Yum!
(3) Metamorphic Rocks – These rocks are formed using a combination of both heat and pressure. We used three colors of cold play-doh and applied the heat and pressure of our hands to "morph" (marble) the rocks into new colors/shapes.  Three different colors of play dough (purple, orange & blue) represented rocks were given to each kinder.  The kinders layered the colors and applied pressure and heat (from their hands) to form metamorphic rocks.  No editable rocks this time…yet very fun)
We investigated our rock collections by sorting them to be either rough or smooth.  We also lined them up by size….from smallest to biggest. We continued to investigate our rocks by the look of them, the height, the texture and if whether they would float or sink in water.  Be sure to take a look at their booklet for their answers.  Thank you for helping your kinder find AWESOME rocks!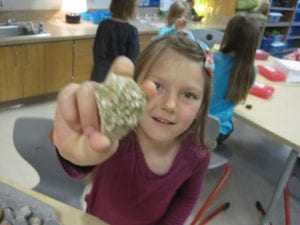 WRITING:  We read books about COWS before we wrote facts onto our "have, can, are" charts. The kinders decided which facts they wanted to include in their own All About Cows books.  They worked independently to put their facts into sentences, remembering to use capital letters, spaces between words and sentence stoppers, before drawing detailed pictures.  They enjoyed reading their books to their reading buddies.  The kinders did a fabulous job!  I can't wait to share how well they did with you.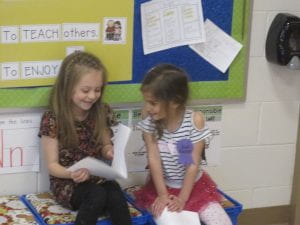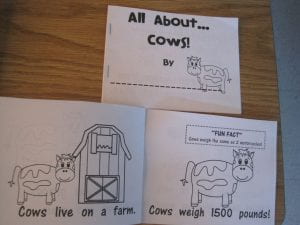 MATH:  This week we practiced writing number partners.  The kinders LOVED explaining to me EXACTLY how to add partners together.  They taught me that I can use my fingers to show partners, and then add those partners together by counting all of my fingers.  Then, they taught me that I can do something called "counting on."  I can put a partner in my head and then count on with my fingers to add the numbers together.  Finally, they taught me that I can use objects to count, like crayons.  I can show the partners with the crayons and then count all of the crayons for my total.  Teaching someone else is known to be the best way to learn something yourself.  Having the kinders teach me was an awesome way for me to see what they know.  We also practiced writing numbers to 100.  It was fun to solve addition & subtraction problems by playing BUNNY HOP.
READING:  The kinders looked at nonfiction books and went on a scavenger hunt to locate various features found inside informational books.  They learned that avid nonfiction readers compare information by noticing what is similar and what is different in two books on the same topic.  We did this by looking at books about dragonflies and honey bees.  For example, we found out that the legs on both insects have important jobs. The kinders learned that nonfiction readers can pretend and act out parts of the text, just like they did with fiction stories.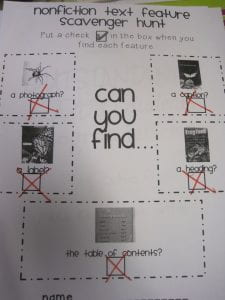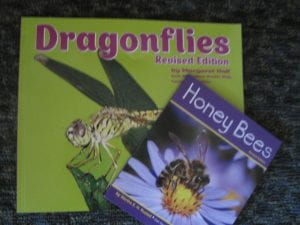 End of the Year Push:  We are rapidly approaching the end of kindergarten.  I cannot believe it!  This year has gone so very fast!!  With the end of the year comes some learning that needs to take place.  We have more writing, math and reading to get through.  We also have some goals that we will try to reach.  The kinders are working very hard every day at school.  They work in reading groups, small group interventions with math & reading and in many other ways to help them reach goals to be ready for first grade.  Please continue to work on sight word flashcards, be sure to also visit our Clever page for fun educational games which are located on the right side of our blog.   I will continue to work endlessly with your kinder to prepare them for first grade.  Let me know if you have any questions. 
MYSTERY READERS:  Last week, Emma was surprised to see her grandma step into the room. She read The Little Red Hen…a favorite of Emma's.  It was nice of her to bring along seashells from her time in Florida to share with the kinders.  How very thoughtful and kind.  Thank you!
Wednesday Bronwyn was not expecting to see her mom come in the room….again!  She read Stand Tall, Molly Lou Melon.  It is a favorite book that Bronwyn likes to read at home.  Surprise…it is a favorite one at school too!  
Lillian's mom was the mystery reader on Friday.  She choose a familiar character….The Little Old Lady….to read to us.  This book was called The Little Old Lady who swallowed a Bat.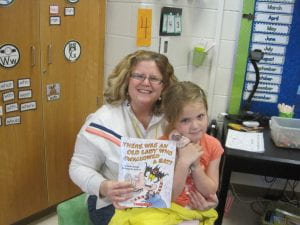 REMINDERS
*OUTSIDE SHOES:  THANK YOU for sending your child in outside shoes or boots on spring days.The playground is very muddy and we are working hard to keep our classroom floor clean.  Please remember that…..OUTSIDE SHOES CAN NOT BE WORN IN THE GYM AS MUD AND DIRT GETS ON THE GYM FLOOR.  PLEASE MAKE SURE THAT YOU KINDER HAS GYM SHOES TO WEAR THAT ARE NOT THEIR OUTSIDE SHOES.  Thank you!
*BACKPACK SNACK:  Please remember to send TWO daily healthy snacks for your kinder, as we take a moment to refuel each day.  Thank you.
*TAKE HOME books:  Please help your child to remember to return their book baggie EACH Monday, Tuesday and Thursday so that they are consistent with their read aloud practice and are able to check out new books each time to build their reading experiences.  Don't forget to sign the parent sheet and include comments or observations you feel may be helpful.
*KOOL KINDER & THE SURPRISE BOX:  The kinders have thought of some great clues to give their friends as they try to guess the item inside the Surprise Box.  Make sure that your kinder understands that it is a secret…..so no telling others what is inside.  That makes it fun and fair for everyone.
UPCOMING DATES
*MONDAY, APRIL 22: MUSIC; reading TAKE HOME BOOKS;  Earth Day!
*TUESDAY, APRIL 16: GYM;  reading TAKE HOME BOOKS
*WEDNESDAY, APRIL 17: ART;  LIBRARY: Please return your kinder's book.  
*THURSDAY, APRIL 18: STEAM; reading TAKE HOME BOOKS 
*FRIDAY, APRIL 19: MUSIC
*WEDNESDAY, MAY 8:  Spring Field Trip to Hemlock Crossing Nature Center & Hagar Park. Bring a sack lunch and water bottle.  We will be leaving by 9:30 a.m., returning back to school by 2:00 p.m. 
*FRIDAY, MAY 10:  Fast Friday (Dismissal at 12:15pm)
~~~Have a  great weekend.  Mrs. Bohl