Welcome back to school!!  I hope that you had a wonderful, relaxing and refreshing spring break. Mr. Bohl and I enjoyed spending everyday listening to the ocean waves at the beach and pool in Florida.  We had warm, cloudy and sunny weather….it was hard to return home to Michigan weather. I hope that you enjoyed time with your family as well.  The kinders had a lot of fun telling each other about what they did.  Playdates, going to Rebounders, going to the movie theater, visiting grandparents, staying in a hotel and so much more was shared.  
Take a peek at what we did in kindergarten! 🙂 I am sorry about the lack of pictures.  I totally forgot the camera at school.
MATH:  This week we really focused on decomposing teen numbers, noticing the ten and extra ones as well as writing the entire equation. (10+3=13).  Friday math games focused on number partners.
  Domino Dots
  Lima bean shake
READING:  We began learning what an avid non-fiction reader looks like.  An avid reader learns interesting information and thinks "WOW"! and asks questions like "Huh?" and "Why"?  They also need to tell others what they learned and may use fancy words that go with the topic.  The kinders enjoyed reading non-fiction books with their reading buddies as they worked to apply these strategies.
SPLIT LIT: Sentence building (putting the words in order to make sense), handwriting, reading leveled books, writing word family words (-an; pan, fan, man, etc) were skills the kinders worked on at their independent centers.  They identified sight words and R blends (tr, gr, etc) with Mrs. Rossback.  My center focused on reading a leveled book and doing related activities.   
WRITING:  We continued to focus on informational writing.  The topic this week was All About Llamas.  A new book from the spring Book Fair was given to our class and it contained A LOT of cool, interesting facts about llamas. We wrote these facts onto our "have, can, are" charts before the kinders choose their own facts to include in their own All About Llamas books.  Next week we will learn facts about one more animal prior to the kinders writing their 'ON DEMAND' informational piece.  This means the kinders will be responsible for choosing their own facts from the chart. They will independently write their own sentences, using capital letters, spaces between words and sentence stoppers.  The kinders have been doing a fabulous job on the prior informational books.  I know that they will do an awesome job next week too!  I have faith in them!
POPCORN WORDS:       HIM          JUMP      The kinders are doing a fantastic job locating these words in our daily message and in books.  Thank you for continuing to practice these words (and all of the other popcorn words) at home.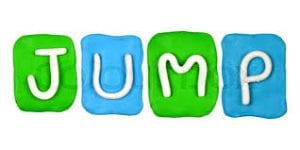 REMINDERS
*OUTSIDE SHOES:  THANK YOU for sending your child in outside shoes or boots on spring days.The playground is very muddy and we are working hard to keep our classroom floor clean.  Please remember that…..OUTSIDE SHOES CAN NOT BE WORN IN THE GYM AS MUD AND DIRT GETS ON THE GYM FLOOR.  PLEASE MAKE SURE THAT YOU KINDER HAS GYM SHOES TO WEAR THAT ARE NOT THEIR OUTSIDE SHOES.  Thank you!
*BACKPACK SNACK:  Please remember to send TWO daily healthy snacks for your kinder, as we take a moment to refuel each day.  Thank you.
*TAKE HOME books:  Please help your child to remember to return their book baggie EACH Monday, Tuesday and Thursday so that they are consistent with their read aloud practice and are able to check out new books each time to build their reading experiences.  Don't forget to sign the parent sheet and include comments or observations you feel may be helpful.
*KOOL KINDER & THE SURPRISE BOX:  The kinders have thought of some great clues to give their friends as they try to guess the item inside the Surprise Box.  Make sure that your kinder understands that it is a secret…..so no telling others what is inside.  That makes it fun and fair for everyone.
UPCOMING DATES
*MONDAY, APRIL 15: STEAM; reading TAKE HOME BOOKS; BOOK ORDERS DUE (online or send paper form & check to school)
*TUESDAY, APRIL 16: MUSIC;  reading TAKE HOME BOOKS
*WEDNESDAY, APRIL 17: GYM;  LIBRARY: Please return your kinder's book.  
*THURSDAY, APRIL 18: ART; reading TAKE HOME BOOKS 
*FRIDAY, APRIL 19: STEAM;   ROCK COLLECTIONS DUE
*WEDNESDAY, MAY 8…Spring Field Trip to Hemlock Crossing Nature Center & Hagar Park.  A yellow note came home containing volunteer information.  All parents (and younger siblings) are welcome to join us at Hagar Park for a picnic lunch and playtime. There has been an overwhelming response to chaperone our kinders.  I will contact all parent volunteers next week so that you can plan accordingly.  Thank you SO much for wanting to be part of your kinder's experiences.
~~~Have a  great weekend.  Mrs. Bohl