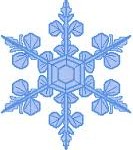 TAKE A PEEK AT WHAT YOUR KINDER DID IN SCHOOL THIS WEEK              
WONDERFUL WINTER:  The snow and rain outside was the perfect backdrop for learning inside.  We read another book by Jan Brett (she wrote The Gingerbread Baby) called The Mitten.  This is a great story about animals climbing into a mitten to stay warm.  We used our retelling skills to sequence the order of animals crawling into the mitten. We also enjoyed reading Move Over, Rover! by Karen Beaumont, a fun story about animals climbing into Rover's doghouse. We made a text to text connection between these two books by using our comprehension and comparing skills to sort character pictures from each story.  The kinders did a fabulous job. We even read another version of The Mitten by Jim Allysworth, where some of the animals were the same from our previous readings.  What great connections!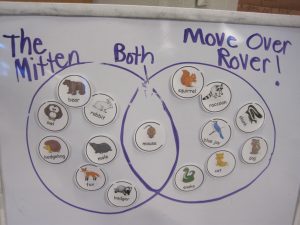 MATH:  The kinders are working on telling and solving addition and subtraction stories by using objects or their fingers.  As the kinders are beginning to learn this math skill, manipulatives are helpful in solving these problems. They also are working to see 5-groups for numbers 6-10 (ie: 5 and 2 more = 7) and to tell why that is useful when counting.  The kinders practiced sorting and classifying objects while giving reasons why they classified the items that way by using pictures of insects.  During Friday math centers, the kinders matched teen number equations to the total (ie: 10+3  13).
They also played a game using paper snowballs, because real snowballs would melt in our very warm room.  The focus was to practice identify = and not = symbols.  I am sorry that I didn't get a chance to take a picture.  Next time! 🙂
HANDWRITING:  We focused on learning the proper formation of more magic C letters….a,d,g.  We are learning that lines on the paper are like a highway road.  Some lower case letters take up the entire highway like a.  Other letters need to leave the road and go to the sky or down to the ditch like d and g. The kinders are doing a super job writing letters in isolation but transferring the proper formation during 'regular' writing time is challenging for them.  Extra encouragement as they write at home is always helpful. 🙂  The kinders were excited to see that their last name was added to the personal name tags.  They will begin adding their last name to their papers, working towards writing their full name by memory.  Please encourage them at home to use proper letter formation on their homework papers.
READER'S WORKSHOP:  Our new unit is called "Revving Up".  The kinders learned that race car drivers rev up their engines to get them ready before a big race, we need to rev up our minds to get ready to read.  Some ways to do this is to *look at the cover and title of a book, *take a picture walk, *tell the story and *read the words.  You can practice these skills at home prior to reading their library books and TAKE HOME books (which will start soon).
WRITER'S WORKSHOP:  We began a new unit about writing Small Moment stories, otherwise known as Personal Narrative. I introduced the kinders to the difference between a "watermelon" story and a "seed" story.  A watermelon story such as a whole day at school is too big for us to write as kinders just yet. However seed stories of going to gym class, completing our letter centers during Split Lit or eating lunch at school are considered small moment stories. These stories are easier to write. 
We started our learning by sketching a simple picture of the many things we did over vacation…opening gifts, going on a trip, taking down the Christmas tree, playing with friends, visiting family, etc.  We listed what makes a good small moment story….*a true story about things people do, *things happen in order, *a (single) small moment stretches across pages. We decided to write our first small moment story about Christmas Books, a small story about our book exchange. The kinders practiced telling who were the characters, where it took place, what happened first, next and last and stretching those details across their fingers.
Then they drew detailed pictures depicting this event. We worked together to stretch out sounds in unknown words and used popcorn words as much as possible.  They did a great job.  We will begin another new story next week.
NOTES FOR MOM AND DAD
*POPCORN WORD:      WAS   AT   THAT                                                                      We added three more words to our growing list of popcorn words that we are working on identifying in a snap. Many of the kinders noticed right away that Chunky Monkey is busy when "at" is hiding in "that".  We practiced making more words by taking away "th" and adding different beginning letters to -at. (cat, fat, sat, mat, etc).  Have fun at home using your Cat slider to practice this task. It was also great week for review too.  
*BIRTHDAY CELEBRATION:  
    Happy Birthday to Jayce who turned 6 on Jan 6.
*BACKPACK SNACK:  Thank you for packing TWO quick, healthy backpack snacks each day.
*CLASSROOM TEMPERATURE:  Our classroom is VERY warm.  Just ask your kinder!  Mrs. Reagan is working with the furnace men to remedy this problem.  In the meantime, please dress your kinder in layers so that they are comfortable throughout the day.
*OUTSIDE CLOTHES:  Thank you for dressing your child in warm outside winter gear.  Sending an extra pair of mittens or socks inside their backpacks might be helpful and more comfortable to wear later in the day.  
*JANUARY CALENDAR:  The JANUARY calendar has been posted under CALENDARS at the top of the blog.  It contains information about specials, birthdays and monthly events.   
*TAKE HOME BOOKS PROGRAM:  A schedule has been created and sent home with those who have volunteered.  If you would like to part of the program you can email me and I will be happy to add to the schedule.  The existing volunteers would love to have a partner on their days too. 🙂 This exciting reading program WILL BEGIN MONDAY, JANUARY 22!  Thank you for volunteering and being part of your child's education.  Practice reading the book that will come home on Jan 18 and RETURN THE BOOK INSIDE OF THE BAGGIE ON MONDAY, 1/22.  
*READING RAINBOW POPCORN WORDS:   Please remember to send the list back to school every THURSDAY. The kinders will read through the list with a volunteer or an 8th grader from Mr. Van Noord's class from Baldwin Middle school.  Remember these word lists were created from the 60 sight words that each kinder is working on to master before the end of the school year! The words are broken up into smaller lists so that they are easier to learn.  Each list is a new color of the rainbow!  Even though new lists are added to their page protectors, please continue to review previous papers so that words are not forgotten (pointing to each word out of order is best). The goal is to identify these popcorn words automatically and in a snap! The word lists will all stay inside the page protector and can be kept inside your kinder's blue folder. This is a safe spot to keep it to ensure it won't be lost and is in their folder for reading at school.
*RAZ-KIDS:  Information about this online reading program information was sent home this week as well as in a previous posting.  Are you taking advantage of this free reading online reading program.  (Thank you to the PTC for covering the cost)  Please take advantage of this alternative opportunity to read books.  A fun, educational way to spend some time with your kinder on these cold winter days.
UPCOMING DATES:
*Monday, January 15— MUSIC
*Tuesday, January 16—ART;  BOOK ORDERS DUE (online or paper form with a check made out to Scholastic Book Clubs) 
*Wednesday, January 17—STEAM;  LIBRARY Please remember to return your child's book;  HOMEWORK DUE….math and literacy
*Thursday, January 18—GYM;  TAKE HOME books sent home  Happy birthday for Tristan
*Friday, January 19—MUSIC; FUN CENTERS Volunteers arrive at 1:40pm for instructions  
*Monday, January 22–TAKE HOME books begin;  Birthday Celebration for Livia (1/21)
~~~Have a great weekend and welcome back to the school routine!  Stay warm this weekend.  Mrs. Bohl