It is hard to believe that it is November and we are looking forward to Thanksgiving.  To start us thinking about this new month we enjoyed moving to the Turkey Dance by The Learning Station, reading a turkey book and making adorable (a bit silly looking) turkeys.  
MATH:  Telling math stories and figuring out the answers to the math stories occurs daily. For example:  4 friends are having blue hot lunch, 3 friends are having white hot lunch.  How many friends are eating hot lunch today?  Counting to 100 also happens daily by watching Let's Get Fit, Count to 100 by Jack Hartman or Counting Super Hero by Harry Kindergarten to name a few.  In math this week, we used blue dots to show groups of 5 and then some more. They also looked at groups of objects and numbers and decided if they were equal (=) or not equal (= with / through it).
We were introduced to finding different ways to make a 5 group.(5+0,4+1, 3+2, 2+3, 1+4, 0+5) It is fun to see how great the kinders are learning about adding numbers together! We practiced writing our numbers and doing some more dot-to-dot practice. 
Keep practicing number sense skills with your kinder by asking them to count groups of objects around them (plates at the table, cars on the road, etc.)
POPCORN WORDS:         IN    ALL                                                            We are working hard to stretch out the words and hear the beginning, middle and ending sounds in our weekly popcorn words.  We had fun putting different magnetic letters at the beginning of IN to make new words like….FIN, WIN, BIN, CHIN. We also made new words with ALL like….BALL,WALL, CALL, HALL, FALL, TALL, SMALL.  We wrote these words inside our "interactive journals".  These journals will be used periodically throughout the school for literacy, math, social studies, science activities.
It was easy to read our weekly newspaper because it contained color words.  The kinders are becoming quite the readers!
READING: We learned about feelings and emotions this week. We learned to look at the character's face to see what they are feeling. We practiced doing this as a group using the book Caps for Sale.  We practiced this with the books in their book boxes, privately and with their reading partners. 
WRITING:  We began a new unit entitled "Writing as Scientists", looking deeper to label and draw objects with a scientific eye.  We looked closely at candy corn, a leaf and our own shoes with our own magnifying glass. Then we sketched out what we observed, added labels and wrote a sentence that told about our objects. We like being scientists!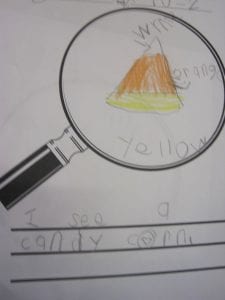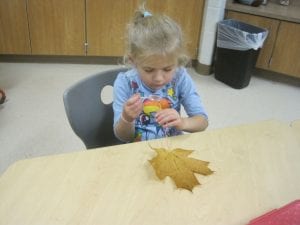 HANDWRITING:  We learned the proper formation of the "slant" letters k,v,w,x,z by writing these letters in our booklets and on gel boards.  Keep practicing at home! 🙂
 . 
REMINDERS
*PARENT TEACHER CONFERENCES:  I am looking forward to sharing your kinder's progress with you.  Please come with any questions and arrive on time to my classroom. Kinders do not need to attend, however if your kinder does attend that they wait in the hallway while we have our conference in the classroom. Thank you! 🙂  See you on Monday and Wednesday nights.
*OUTSIDE CLOTHES: When cooler weather is predicted, please dress your kinder in warm outside clothes…warm coat, hat/headband, mittens/gloves. We go outside to play in the morning, lunch recess and at the end of the day.  Looking ahead….If your kinder has outgrown their winter boots, PLEASE CONSIDER PURCHASING BOOTS THAT FASTEN WITH VELCRO CLOSINGS!!!  LACES TAKE TIME AND ARE DIFFICULT TO TIE/UNTIE WHEN WET.  Thank you!
*CALENDARS: The November calendar  is posted under CALENDARS on the side bar.  A paper copy was sent home this week.  Click on this link for the November lunch menu or go to the FOOD SERVICE link on the side bar.
*PE CARES FOOD DRIVE: Now until Nov. 16.  Your donations of canned or non-perishable food items can be brought into school anytime.  The kinders will be bringing them to gym class to add the our school collection. Thank you for your donations and thinking of those in need this season.  
UPCOMING DATES
*Monday, Nov. 5—ART; Preview books at the Book Fair; Parent Teacher Conferences 
*Tuesday, Nov. 6—STEAM; NO Library  Enjoy your kinder's book for another week.
*Wednesday, Nov. 7—MUSIC;  Book Fair: Please send your kinder's money in an envelope labeled with YOUR KINDER'S NAME and BOOK FAIR if you wish them to purchase books.. The book fair will also be open during conference times. This is optional.  The proceeds go towards purchasing books for use in school. Thank you! NO Library  Enjoy your kinder's book for another week; Parent Teacher Conferences
*Thursday, Nov. 8–-GYM
*Friday, Nov. 9—ART
*Friday, Nov. 16–Stone Soup Day! More details soon
*November 21-23—NO SCHOOL…Thanksgiving Break
~~~Have a great weekend!  Don't forget to "Fall Back" and turn your clock backwards an hour Saturday night.  Mrs. Bohl