POPCORN WORDS:   IN   ALL   It was fun to see that we could make some new words by adding different letters to ALL and IN.   Our daily message does not just contain our weekly words but also includes popcorn words we have already learned. That makes reading the daily message so fun!  Our shared reading poem and book allowed us to read familiar popcorn words.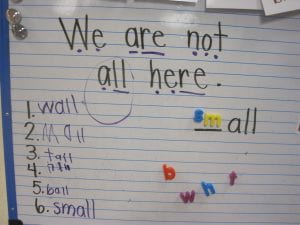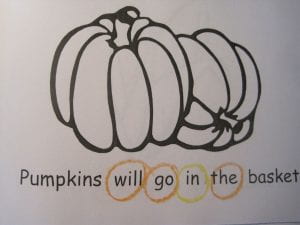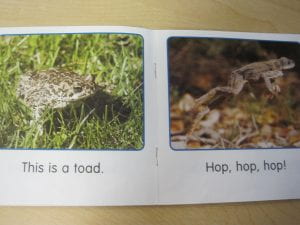 COLOR WORD:     BROWN    The kinders had fun reading brown bear books like Bear feels scared, Bear Can't Sleep and Very Hairy Bear 
We also read Brown Bear, Brown Bear, What do you see? .  We continued to practice our storytelling skills as we retold (and sang) the story many times this week.  Enjoy having your kinder practice their skills at home when they retell the story for you using their storytelling strip.  We made a brown bear hat while wearing brown. Thank you for helping your kinder participate in our color days by wearing particular colors.  The kinders (and I) looked forward to these fun days. The kinders enjoyed eating teddy grahams for the surprise brown snack.
MATH: We continued to tell math stories (even using real candy corn pieces) to solve the answers to the math stories. For example:  3 teddy bears came and sat at a table.  2 more teddy bears joined them.  How many teddy bears are at the table?"  3+2=5   We practiced writing tricky numbers 8 & 9 too. Friday math games were FALLING LEAVES (matching the group of dots to the number) and MISSING PUMPKINS (writing numbers & ID numbers in 1-10 order). 
SCIENCE:  Our weekly newspaper helped us learn about the seasons of a tree.
WRITING: We continued with our Show and Tell Unit.  At the beginning of the week the kinders wrote a pattern book about a leaf. We closely observed our individual leaves, noticing the shape and color.   We used the pattern, "This is a…".  to write our pages about the stem, vein, color. I am so proud of how far the kinders have come in writing!  We start a new unit next week of writing personal narratives! 
READING WORKSHOP:  It was all about learning how to increase and  our stamina.  We started the week by reading quietly, staying in our own spot, staying on task for 5 minutes.  We increased to 7 min 20 seconds.  Way to go kinders!  Next week we start learning about Super Powers and how they can help us become better readers.
CHOICES: Our favorite time of the day to learn and put into practice important social skills such as sharing, taking turns, being creative and working together.
HANDWRITING:  We learned how "clockwise letters" (h,r,n,m,b) are written. It was so fun using gelboards to write them too. Keep up practicing at home….it is helping!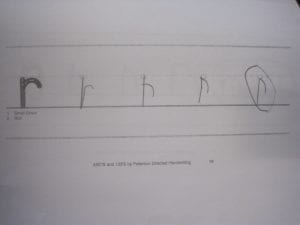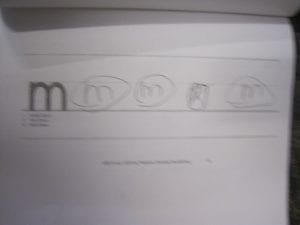 MYSTERY READERS:  Wednesday afternoon Jude and Kieran were so happy to see their aunt (and mom) walk in our room.  Their aunt was visiting their family all the way from Ireland.  What a special treat.  She read the boys favorite story…A Book With No Pictures.  What a funny, silly story!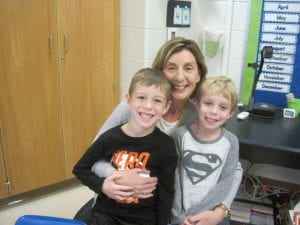 Friday morning Kylie was the one to jump up and hug her mom.  She read us Desert Night, Desert Day because Kylie has relatives who live by the desert.  What a sweet story introducing us to animals who live in the desert.  She even brought their squishy catus to go along with the story.
REMINDERS
SNACKS:  Please remember to send in 2 snacks for your Kindergartner each day.  I do have graham crackers if it is forgotten.  Donations of graham crackers are ALWAYS welcome!!  Our supply is going fast! 🙂
WINTER GEAR:   Brrrr….our Michigan weather is changing quickly.   Please be sure to gather up those warmer coats, mittens, boots, hats and snow pants.  When it snows, this gear is mandatory to play outside.  When the snow arrives we do go outside and play!   However, if the temperature or wind chill get below freezing we do opt to stay inside. If anyone needs any help with getting these winter items PLEASE let me know.  Also, if your kinder needs new boots this season, please, please purchase boots with velcro closings NOT with tie up laces.  Keep in mind that the goal for all kinders to get their winter gear on and off independently. Label, Label, Label your kinder's winter gear.  It will make it easier for me to know which black snow pants belong to your kinder.
HEADPHONES:   Send in headphones for STEAM if not already done so.  Thank you to all who have already sent them into school.
CALENDARS:  Please refer to the November calendar that was sent home for events, birthdays, etc or view it at the top of the blog under CALENDARS AND SCHEDULES.  The November lunch menu is also available on the Food Service website.
UPCOMING DATES
*Monday, Nov 4—MUSIC
*Tuesday, Nov 5—GYM  
*Wednesday, Oct 30—ART; Library–Please help your kinder remember their library book.  Homework packet is due    
*Thursday, Oct 31–-STEAM    
*Friday, Nov 1—MUSIC  Wear  RAINBOW COLORS  
*Nov. 15—Fast Friday (early release) Dismissal at 12:15
*Nov. 18—Parent-Teacher Conferences
*Nov. 20—Parent-Teacher Conferences
*Nov. 27—Nov. 29—NO SCHOOL, Thanksgiving Vacation
*Dec. 12—Holiday Program… 6:30 p.m. at Fair Haven Church in Jenison.  More details coming as date approaches.
Have a great weekend. Don't forget to change your clocks to FALL BACK this weekend.  Mrs. Bohl