EARTH DAY: We enjoyed making and wearing our Earth Day hats on Thursday. We read Just a Gum Wrapper and It's Earth Day! by Mercer Mayer among other books to assist in our learning about Earth Day.  We learned how we can take care of the earth and "go green" by recycling paper, cans and bottles, turning off lights when leaving a room, turning off the water while brushing teeth and using containers instead of plastic baggies for snacks. The kinders used this information to create a craft.  Having a chance to marble paint was part of the fun. 
We took a few minutes to find out where the 4th graders each week take our bags of scraps of paper.  The kinders were surprised to learn that we have a big recycling bin in our school parking lot.  Looking inside at all of that paper was pretty cool too. (Sorry…no pictures of that.  I was too busy lifting 22 kinders up to look inside) Many kinders said that they recycle at home.  Keep working to keep our earth healthy and clean.
Cheers were heard when I explained what we would be doing with blue & green frosting, a popsicle stick and a cookie……making an Earth Day cookie. Who knew that frosting and cookies make kinders explode with cheers?  🙂 Love it!!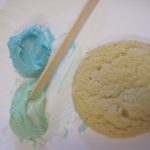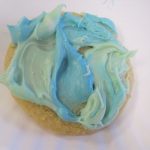 POPCORN WORDS:   THEY. THESE
MATH: We found partners of 6 & 10, used the symbol of equal (=) and not equal (=with/through it) to find groups that are fewer, showed teen umbers as 10 and extra ones and solved addition problems.  We learned how to play Domino Dots to practice addition.  What fun!
WRITING: Our topic of study this week was CHICKENS.  We read many different non-fiction books on chickens while writing down many interesting facts on a big chart. Then we organized these facts onto our own "have, can, are' papers and highlighted 3 favorite facts before writing them down and drawing pictures in our  All About Chickens books. We added another page to our all about books this week – we added an ending page. We found a way to wrap up our topic on chickens. The kinders did an AMZING job working more and more independently!!  Enjoy having your kinder read their writing to you.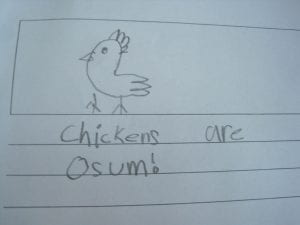 FAIRY TALES—THE LITTLE RED HEN:  We read various versions of the  The Little Red Hen this week. The kinders used the Shape Go Map to help recalling details of the story.  The kinders practiced their retelling skills by using character cutouts and a setting that they drew onto a paper bag.  I hope that you ask them to sing the retelling song we learned as they retell the story to you this weekend.
READING: We learned that readers read everything they can about a topic by reading more than one book about the same topic. We used 2 books about insects to practice this.  After reading 2 books about ducks, we noticed facts that were similar and different.The kinders then tried to find similar and different facts in their 2 books.  The kinders fun playing a game  using non-fiction text features. We said, "Can you spy with your little eye…" and then gave a non-fiction text feature for our reading partner to look for in their topic books. We looked for things such as bold words, fancy words, photographs, labels, glossary. Finally, the kinders learned that readers can think about everything authors what them to learn about a topic. They had fun sharing some fun facts with friends.
LITERACY/PHONICS: We were busy working on these skills….
remove beginning sounds to make new words isn't always one letter but sometimes two letters. You can add CH, SH, TH. (chip-ship)

listening for ending sounds

making words in the -ET family

reading a short story and answering comprehension questions

reading the story of

The Little Red Hen

and retelling it using the props we made
KOOL KINDER AND THE SURPRISE BAG AND THE GUESSING BAG:  The items this week were pom poms, marshmallows, mini chocolate chips and freeze dried Skittles.  We are having so much fun trying to guess the amount and are practicing making groups of ten and extra ones too.
REMINDERS
Bring 2 snacks each day to school and a water bottle with a spill proof lid please. Recently many kinders are "SOOOO HUNGRY" and are eating more than one snack in the a.m.  Often leading to "I need a snack" in the afternoon.  Growing kinders!  I do some extra snacks for just in case. Please be sure to have a conversation with your kinder about snacks.  I do make them eat what you send.  

Return take home books and library books on Wednesday

Watch the weather. Please keep in mind that even though the season is spring, some days will be cold, wet, rainy and maybe snowy :(.  Please continue to send a hat and mittens, along with a coat, with your kinder. Boots are not needed unless it snows or rains. Thanks! 
UPCOMING DATES
*Monday, April 26—MUSIC;  Book orders due online or paper forms with check made out to Scholastic Book Clubs
*Tuesday, April 27—GYM
*Wednesday, April 28—ART; TAKE HOME BOOKS & LIBRARY Don't forget your books! Thank you for taking the time to write comments about your kinder's reading of their TAKE HOME books.  That is so helpful 🙂
*Thursday, April 29—STEAM 
*Friday, April 30–MUSIC
***Have a fabulous weekend. Mrs. Bohl