THANK YOU AGAIN FOR TAKING THE TIME TO ATTEND YOUR KINDER'S CONFERENCE.  THEY ARE MAKING FABULOUS PROGRESS AND GROWTH.  I WAS SO HAPPY TO SHARE THEIR PROGRESS WITH YOU!  IF YOU HAVE ANY QUESTIONS AS WE MOVE INTO THE SPRING, PLEASE LET ME KNOW.
MATH:  The kinders worked on decomposing teen numbers into tens and extra ones (refer to the number booklet sent home), identified & sorted 3D shapes, wrote partners for 4-10 and identified numbers that were less. We even squeezed in taking our unit #4 test.  I will share the test results with you when we return to school. It was a busy week!  Have fun playing FIND THE POT OF GOLD! game that is inside your kinder's folder.
MARCH IS READING MONTH:  We love Clifford books so we ate dog bones (Scooby snacks).  It was fun reading each other's clothing…shirts, sweatshirts, socks and pant legs.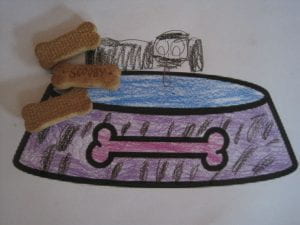 POPCORN WORDS:     WHERE    THERE      WERE           Please, please keep practicing at home!  Some of these popcorn words are a bit more challenging to learn and remember.  You are unable to stretch them out but need to just remember them by looking at them.  However, we do like it when some words rhyme like 'where' and 'there'. 🙂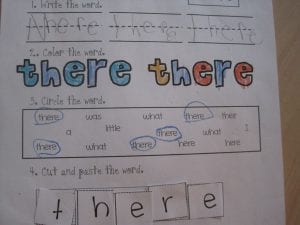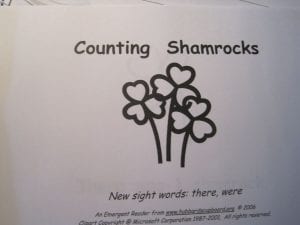 WRITING:  This week the kinders wrote their persuasive letter to Mrs. Rose, our lunch aide.  The lunch tables and floor have become very messy with spilled food.  The kinders did a great job thinking of why this is a problem…..It makes more work for Mrs. Rose to clean up and you could slip/fall on the food on the ground.  They created very colorful posters that showed "Throw trash away!" or "Keep lunch tables clean" .
SPLIT LIT:  The Split Lit tubs were filled with activities that focused on reading popcorn words, "R" blends (gr,dr,cr,fr), syllables, rhyming and "H" brothers (sh,ch,th,wh).  The kinders enjoy this time of the day.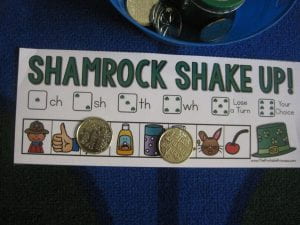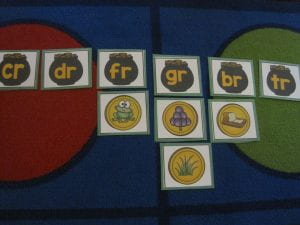 READER'S WORKSHOP: The first few days of the week, the kinders learned that avid nonfiction readers compare information by noticing what is similar and what is different in two books on the same topic.  We did this by looking at books about dragonflies and honey bees.  For example, we found out that the legs on both insects have important jobs. The kinders learned that nonfiction readers can pretend and act out parts of the text, just like they did with fiction stories.  The last few days of the week, the kinders explored poetry.  We practiced reading a favorite poem The Isty Bitsy Spider and a new poem The Swing for meaning and feeling.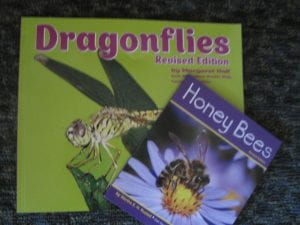 MYSTERY READER:  Nora literally jumped up into her grandma's arms as she walked into the classroom.  Nora's grandma lives 2 1/2 hours away so this was a surprise!  She read their favorite book The Wonderful Pigs of Jillian Jiggs.  A fun, silly story about making stuffed pigs for pretend pets.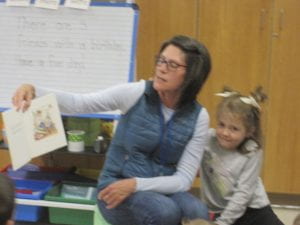 If you were scheduled to be a mystery reader while we are closed, do not worry.  Rescheduling and flexible dates will be available.  
Your kinder had fun creating an early St. Patrick's Day craft that you can use at home as decoration.  There are also some math and literacy St. Patrick themed worksheets inside your kinder's backpacks/folders that you can complete next week.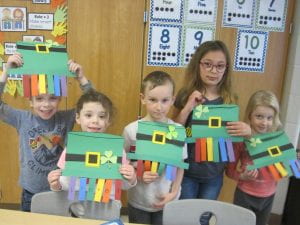 BIRTHDAY CELEBRATIONS:  We celebrated 3 birthdays…..ALL of the kinders were born on the same day.  Happy Birthday to RYLEIGH, ROWAN, LUCAS.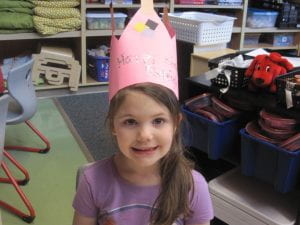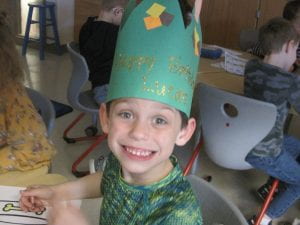 PLEASE CONTINUE TO PERIODICALLY CHECK OUR CLASS BLOG DURING OUR TIME AWAY FROM SCHOOL.  I WILL BE POSTING VARIOUS LEARNING SUGGESTIONS/IDEAS FOR YOUR KINDER TO DO AT HOME.  I WILL MISS SEEING THEM EACH DAY BUT LOOK FORWARD TO SEEING THEM IN A FEW WEEKS BECAUSE………