Fall weather is here!  Please continue to send a warm coat or sweatshirt with your kinder.  The weather can quickly change so it is good to be prepared.  We go out for a break/recess in the morning, lunch and end of the day.
COLOR WORD:    PURPLE     Harold and the Purple Crayon was just one of many purple themed books we read.  It was a great book to inspire imagination.  The kinders used their imagination to draw their own purple crayon adventures.  We LOVED hearing an old favorite song of Mrs. Bohl, the song "One Eyed, One Horned Flying Purple People Eater".  They really enjoyed making their own one eyed, one horned flying purple people eater monsters.  Here is the link to the "Purple People Eater" video we watched. They are decorating our room for a bit. After reading Purplicious, the kinders were curious if red and blue really would make purple. We couldn't pass up the chance to be a scientist and try it out using red and blue paint. Amazing….it really DID make purple!!! 🙂  Once again, it was fun looking at the way the kinders chose to wear this week's color purple.  We have a few more colors to learn.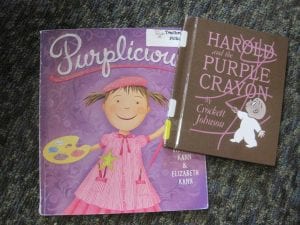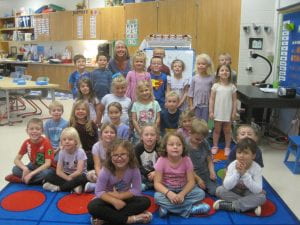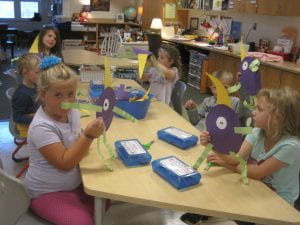 HANDWRITING: We spent some time distinguishing between letters and numbers. We started learning the proper formation of lower case letters.  This week it was the "straight line" letters (l,t,i) These booklets were sent home.  Please refer to this booklet as your kinder continues to practice writing at home.  They are doing great but some upcoming letters are more difficult than others to form properly, so extra practice is always beneficial.  Writing with markers, chalk, bathroom crayons and even in shaving cream are some fun different ways to inspire your kinder.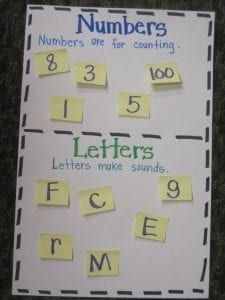 POPCORN WORDS:  ME   BE   WE   WILL   The kinders were excited to see that our popcorn words rhymed (at least 3 of them).  We found these words inside our daily message, we unscrambled the letters to spell them correctly and found them in books. Thank you for working with your kinder at home.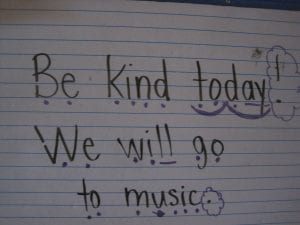 MATH:  We spent the first part of the week reviewing the math skills that we learned…writing, identifying and counting object for numbers 1-5, identifying and drawing shapes, completing dot to dot pictures.  On Wednesday we took our first math test using individual "office spaces" (a folder separating them from their neighbor) .  They settled in and did a GREAT job of working hard on answering all the questions.  These tests will be graded and given to you soon. I am amazed at how much each kinder has grown in their math skills and abilities!! Thank you for working and supporting them at home.  We started unit #2 by searching for groups of objects 1-10. Friday math games were about identifying shapes, exploring with pattern blocks, identifying numbers 1-6 and counting objects.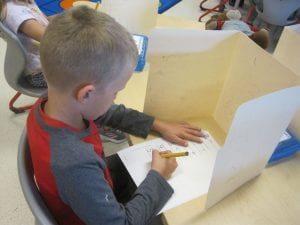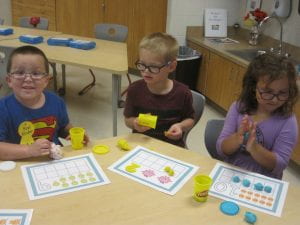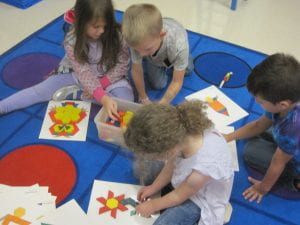 READING WORKSHOP: We used storybooks like Piggy and Elephant  to help us notice that characters have feelings.  Sometimes the characters even show strong feelings, as in the book Ilama llama mad at Mama. . When a reader forgets what the words say, they can look at the pictures to help them remember what the words are.  We practiced this together by using a favorite book, The Little Mouse, The Red Ripe Strawberry and the Big Hungry Bear.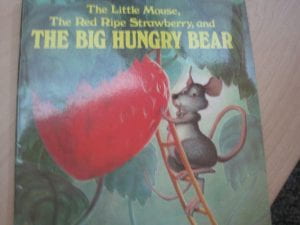 WRITING: The kinders learned that Show and Tell writing can be about important places.  Together we wrote a Show and Tell 3 page book about the library.  Writers and illustrators make decisions on what to draw and label.  The kinders worked hard to do this on each page.  We even tried to write a sentence about our pictures using some popcorn words.  Our Show and Tell book sounded like this:  We will hear a book. We will pick a book.  We will get a book.  The kinders are turning into fantastic writers!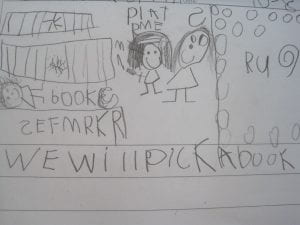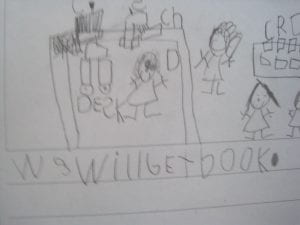 LITERACY:  We finished ABC Boot Camp with letters Xx,Yy, Zz.  We will continue to review these letters, practice producing their sounds in small groups and in large group.  Our shared reading book for the week was Fall Leaves.  Reading this book together helps us in identifying parts of a book, noticing patterns, rhymes, popcorn words and more. It was pretty cool that our poem was about fall leaves too. It is becoming a favorite part of our morning.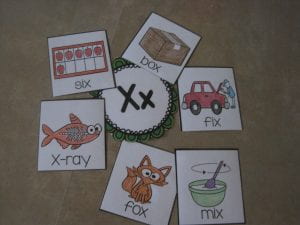 MYSTERY READER: On Tuesday Ariya was thrilled to see her mom and her younger sister, Eden.  We enjoyed listening to Thelma the Unicorn.  Thelma learned that being yourself (a horse) is better than wanting to be something else…like a unicorn.  A great lesson for us to remember too.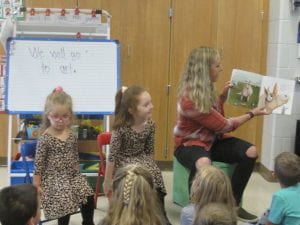 On Wednesday Kennedy's grandpa was our Mystery Reader.  He read Be Kind, Be Brave and Be You by Charles Schulz.  We love having grandparents stop by as much as parents.  
There are many open dates so if you are considering being a Mystery Reader, please sign up here  
FAMILY PUMPKIN PROJECT:  We have quite a few pumpkins that are disguised as a unicorn, princess, cat, snowman and more.  I totally forgot to take a picture…I will do that soon.  Thank you for participating. The pumpkins are fabulous!!!
IMPORTANT INFORMATION
BACKPACK SNACKS…THANK YOU SO MUCH for being conscientious about sending ONLY TWO healthy, NUT FREE snacks…one for the morning, one for the afternoon.  Our snack time is short but enough time to become refueled.
KOOL KINDERS:   The kinders are excited to be the Kool Kinder again.  We are now drawing out a stick with a kinder's name on it to determine the next day's Kool Kinder.  A yellow reminder note will come home the day prior. The kinders are bringing in a show and tell item from home.  After you choose the show and tell item, please talk with your kinder about what information they are going to share with the class.  We love to hear why they chose it, who gave it to them or where did they get it, etc. 
BLUE FOLDERS and BACKPACKS:  Please get in the habit of taking out your kinder's blue folder each night and removing the papers, art work, etc.  Please place any notes back inside the folder.  That is the best place for me to find them.  Cleaning out your kinder's backpack of extra things will make it less heavy and allow more room for their folder and lunch box.  Thank you!
UPCOMING DATES
*Monday, Oct 14—ART
*Tuesday, Oct 15—STEAM 
*Wednesday, Oct 16—MUSIC; Library–Please help your kinder remember their library book.  Homework packet is due 
*Thursday, Oct 17–GYM    EMAIL ME OR SEND A NOTE BY THURSDAY (10/17) IF YOUR KINDER WOULD LIKE A SACK LUNCH.
 *Friday, Oct 18—GYM; FAST FRIDAY (early release)  Dismissal at 12:15pm  Wear BLACK AND WHITE
*Friday, Oct 29—Picture Re-Take Day AND Turkey Trot 
*Thursday, Oct. 31—Fall Class Party, 2:00-3:00 p.m.  There are still openings to donate supplies.  Here is the sign up list.