Is March like a lion or a lamb?  We learned about these two different types of March weather while reading our weekly newspaper.  It will be fun to see what March actually brings.  I am hoping for more lamb days! 🙂 Are you?
MARCH IS READING MONTH:  We really liked reading aloud The Little Mouse, The Red, Ripe Strawberry and the Big, Hungry Bear by Don Wood.  To save the strawberry from being eaten by the big, hungry bear, the mouse finally decides to share the strawberry.  The kinders were happy that I decided to share strawberries with them.  A tasty extra snack!  
It was so fun to see and read each other's clothing when we came to school WEARING WORDS on Thursday.  I can't believe I didn't take any pictures.  I totally forgot in the midst of learning.  🙁
POPCORN WORDS:  HOME    ABOUT     WENT  
SHARED READING:  Each morning we spend some time reading a poem and book together. This week we read the poem The Chubby Snowman and the book Polar Bear, Polar Bear, What do you hear?  Together, we focus on popcorn words, rhyming words, patterns in sentences, fluency, punctuation and more.  At the end of the week, the kinders receive their own copy of the poem to keep in their book bins.  It is heartwarming to see them recite and read these poems to themselves and with their reading buddies.
WRITING:  We started a new type of writing called Informational Writing or "All About" writing.  We asked ourselves "Why we have All About books?" Answer: "To learn something new, to teach others and to enjoy!" Our topic of study was CHICKENS.  We read many different non-fiction books on chickens while writing down many interesting facts on a big chart. Then we organized these facts onto our own "have, can, are' papers and highlighted 3 favorite facts before writing them down and sketching pictures in our  All About Chickens booklets.  The kinders did an AMZING job!!  Enjoy having your kinder read their writing to you.  We will continue informational writing throughout the month of March.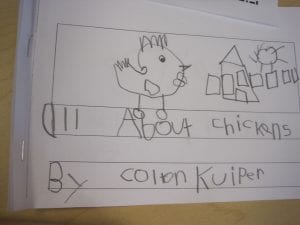 FAIRY TALE—THE LITTLE RED HEN:  Each week during March we will study a favorite fairy tale.  We began by learning what makes a story a fairy tale.  *A fairy tale usually begins with "once upon a time" and may have a happy ending.  *A fairy tale may have talking animals and a not so nice character.  *A fairy tale may take place in a forest and contain the number 3.  *A fairy tale may teach us a lesson.  We read The Little Red Hen this week. The kinders were introduced to a comprehension/retelling map called the Shape Go Map.  Each shape helps with recalling details of the story.  The kinders practiced their retelling skills by using character cutouts and a setting that they drew onto a paper bag.  I hope that you ask them to sing the retelling song we learned as they retell the story to you this weekend.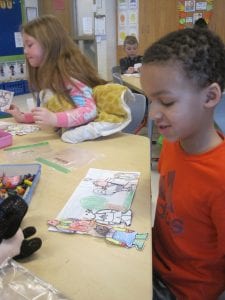 MATH:  This week the kinders practiced making partners of 10, drawing Tiny Tumblers on Math Mountains, solving addition problems and decomposing teen numbers by drawing 10 and extra ones.  They kinders are becoming such good mathematicians!
READING:  This week the kinders learned that when reading challenging books you need to use a new kind of picture power.  That means you really need to spend time looking at the pictures, noticing more and more details while making sure the words match the pictures. They also learned that snap words (popcorn words you can identify in a snap) can be disguised with endings of -ed, -ing, -s.  The kinders also worked on remembering what we read by retelling who was in the story, where it took place, what happened first, next last and how the characters were feeling. (Sounds like the Shape-Go-Map, right?  What a fun connection!) The kinders are developing this skill as their reading level grows.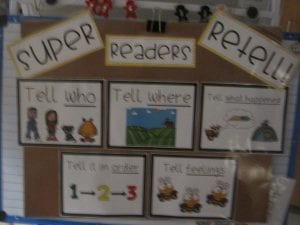 BIRTHDAY CELEBRATION:  Birthday wishes were given to Amelia on Thursday.  Thank you so much for the fun "do it yourself" masks and crayons.
KOOL KINDERS ARE BOOK LOVERS:
 Amelia likes to read Muddle and Match.
 Bronwyn brought in The Book With No Pictures.  
 Jacob shared the book on the Construction Site. We had to use a flashlight to see the hidden pictures on each page.  
 Elliot likes to read Owl Boy because she likes owls.
 Sidney loves to read We are the Groovicorns.
REMINDERS
*OUTSIDE GEAR:  THANK YOU for sending and continue to send your kinder in boots or outside play shoes.  The snow has disappeared but the wood chips are very wet and dirty and the wind is very COLD.  Keep listening to the daily weather report for sending the correct clothes.
*BACKPACK SNACK:  Please, please remember to send TWO healthy snacks for your kinder, as we take a moment to refuel each day.  Thank you.
*TAKE HOME books:  Please help your kinder to remember to return their book baggie EACH Monday, Tuesday and Thursday so that they are consistent with their read aloud practice and are able to check out a new book each time to build their reading experiences.  Don't forget to sign the parent sheet and include comments or observations you feel may be helpful.
*PARENT TEACHER CONFERENCES:  Our Spring Conferences will be held Monday, March 11 & Wednesday, March 13 from 4:00 p.m.-8:00 p.m. Conference time reminders were sent home  with your kinder. Please let me know if you will not be able to attend conferences or if you have a conflict so that we can reschedule. Report cards will be sent home Monday.  If possible, please take a moment to review it.  We will be looking at it together. Please arrive on time, as we have 15 minutes to discuss your wonderful kinder! I will  do my best to stay on schedule.  I can't wait to share your kinder's progress with you!! They are AMAZING!!!
*TIME CHANGE:  Don't forget to move  your clocks forward one hour Saturday night. Remember the saying….. "SPRING AHEAD"
UPCOMING DATES:
*MONDAY, MARCH 11–GYM; reading TAKE HOME BOOKS; preview (look at) book fair books; Parent-Teacher conferences
*TUESDAY, MARCH 12–-ART; reading TAKE HOME BOOKS;
 *WEDNESDAY, MARCH 13– STEAM; NO LIBRARY–enjoy your book for another week;  PURCHASE BOOK FAIR BOOKS (If you would like to have your kinder purchase books, please send the money inside an envelope labeled with their name.  Parent volunteers will be available to help your kinder shop.); Parent-Teacher conferences
*THURSDAY. MARCH 14–MUSIC; reading TAKE HOME BOOKS 
*FRIDAY, MARCH 15– GYM; Books for Breakfast?!?! reading celebration starts around 9:15am…wear fun socks today because reading knocks our socks off!
*THURSDAY, MARCH 28:  Kindergarten PJ Day
*MARCH 29-APRIL 7:  SPRING BREAK.…NO SCHOOL  SCHOOL RESUMES ON APRIL 8!
~~Have a great weekend.  Mrs. Bohl