Happy Monday Kinders!  I hope that you had a great weekend! Can you believe all of the snow!  Bundle up and play outside today!  Here is today's video:
Here are the directions for the DICE GAME I found on a Pinterest site called The Many Little Joys.  
MATERIALS NEEDED:
2-4 dice

10 small counters (pennies,Goldfish crackers, legos, Shopkins, etc.)
DIRECTIONS:
Each player starts with 2 dice and 5 counters.

The objective of the game is to capture all of the other player's counters.

On the count of three, both players roll their dice. Each player adds up the sum of his/her two dice, and whoever has a higher number gets to "take" a counter from the other player.

Continue playing until one player has ALL 10 counters. You can set a timer and declare the winner to be the person with the most counters when it goes off, if it takes too long to collect the counters.
VARIATIONS:
Getting doubles trumps any other number, and you get to take TWO counters from the other player (This rule helps the game go faster, I think).

You could practice subtraction instead of addition skills. Subtract the smaller number from the bigger number, and the player with the larger difference gets to take a counter from the other player.
HATS OFF FOR READING….at home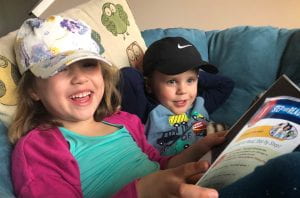 Today's read aloud is Come Home Already by Jory John 
Read aloud by Nora!!!  🙂  Kinders, send me a video of you reading and I will be HAPPY to add it to our blog.