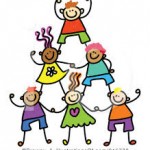 It was a picture perfect day for our annual Kindergarten Olympic games on Friday. Thank you to  Mr. Trier,  Mrs. Robbins, Mrs. Daley, Mr and Mrs. Kuiper, Mrs. Shaffer, Mrs. Morrow for spending the morning leading our kinders in playing their games.  It was great to see many other parents cheering on the kinders as well as staying for lunch.
Thank you so much for coming and supporting your kinder.
Enjoy the video that highlights the fun we had.