Did anyone see the amazing rainbow in the early evening on Thursday?  Spring is coming….be patient.  It will be here soon! We learned today how rainbows are made.
MARCH IS READING MONTH:  We love Clifford books so reading Clifford Grows Up was fun!  Eating some  dog bones (Scooby snacks) was tasty too. 🙂 .
Thank you SO much for donating the food for our BOOKS FOR BREAKFAST?!?! celebration.  We ate mini muffins because of If you give a Moose a Muffin; donut holes because of Please, Mr. Panda; and mixed fruit (blueberries, apples, bananas) because of The Very Hungry Caterpillar. . It was a fantastic way to start our day.  Thank you to Lila's mom for stopping by to give a helping hand.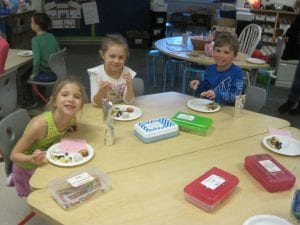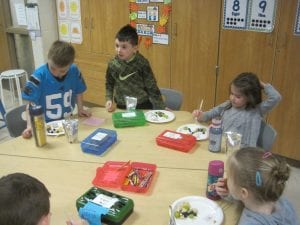 The kinders wore many different kinds of fun socks because…..READING KNOCKS YOUR SOCKS OFF!  🙂 .   We even worked with our shoes off for part of the day to show off our fun socks.
POPCORN WORDS:     WHERE          THERE             WERE           Please, please keep practicing at home!  Some of these popcorn words are a bit more challenging to learn and remember.  You are unable to stretch them out but need to just remember them by looking at them.  However, we do like it when some words rhyme like 'where' and 'there'. 🙂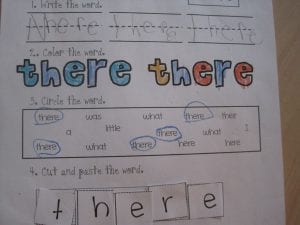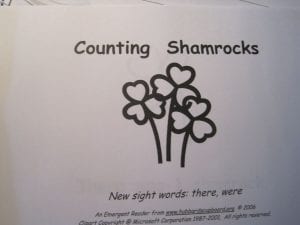 ONCE UPON A TIME—-GOLDILOCKS AND THE THREE BEARS:  We read MANY stories of The Three Bears…the 'original' versions, along with others like Goldilocks and the 3 Hares, Tackylocks and  Goldi Rocks and the Three Bears.  We practiced using different words to describe Goldilocks. For example she had yellow hair, she was naughty, curious, she was rude and likes porridge.  We used the Shape Go map during retell, focusing on what happened in the beginning, the middle and the end of story.  We had fun playing a popcorn word game relating to bears  during split lit called GOLDILOCKS AND THE 3 BEARS SIGHT WORD GAME.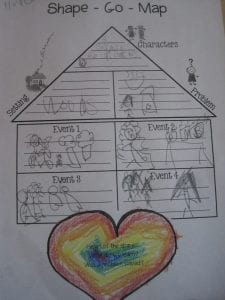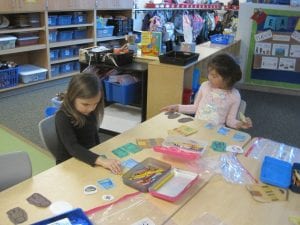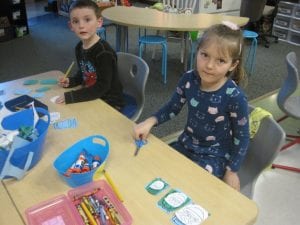 READING:  This week the kinders learned that an AVID READER reads a lot, finds places everywhere to read, keeps a stack of book nearby, can't stop reading and really pays attention to the book but a BAH READER is disinterested. They sorted  pictures to decide if it showed an avid reader or a "bah" reader. They also learned that AVID READERS try to feel what the characters are feeling.  Are the characters feeling happy, sad, excited, scared?  This makes the story enjoyable to read. We re-visited an old favorite The Carrot Seed to notice important parts in the story. The kinders worked in small "book clubs" to find important parts in books themselves by putting a sticky note on that page.  All of the kinders worked so well together, taking turns, sharing and talking.  I was very impressed!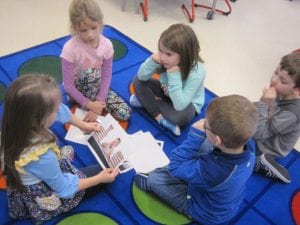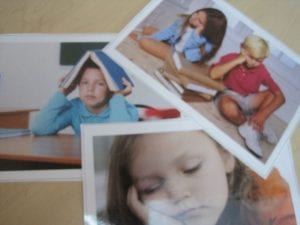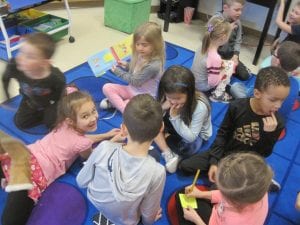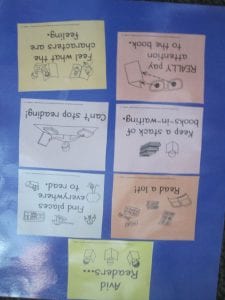 WRITING:  This week we complied facts about bears onto a large chart and referred to that chart throughout the week.  We organized our facts onto our individual "have, can, are" papers.  As we wrote our informational booklets we asked ourselves "What else can I add?" by remembering what writers and illustrators do…write words and drawing matching detailed, labeled pictures.  The kinders did a great job reading their All About Bears books to their reading buddies.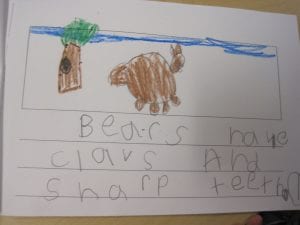 We also talked about how lucky we are to know each other and be a family this year.  So…each kinder was given a friend's name and they needed to think of one 'nice dice' compliment they could give them.  It was precious to hear the kinders read their message (in front of the class) to their friend and to see the smiles and excitement on the faces of the recipient. Some messages were: "I like you as a friend. You are nice. I like to play with you. You always stand up for me". I am SO LUCKY to have such kind hearted kinders.  What an awesome way to spend my days!! 🙂
MATH:  Our math lessons revolved around identifying the characteristics of a cube, drawing subtraction pictures and writing the equations on whiteboards, decomposing teen numbers showing tens and extra ones and solving addition and subtraction problems.  Friday math games were St Patrick's Day themed such as COLLECTING COINS (matching teen number partners to the total 10+4=14), put numbers 1-30 in order, matched number partners to the total; FINDING GOLD (identifying numbers 1-20) and RACE TO 100 (identifying numbers).  The kinders were excited to take home their own FINDING GOLD game.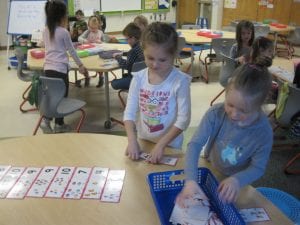 MYSTERY READERS:  We are working to fill the month with readers.  If you would like to be a mystery reader please contact me so that we can schedule a date & time.  If an older sibling would like to be a mystery reader, that would be fantastic too.  I would love to schedule a date/time for them as well.
Mrs. Estefan's 4th grade class surprised us on Wednesday morning.  We had so much fun reading with them!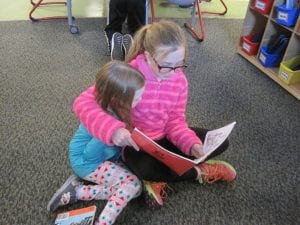 Brook's mom was the Mystery Reader on Wednesday afternoon.  She read us a funny story called Those Pesky Rabbits.
Parker's mom was the Mystery Reader Friday morning. She read us a favorite of theirs called No More Elephants.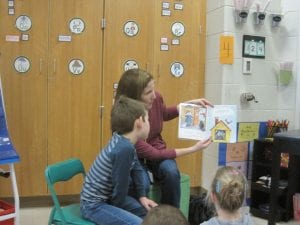 SPLIT LIT: The kinders continue to work independently each day while their friends meet with Mrs. Rossback and me. Mrs. Rossback works on literacy skills and I am leading "book clubs". We are reading a book that is at their instructional level.  Instructional level books are one level above what they can read independently. Independently they had new literacy activities to explore and complete. We practiced writing and identifying popcorn words, writing word family words and stretching out sounds in words. We continue to practice being quiet workers during this work time. Be sure to ask your child what they needed to do as their papers come home. 
KOOL KINDERS ARE BOOK LOVERS:
 Rocco likes to read funny books like One Big Pair of Underwear.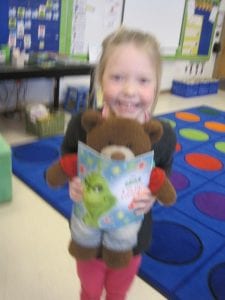 Alivia likes to read I am Grinch, another story about the Grinch.
KOOL KINDERS AND THE SURPRISE BOX:  Wednesday was the first day for guessing the item inside of the Surprise Box.  When the Surprise Box arrives at your house, you will need to select an item to place inside.  Then you and your kinder will need to think of 3 clues that describe the item. Example:  1.  It is red.  2.  It is hard.  3.  It bounces.  Answer: a ball.  Your kinder will tell the class the clues, having their friends try to guess what the item is. The items inside the Surprise Box were a band-aid, hatchable, toy gummy bear, stuffed fox. This is a secret so please remind your kinder to not tell what is inside the box.  Keeping the secret makes it more fun for all.
INSIDE RECESS FUN:  Because we had so many days that we stayed inside for recess, the kinders learned how to play a new game called 4 CORNERS.  We also learned how to play HEADS DOWN, 5 UP.  What a lot of fun when we can't move around on the playground.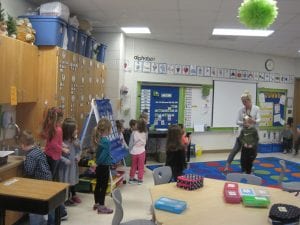 REMINDERS
*OUTSIDE GEAR:  THANK YOU for sending and continue to send your kinder in boots or outside play shoes.  The snow has disappeared but the wood chips are very wet and dirty.  There MANY PUDDLES on the playground too.  Keep listening to the daily weather report for sending the correct clothes.
*BACKPACK SNACK:  Please, please remember to send TWO healthy snacks for your kinder, as we take a moment to refuel each day.  Thank you.
*TAKE HOME books:  Please help your kinder to remember to return their book baggie EACH Monday, Tuesday and Thursday so that they are consistent with their read aloud practice and are able to check out a new book each time to build their reading experiences.  Don't forget to sign the parent sheet and include comments or observations you feel may be helpful.
UPCOMING DATES
*MONDAY, MARCH 18–ART; reading TAKE HOME BOOKS 
*TUESDAY, MARCH 19–-STEAM; reading TAKE HOME BOOKS  
 *WEDNESDAY, MARCH 20– MUSIC;  Library….Return that library book!
*THURSDAY. MARCH 21–GYM; reading TAKE HOME BOOKS
*FRIDAY, MARCH 22– ART
*THURSDAY, MARCH 28:  Kindergarten PJ Day
*MARCH 29-APRIL 7:  SPRING BREAK.…NO SCHOOL  SCHOOL RESUMES ON APRIL 8!
~~Have a great weekend.  Mrs. Bohl