Oh, it is good to be back with my kinders.  I missed seeing them:)  We jumped right into learning this week by talking about setting goals for what we might want to learn or do this coming year.  We thought of goals that we can accomplish at school. For example: to add numbers, to be kind, to learn more popcorn words, to read books, to share. We made a fun Happy New Year craft. Our 'party people' will come home soon but for now they are decorating our room for the first part of January.  Welcome 2021
POPCORN WORDS: WAS    AT    THAT    We added three more words to our growing list of popcorn words that we are working on identifying in a snap. Many of the kinders noticed right away that "at" is hiding in "that" and that they rhyme. We also talked about how some letters make different sounds like in "was". We read 2 books using these words and added the books to our blue book bins.  The kinders are doing an amazing job identifying "new" and "old" popcorn words.  We even noticed that -at words were inside our shared reading poem My Cat has a Hat.
MATH:  The kinders used common shapes to make new shapes. The kinders practiced sorting and classifying objects while giving reasons why they classified the items that way by using pictures of shapes and animals/people. We also practiced our teen numbers. We learned about how there is a "hidden" 10 behind teen numbers. For example, in the number 13 – there is a 10 and 3 extra ones.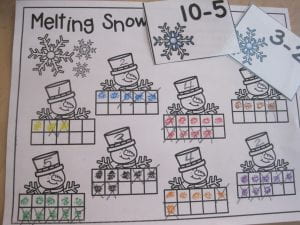 HANDWRITING:  We focused on learning the proper formation of the CLOCKWISE upper letters P,B,R,D,J in their booklets. The kinders are doing a super job writing letters in isolation but transferring the proper formation during 'regular' writing time is not consistent.  Extra encouragement as they write at home is always helpful. 🙂  The kinders were excited to see that I exchanged their names on their pencil boxes to include their last name. They will now begin adding their last name to their papers, working towards writing their full name by memory.  
READING: We began a new unit called Bigger Books, Bigger Reading Muscles. The kinders learned that some books are considered challenging because they have more words and more lines, longer words, new words and surprise endings.  That is when persistent power needs to be activated!  Books that contain patterns makes reading fun so PATTERN POWER is needed! We learned that when readers figure out the pattern it makes reading easier. We also found out that sometimes the pattern changes at the end giving us a surprise! The kinders were encouraged to use a new tool…a reading mat to organize their books as they read.  They begin by stacking their books from easier to hardest and then placing their books on the side with the green arrow because it tells them where to start reading. The kinders move their books to the other side when they are finished reading them. Once all of the books have been moved to the finished side, the kinders can move the books back to the green arrow which will allow them to go back and re-read their books again. I am so proud of how hard the kinders are working during reading.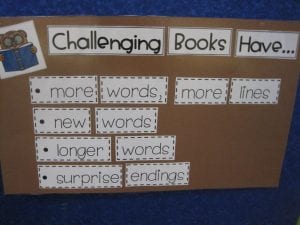 LITERACY:  The kinders worked on identifying ending sounds in words, putting words in correct sentence order, reading CVC words and identifying and writing popcorn words. The kinders practiced making more words by taking away "th" from "that" and adding different beginning letters to "at". (cat, fat, sat, mat, etc).  Have fun at home using your Cat slider to practice this skill. 
WRITING:  I am so proud of the kinders and their writing. This week we began writing HOW TO…. stories.  We shared what we thought we could teach others to do with our partners.  Some examples were: how to ride a bike, how to read a book, how to play football and more. We learned that writers write about what they know, use mentor books to help them write, ask themselves "Does this make sense?" when putting pictures in order and have partners ask questions while deciding the steps. Our writing topics were How to Get Ready for School, How to Make Cookies, How to Build a Snowman and How to make a Root Beer Float. We did some cutting and pasting (instead of drawing) to put the pictures in order of First, Next, Then, Last and then wrote words to tell the steps. The kinders did a marvelous job! We will write more HOW TO… stories next week.
PHONICS:  We will be looking closely at how parts of words work together for awhile.  We used our pointer power to remind ourselves that each word in a sentence gets one tap as we read. The kinders practiced this by writing sentences for Mabel on their whiteboards, using snap words, before re-reading the sentence and tapping each word. (Ex: I can write sentences. I can do it.) We had fun pretending to be a sentence by having some kinders stand in a line and then saying each word by pointing to each kinder.  They were reminded that it is easier to read a sentence when there are spaces between words instead of having words squeezed together.
*TAKE HOME BOOK PROGRAM:  I am so excited for this program to begin. Books and a detailed informational note came home this week. The kinders will keep and read the books at home before returning them each Wednesday.  We will exchange books and the kinders will take home new books each Thursday.  It is so exciting to see and help our kinders become readers. 
REMINDERS:
*WINTER GEAR: Please send appropriate winter gear with your kinder each day.  It keeps them warm when playing outside. An extra pair of socks, mittens or gloves might be a good idea to keep inside their backpacks if their original pair gets wet.  Please take time to label your ALL of your kinder's winter attire if you have not done so. Often these winter clothes are easier to be transported in an extra bag (If you go this route PLEASE be sure to label the bag with your kinder's name).  If you are in need of winter clothes, PLEASE reach out. We have many helpful resources at Georgetown.
*BACKPACK SNACKS & WATER BOTTLE:  Don't forget we take a snack break 2 times each day…morning & afternoon.  Please include your kinder in choosing their snacks.  Some kinders are commenting that they don't like the snacks that are packed.  Thank you!
*EXTRA CLOTHES:  Please check to see that these clothes, stored in their backpacks, are weather appropriate now that our season has changed.  
UPCOMING DATES:
*Monday, January 11—MUSIC
*Tuesday, January 12—GYM
*Wednesday, January 13—ART;  LIBRARY and TAKE HOME books due!  Don't forget your books! Homework packet due! 
*Thursday, January 14—STEAM; If your kinder would like a sack lunch from the lunch service, please email me or write a note by Thursday, 1/14
*Friday, January 15—MUSIC; Fast Friday (Early Release) @ 12:15pm
*Winter Break: February 6-8
Have a wonderful weekend!  Mrs. Bohl