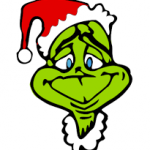 "And the Grinch's heart grew 3 sizes that day!"  What a great message we learned that when you think of others and give to them, your own heart grows more and more.  
All day long, the Grinch was the theme as we worked on writing, sight words and math.  Of course, we threw in some fun of learning how to draw the Grinch (thank you Mrs. Estefan, a 4th grade teacher, for being our "guest art teacher") and by watching the movie (the cartoon version) while eating green grinch cookies.  
Enjoy these pictures of our fun day of learning!