What a Merry and Bright week of learning.  See what we did at school this week.
POPCORN WORDS:            WHAT      IT                                                                 December flash cards will come home next week so you can add them to your collection.  You might want to play Scramble Them Up.   (Use your letter cards to scramble up the letters in popcorn words…and then put the letters in correct order. Example:  okol  is  look)
MATH: We practiced making teen numbers by looking at a group of 10 and extra ones.  We put numbers in correct order and then practiced writing them correctly….not always starting at number one.  Example: (7,8,6, should be 6,7,8).  We also used shapes to create new shapes.
WRITER'S WORKSHOP:  We stepped away from writing personal narrative (true stories) to enjoy several Gingerbread stories.  Each day we read a different Gingerbread story and focused on using one of the many writing skills we have learned.  On Monday we read The Gingerbread Man by Jim Alsworth making sure our pictures and words matched.  On Tuesday, after reading The Gingerbread Boy, we focused on starting with a capital letter, putting spaces between words and ending with a sentence stopper (period).  On Wednesday The Gingerbread Baby was read so that we could work on identifying a feeling when we write.  Next week we will read a few more versions before their Gingerbread Cookie Jar packets come home.
HANDWRITING:  This week it was learning how to correctly write CLOCKWISE UPPERCASE LETTERS (P,B,R,D,T). Thank you for using these writing packets at home to give your kinder extra writing practice.  
READING:   This week the kinders practiced using all of their reading superpowers such as POINTER POWER, SOUND POWER, PICTURE POWER, BOOK TALK POWER. Their individual book boxes include interest books like Pete the Cat, Clifford, Fly Guy and books that are "good fit" books. "Good Fit" books that are at or near their tested reading level to help them sharpen their reading skills. We also worked to increase our private read to self time reading stamina.  At the beginning of the week we were at 4 minutes.  By the end of the week the kinders were reading at 10 minutes.  Way to go!  The kinders are SUPER READERS!! 
SPLIT LIT: The kinders really do enjoy this time of the day.  They rotate to 5 different centers (3 independent & 2 teacher led) where they practice specific skills to build their knowledge of sounds, words and phonemic awareness.  All of these skills help them grow in their ability to become independent readers. This week the kinders worked on identifying & writing popcorn words, final and medial sounds, blending and segmenting sounds and syllables.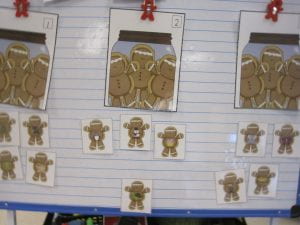 MYSTERY READER: Kylie was not expecting her grandparents to walk into the room.  They are visiting from AZ so it was so nice they could visit Georgetown.  Kylie's Grandpa read There was a Coyote who swallowed a Flea.  A fun book about different animals found in AZ.
Candy Cane Sale:                                                                          
The 5th grade annual candy cane sale is here! Don't miss out! You can buy a tasty treat for only $1. The sale runs through Wednesday, Dec. 18th! Thank you in advance for your support!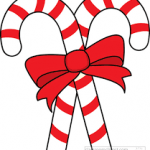 REMINDERS
*WINTER GEAR: Please send appropriate winter gear with your kinder each day even if there is not any snow.  It keeps them warm when playing outside.  An extra pair of socks, mittens or gloves might be a good idea to keep inside their backpacks if their original pair gets wet.  Please take time this weekend to label your kinder's snow pants and boots if you have not done this.
*BACKPACK SNACK:  Please remember each day to pack TWO quick, healthy snacks for your kinder.
*BOOK EXCHANGE:  Thank you so much for sending in your holiday book exchange wrapped gift. If you would like your kinder to participate, please send a book in next Monday. Please let me know if you have any questions, kbohl@hpseagles.net.
*TAKE HOME BOOK PROGRAM:  I am planning to create a schedule over vacation.  Thank you for volunteering and choosing to be part of this learning. If you still would like to be part of this fun volunteer activity, please email me your preferance (Monday/ Thursday, weekly, 2X month, 1X month) and I will be happy to include you in the schedule. We will begin this program in January.  It is so exciting to see our kinders become readers.
*HOLIDAY PARTY:  Thank you so much for your donations.  Please send in ALL non-editable donations to school by Tuesday, Dec 17. Food items can be dropped off in the morning.  Party volunteers can arrive at 1:30pm to set up.  Here is the link to the sign up list if you need to check what you offered to donate. 
UPCOMING DATES
*Mon. Dec 16—GYM    Holiday Gift Shopping  2:00-2:45pm.  Parent volunteers will be available to help your kinder shop.  More details coming soon    Wear Red and Green Day
*Tues. Dec 17—ART   Wear Holiday Hat Day (antlers, hat, etc)
*Wed. Dec 18—STEAM   Grinch Day  
*Thurs. Dec 19—MUSIC    Holiday Party  2:00-3:00PM Volunteers can arrive at 1:30 for set up.  If you would like to check what your donated supplies, the sign up is HERE.  
*Fri. Dec 20—GYM   Polar Express Day   Wear jamies to school
*Dec 21-Jan 5—Holiday Vacation   School resumes on Monday, January 6