Throughout this week we learned about Fire Safety.  We watched one of my favorite movies called Snuffy 's Fire Bargade.  A great short movie that helped the kinders learn more about "hot spots", "Stop, Drop, Roll", "stay low and get out".  It is now available on youtube if your kinder wants to watch it again.  I didn't dare tell the kinders that I first showed this movie using a film projector with reels at the start of my teaching career. Oh, my!  That really tells you how old I am. 🙂 The movie will jump for a few seconds at the start but smooths out.  Don't miss the dragon…it is my favorite part. 🙂
We also read many fire safety books to learn more information and just for fun.  Fire Truck by Ivan Ulz became a favorite of every kinder.  Here is a link on youtube if your kinder wants to listen to the story again and sing the song! 
Friday afternoon Georgetown Township fire fighters came to teach us about fire safety.  
Captain Matt and firefighter Craig spoke with our class and Mrs. Tindall's class about fire safety.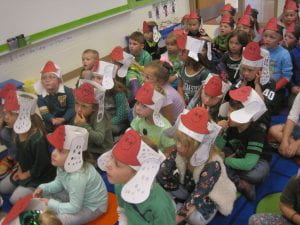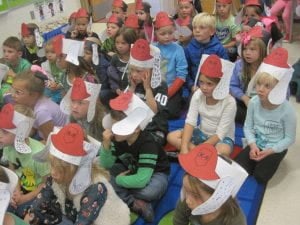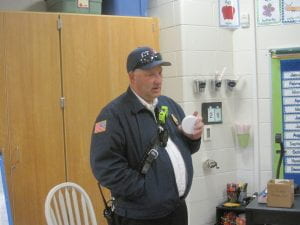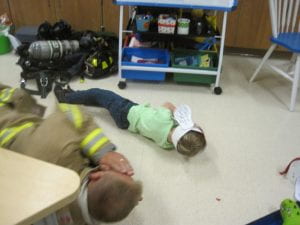 Here are some of the fire safety tips that we learned:
Check the smoke detectors in your house to make sure they work properly. Change the batteries yearly.

Go outside!  Talk about a safety plan for your family in case of a fire – where is your meeting spot? 

Call 911 immediately! 

Do not play with matches or lighters– they are dangerous and can cause fires! They are tools for grown-ups only!

If a part of your clothing or your body catches on fire, STOP, DROP, and ROLL. 
Many of the kinders already knew these fire safety rules and know that it is good to "not be scared but be prepared".  Fire fighter Matt showed how he would crawl on the floor looking for people and had the kinders practice yelling "Over Here" if they were inside a building.
The firefighters also showed us of what they looked like wearing their heavy uniforms.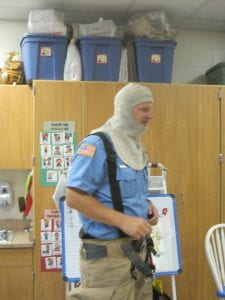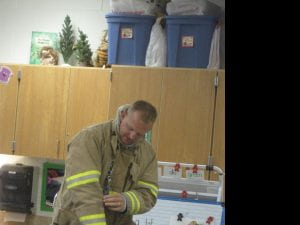 After our time in the classroom, we were able to go outside and look at all of the tools the fire fighters keep and use on the fire truck.  Pretty cool stuff!!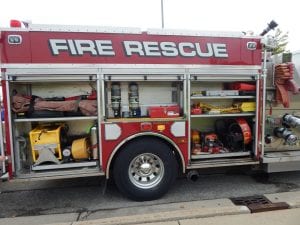 Thank you, Georgetown Township Firefighters, for a great visit AND for the fire safety treat bags!