Wow! It was very productive week of learning. Look what we have been doing!
SPLIT LIT:  If the kinders finish completing their "have to" work at their independent centers before it is time to switch groups, they can move on to the "can do" bins. These bins are filled with literacy activities such as: reading books filled with popcorn words; using letter cubes to spell CVC words; matching rhyming words and more. They really enjoy learning this way. 
The kinders were recently reassessed in identifying sight words.  Everyone made AWESOME GROWTH!!!  I am so excited and pleased with their progress. Please look inside your kinder's folder for an updated note. I have spent the week having the kinders individually read books to me so that I can adjust the level of books they are taking home.  You may see that your kinder will be bringing home a different colored sticker book.  This reflects the growth they are making.  Thank you for your continued support of reading with your kinder at home.  
MATH: It was a week of review in math.  Here are few math skills we covered.
Drawing teen numbers showing 10 and extra ones plus writing the equation.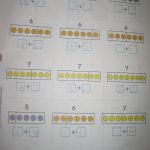 Writing number partners
Solving addition and subtraction problems
 We have postponed taking our unit #3 test until Monday.  A third of our friends were absent on Friday (a few vacations but mostly due to the flu).  That gives all of the kinders the weekend to finish their math homework for some extra practice.  Your kinder will take home the volume 1 math workbook on Monday.  This book can stay at home and does not need to be returned to school.  Use this workbook for review and have fun completing any pages we did not do in class.  Unit #4 will begin on Tuesday.
FUN WITH FRIENDS:  We spent some time Friday afternoon practicing writing our names, letters and numbers in shaving cream.  What a lot of fun!!!  It also made our room smell good too!
WRITING WORKSHOP:  Telling and writing small moment stories is challenging.  The kinders are working SO hard during this part of our day.  I was gone to a meeting Thursday morning and Mrs. Reagan was the teacher. After learning a bit about Mo Williams, the author who writes Piggy and Elephant books,  she and the kinders wrote  about a time they pretended.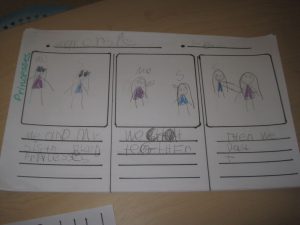 READERS WORKSHOP:  The kinders are learning how to use their super powers when they read. 
   To help the kinders use their Pointer Power, they were given a fun "eyes" ring to use when reading.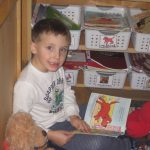 When using our Snap Word Power some  words, like our popcorn words, are easy to read.
MYSTERY GUEST READER: Izable was all smiles when her mom and younger brother, Grayson walked in today.  She read us one of Izzy's favorite books, You are my Best Friend because Izzy was in the story with Elsa and Ana. Thank you for stopping by.
EXTRA RECESS:  This week we started to work as table teams to earn points as a behavior tool in our classroom.  Our goal at the end of the week is for each table team to earn 30 points.  The tables that have 30 tally points earn an extra recess.  Mrs. Reagan surprised us by giving our class an OUTSTANDING award for making our goal.  
It was a perfect day for playing outside this morning too.  Congratulations kinders!  I know that we can do it again next week!  I am proud of you!!
*KOOL KINDERS ARE BOOK LOVERS:
 Mason likes to read The Foot Book because he likes Dr. Seuss.
   Jaxon likes Clifford so Clifford's First Christmas is one of his favorites.
  Lucas likes to make snowmen and read Snowman Magic.
Scarlett enjoys reading Are you my Mother?
  Jonathan brought Martin's Big Words.  A great learning book about Martin Luther King Jr.
   NOTES FOR MOM AND DAD
*POPCORN WORDS:            HE               SHE                                                                          It  was pretty cool to notice that "he" and "she" rhyme with the popcorn words we already know "me, we, be".  January popcorn flash cards will be sent home soon.  Please add them to the existing cards at home for practice.
*WINTER GEAR:  Even though it is cold outside we will go out to play if the wind chill is above O.  Thanks for bundling up your child for play outside.
BIRTHDAY CELEBRATION: 
   We gave Livia birthday wishes on Tuesday.  She turned 6 on 1/21!  Thank you for the birthday treat bags!
*VALENTINE PARTY AND VALENTINE EXCHANGE:   Tuesday, February 13 from 2:00-3:00pm. I will send out a separate posting on Saturday with a spreadsheet that you can volunteer for helping and supplying donations.  VALENTINE EXCHANGE:  Information has been sent home. Be sure to have your kinder write their names on each valentine.  Please remember to use the name labels for the front of the valentines for easier mailing. The kinders may bring in 4-5 valentines (select randomly from list) on Wed. Feb. 1; Thurs. Feb. 2; Tues. Feb. 7; Thurs. Feb 9; Fri. Feb 10 to mail. PLEASE DO NOT SEND IN ALL OF THE VALENTINES AT ONE TIME!  Let the love begin to flow!
*100 DAYS OF SCHOOL CELEBRATION:  Friday, February 9..  Start thinking about what 100 items your kinder will like to collect and bring to school.  Your kinders 100 collections will be due on Feb. 9. This is the day that they may bring them into school. Please do not send them into school earlier. The collections will return home the same day. Begin collecting 100 items and decide how your kinder would like to display them.  Have fun! 🙂
*CALENDARS: The FEBRUARY calendar  has been posted under CALENDARS.  A lot of fun events, popcorn words, birthdays are listed on this document.  The February lunch menu has also been posted under the side tab Hudsonville Food Service.
UPCOMING DATES
*MON. JAN. 29-–STEAM; reading TAKE  HOME BOOKS  
*TUES. JAN. 30–-GYM; reading TAKE HOME BOOKS, last day to order PE apparel
*WED. JAN 31––MUSIC; HOMEWORK DUE….math and literacy;  LIBRARY Please remember to return your child's book.    Mailing Valentines  Take 4-5 valentines to mail; 
*THURS. FEB. 1––ART; reading TAKE HOME BOOKS;  Mailing Valentines  Take 4-5 valentines to mail   If your kinder would like a sack lunch on Friday, please email me (kbohl@hpseagles.net or send a note by Thursday 2/1.
*FRI. FEB. 2-— STEAM; FAST FRIDAY…Dismissal at 12:15pm  
 *NO SCHOOL: Monday, February 5 WINTER BREAK
*NO SCHOOL: Tuesday, February 6 WINTER BREAK
*WED. FEB. 3—Back at school
*FRI. FEB. 9—- Day 100 Celebration
*TUES. FEB. 13—Valentine's Day Party  2:00-3:00pm  Non food donations due at school by Thursday, Feb 8. Food donations due Tuesday, Feb. 13.  Parent volunteers who are working at a party center, please arrive by 1:40pm for instructions & set up.
~~~Have a great weekend.  Stay warm and safe!   Mrs. Bohl