Well, we made it!  It is officially SPRING BREAK!  The kinders have been anxiously counting down the days.  Take a peek at what happened this week in kindergarten.
POPCORN WORDS:  AS    HAS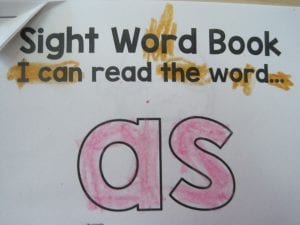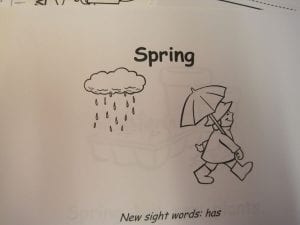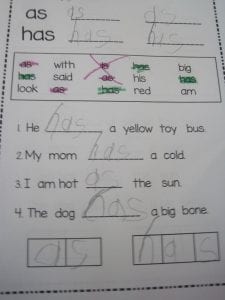 MATH:  We spent the first few days reviewing various math concepts such as solving addition & subtraction problems, drawing & writing partner equations for story problems, identifying 3D shapes, writing number partner equations, drawing tens & extra ones for teen numbers.  On Wednesday, the kinders worked inside their "office spaces" to take the Unit #4 test.  These tests will come home after spring break.  
WRITING:  We read a collection of non-fictional books about pigs and located many interesting facts to write on our chart paper.  We used this information to help us write our information writings All About Pigs.  The writings by the children have been SO impressive! They are beginning to use spaces between words, popcorn words and sentence stoppers with more regularity.  Hooray for them!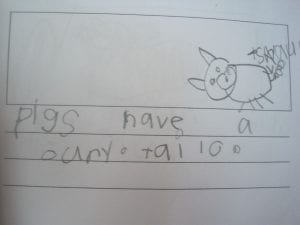 ONCE UPON A TIME—-THE THREE LITTLE PIGS:  We also read the classic story The Three LIttle Pigs as well as some books with a twist The True Story of the Three Little Pigs, The Three Horrid Pigs and the Big Friendly Wolf and The Three Little Pigs and the somewhat bad pig.  Of course we needed to practice our retelling skills by creating props (character puppets and the straw, stick and brick houses out of a milk carton!) so that your kinder can tell you the story at home. We sang this fun song (using my CD) frequently this week. I found it on YouTube so that you can enjoy it at home. Here is the link to The 3 Little Pigs Blues by Greg and Steve.They also practiced reading popcorn words by playing RUN, PIGGY, RUN. Look for this game inside your kinder's folder.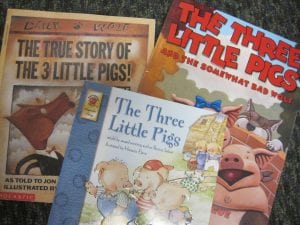 READING:  We continued to learn what avid readers like to do.  Avid readers don't only like to share books, they also like to do fun things with books and their friends.  The kinders were introduced to READING PLAYDATES.  Playdate activities include PLAYING SCHOOL (Reading aloud & Shared reading); PLAYING GAMES (Snap word hunt & Guess what's next?); PLAYING PRETEND (Act it out! & Use gestures!)   It was fun to see the kinders explore books, deciding what they wanted to do on a Reading playdate.  I LOVED seeing all the different choices!  Many LOVED playing school and being a teacher or student to explore books.  It was also fun to see those who made games out of finding sight words in books.  Those who chose to act out books were so fun to watch!  Getting these kinders excited about reading has been so much fun!!  We have LOTS of Avid Readers in our classroom! A fabulous way to learn!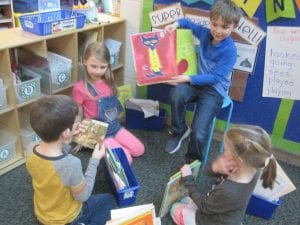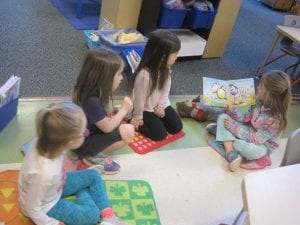 MARCH IS READING MONTH:  We read Pete the Cat and His Four Groovy Buttons (again)! It's one of our favorites! Then we enjoyed a yummy and cute snack that matched Pete's shirt from the story!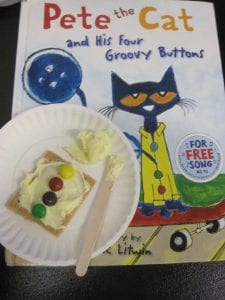 Mrs. Kuieck's 2nd graders came and we enjoyed reading books together.  It has been so fun having other classes come into our room this month.
It was SO exciting to wear jamies to school on Thursday.  In the morning the kinders rotated among the kindergarten rooms to hear each teacher read one of their favorite stories.  Then they had a READ IN, where they were able to read books in each classroom for a few minutes.  An awesome way to end March is Reading Month…..by READING!!!  We did some reading (Llama, Llama, Red Pajamas) and storytelling (5 Little Monkeys Jumping on the Bed) ourselves throughout the day.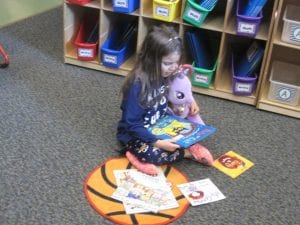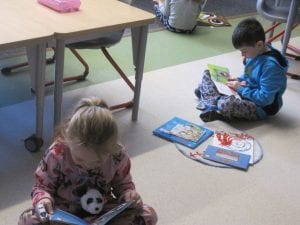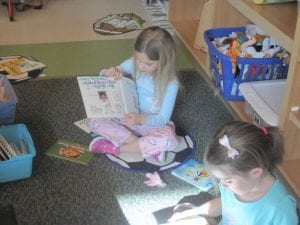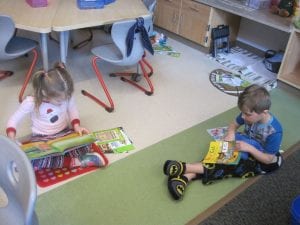 BIRTHDAY CELEBRATIONS: 
 Olivia turned 6 on Sunday, March 24.  
 Bronwyn turned 6 on Tuesday, March 26.  Thank you, girls, for the birthday treat bags!
REMINDERS
*TAKE HOME Books:  Your kinder will not have a book to take home over Spring Break.  They will be taking home a new book to read on Monday, April 8.  Reading books with parent volunteers will resume on Tuesday, April 9.  If you have free time, continue to practice popcorn words, addition & subtraction stories with written partner equations and write various kinds of stories…narrative, informational and pattern books.
*WINTER GEAR: Please keep in mind that even though the season is spring, some days will be wet and rainy.  Please continue to send a hat and mittens with your kinder as well as shoes to be worn just for outside. Thanks! 
*BACKPACK SNACK:  Please remember to send  TWO daily healthy snacks for your kinder, as we take a moment to refuel each day.  Thank you.
*MONTHLY CALENDAR:  The April calendar  can be found under CALENDARS at the top of our blog.  It lists birthdays, events, and more.  Please take time to read it.
UPCOMING DATES
*FRIDAY,MARCH 29- FRIDAY, APRIL 7….Spring Break…NO SCHOOL
*MONDAY, APRIL 8—STEAM; TAKE HOME BOOKS will arrive home again
*TUESDAY, APRIL 9—MUSIC;  reading TAKE HOME BOOKS; LIBRARY: We will have library so please return your kinder's book
*WEDNESDAY, APRIL 10––GYM
*THURSDAY, APRIL 11—ART;  reading TAKE HOME books  EMAIL OR SEND A NOTE BY THURSDAY (4/11) IF YOUR KINDER WOULD LIKE A SACK LUNCH ON FRIDAY.
*FRIDAY, APRIL 12—-GYM; FAST FRIDAY (Early Release Dismissal at 12:15pm)
*FRIDAY, APRIL 19—-ROCK COLLECTION DUE (a note with details coming home after break)
~~~Enjoy your Spring Break!  Take this time to relax and enjoy your time together, whether you are staying home or traveling. I will greet my awesome kinders on Monday, April 8.  Mrs. Bohl
SCHOOL RESUMES ON MONDAY, APRIL 8!