Our STEAM teacher, Mrs. Totten is asking that your kinder bring in headphones (the type you can plug into a computer) to keep at school to use during STEAM class throughout the year.  These headphones do not need to be fancy.  Often they can be found at Five Below, where you can purchase them for under $5.00. 
They will begin using them tomorrow in STEAM.  So….If you could please send in a pair of headphones marked with your kinder's name it would be greatly appreciated.  If you cannot send in headphones we do have extra for them to use.  Thank you to those who already sent in a pair for your kinder.
Environment print labels are due this week too.  Please refer to the note that was sent home to telling of your kinder's letter.  If you have misplaced this note, please let me know.  I will be happy to pass along your kinder's assigned letter to you again.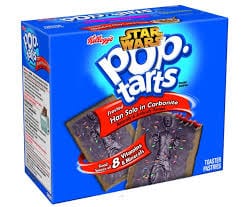 . 
     P is for Pop Tarts                                              S is for soup