April 22 is EARTH DAY!  That is today! 
We made Earth Day hats. We read books like Just a Gum Wrapper and It's Earth Day! by Mercer Mayer among other books to assist in our learning about Earth Day.  We learned how we can take care of the earth and "go green" by recycling paper, cans and bottles, turning off lights when leaving a room, turning off the water while brushing teeth and using containers instead of plastic baggies for snacks. The kinders used this information to create a craft that is hanging in our classroom.  Having a chance to marble paint the earth was part of the fun.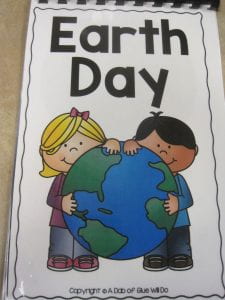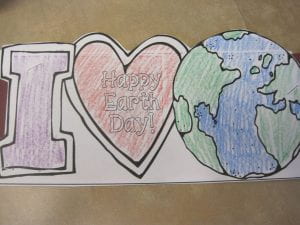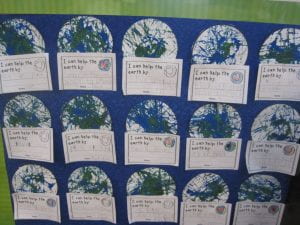 We thought it would be fun to challenge ourselves to reduce the amount of trash we throw away during snack and lunchtime.   To do this the kinders came up with the idea of using containers to hold their snacks, sandwiches instead of plastic baggies or pre-packaged bags.  Are you willing to help us?  Keep this in mind as you pack your kinder's TWO snacks and home lunch.      
We took a few minutes to find out where the 4th graders each week take our bags of scraps of paper.  Many of the kinders said they knew where the big recycling bin is located in our school parking lot.  Keep working to keep our earth healthy and clean….all year long.  🙂