Here is what your kinder did at school this week:
POPCORN WORDS:    THE      DOG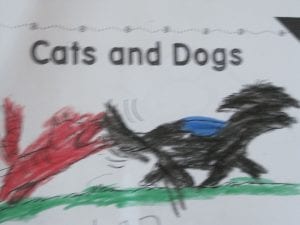 COLOR WORD:        BLUE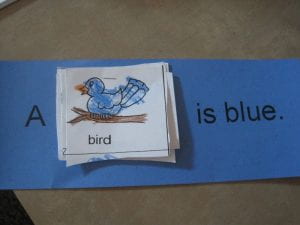 . 
We read Pete the Cat books because Pete is a blue cat.                                      We read Pout-Pout Fish books.
                  We read Little Blue Truck and made our own Little Blue Truck  
READING:  The kinders practiced re-reading to learn more about a topic. We also re-read our books to put all the pages together. We started at the front cover and went through page by page all the way until we got to the back cover. When reading our real world books, we learned to add a "pinch" of ourselves, by telling what we think about our books. 
COOL TOOLS:  We read How Full is you Bucket? to help us distinguish between being a bucket filler or bucket dipper.  A bucket filler is kind, listens, walks in the hallway, is respectful, etc.  A bucket dipper hits, interrupts, does not let others play, uses toothpaste words, etc.  The kinders sorted pictures to solidify the differences.  All of us took a promise to be a bucket filler at school and at home.  We are all going to work hard to be bucket fillers!  
We read the story Interrupting Chicken and learned that it's important to wait our turn to talk and not be an interrupting chicken.  
MATH: The kinders used their math books for the first time!  We drew objects to match the number we were given and met a new friend named Puzzled Penguin. We had to help Puzzled Penguin figure out his mistake! Puzzled Penguin will be in our math books frequently this year, so we are going to need to help him!  We practiced identifying circles by learning a song…. "A circle is like a button.  A circle is like a button.  Round and round it never stops.  A circle is like a button." (sung to Farmer in the Dell). We also added numbers together using our math tools. We ended the week by comparing numbers – we colored graphs to show which number was bigger or smaller. 
LITERACY:  We continued our ABC Bootcamp by studying the letters Jj, Kk, Ll this week.  We also were word detectives when we found our popcorn word "the" in the poem The Leaves.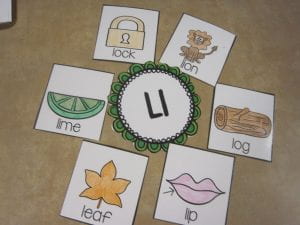 WRITING:  The kinders listened to the story The Little Engine That Could. We learned that even when things get hard, it's ok…we don't give up! When something is hard we should say, "I think I can, I think I can, I think I can." We used whiteboards and markers to practice this lesson by drawing (and erasing if we made mistakes) a train. We drew pictures of the playground and our homes. We added details to the pictures and labeled some things on the pictures too. They did a great job taking a risk and writing the first sound they heard as well as stretching out some words. We ended the week by starting a three page booklet about school. We wrote about the lunchroom – drawing a picture, labeling and even writing a sentence! We will continue these books about school next week. 
IMPORTANT INFORMATION:
*OUTDOOR CLOTHING….Please continue to send a coat or sweatshirt with your child.  The weather can quickly change so it is good to be prepared.
*BACKPACK SNACK…THANK YOU SO MUCH for being conscientious about sending TWO healthy, NUT FREE snacks…one for the morning, one for the afternoon.  Many kinders are bringing multiple snacks.  Our snack time is short but enough time to become refueled.
This coming week at our school is SPIRIT WEEK!  Join in the fun! Day's events are listed in red.
UPCOMING DATES
*Monday, Sept. 21—MUSIC, KOOL KINDER: Kole  PAJAMA DAY!  Birthday celebration for Dylan
*Tuesday, Sept. 22—GYM;  KOOL KINDER: Emily  CRAZY SOCK DAY!
*Wednesday, Sept 23—ART; Library  KOOL KINDER: Sophia  CRAZY HAIR DAY!
*Thursday, Sept 24–STEAM; KOOL KINDER: Isabelle WEAR A HAT DAY! and COLOR DAY…wear GREEN.  WALK-A-THON DAY
 *Friday, Sept 25—MUSIC; KOOL KINDER: Wesley  BLUE/GOLD DAY Wear Blue and Gold or Hudsonville gear;  
~~~~Thank you so much for ALL of the birthday wishes and small gifts that you bestowed on me.  I am honored and grateful to spend my days with your kinder. Have a great weekend.  Mrs. Bohl