We had a great 4 day week in kindergarten, a few sunny warm days to play outside and a few cooler days.  Thank you for sending your kinder with a sweatshirt/coat for the cooler mornings.  We play outside unless it is raining or the wind chill is below O.  Be sure to label your kinder's coat as it is hard for them to remember which coat/sweatshirt belongs to them.  
Here is a peek at what your kinder did at school this week:
POPCORN WORDS:     A       COLOR WORD:      RED                                                            The kinders had fun celebrating the color RED today! We colored pictures, sang a red song,  read many books about a big, red dog…..Clifford.  Making a fun craft of Clifford helped us practice our cutting skills and listen to and follow directions.  It was fun to see RED shirts, RED pants, RED socks, RED hair ribbons on Friday.  We even ate a surprise RED snack….Red Strawberry Fruit Snacks! Yum!
PROCEDURES:  We have been learning and practicing how to do many things in our classroom. From how to daily turn in our blue folders and ordering lunch to remembering our number in line and walking down the hallway at school.  They have done a GREAT job practicing this throughout our movement around our school. The kinders are working very hard to keep their hands in their own bubble space when sitting on the floor and in their lap when sitting at their table spots—and not touching their supplies when listening for directions.  Each day I see improvement.  I have a FABULOUS bunch of kinders!!!
LIBRARY:  We visited the library for the first time on Wednesday. Mrs. VandenBerg read a book called, "Mr. Wiggle's Book".  This book is about how to take care of books and to be a book lover with them!  We learned that we must treat them very gently and be kind to them otherwise they may break!  We also took a tour of the library and learned where we can find books to check out!  Next week Wednesday we are planning to check out books in the afternoon at 1:50pm.
COOL TOOLS: The kinders are continuing to work hard each day to being ready to learn by….looking with eyes, listening with ears, voices quiet, hands in own bubble space and sitting like a pretzel (when on the rug).  We are learning about the different parts of the brain and how each part functions.  We are becoming mindful of each other and the climate of our learning classroom.  Our lessons about the cool tools are helping us be aware of others and how to deal with situations.   
Franklin's Bad Day was read on Tuesday to help us learn to walk away before saying toothpaste words or doing toothpaste actions to our friends.  The BIG INFLATABLE SHOE is our visual reminder.  We decorated our own shoe to take home.
Wednesday we read When I am angry and learned that taking time to chill out when we feel upset is okay. We learned about our Calm Spot or other things we could do like talk to an adult, take a walk with an adult, etc…  The ICE CUBE TRAY is a good reminder.  We played a fun game using a real ice cube and said it was important for us to cool down when we feel angry or upset.  It was COOL! 🙂 .   
Thursday  we read Hurty Feelings and learned that the tone of your voice and how we say words is very important.  The microphone helps us remember this. 
WRITER'S  WORKSHOP:  The kinders found that writers share information with others about what they know. Examples of these topics were WHAT TV SHOW DO YOU LIKE TO WATCH? WHAT IS YOUR FAVORITE COLOR? WHAT DO YOU LIKE TO EAT FOR BREAKFAST?  They practiced this by taking turns with their partners to be the jelly (speaker) and the peanut butter (listener). They also learned and practiced what it looks like to "turn and talk" to their partners. The teacher claps two times and says "TURN AND TALK" and the kinders clap two times and say "OKAY".  The kinders turn and face their partner, taking turns being the jelly and the peanut butter.  When they hear "1,2,3, turn your eyes back on me", they turn and face the teacher. The kinders did AWESOME!!!  We also learned that we can think of something that we know about, draw it and write the beginning sounds while labeling our drawings.  We thought of many different topics and drew about "lining up" which we are becoming experts at doing!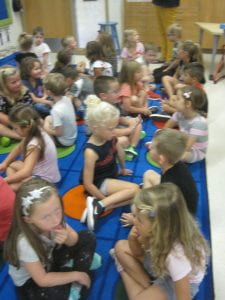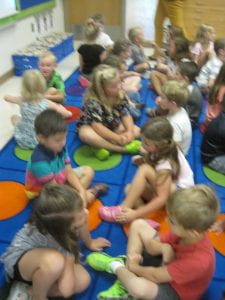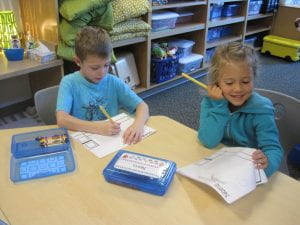 NEWSPAPER—LET'S FIND OUT!  The kinders were introduced to the newspapers that help us learn about various topics.  School rules were the topic for this first edition.  
READER'S WORKSHOP:  During our first reading workshop lesson, the kinders learned that readers walk through the world in a special way.  They don't just see things, they read things too!  We learned that we are readers and can already read different signs in our school, in our classroom and out in our world!  The kinders were excited know that they were able to read familiar environmental print signs. We are learning to LOOK, READ, THINK, LEARN!
We also talked about what it means to be a "Book Lover".  We learned that a book lover takes care of their books by being gentle with them, not eating or using supplies around them and putting them back where we got them from.  We practiced being a book lover with books at our table spot.
MATH: Last week we started number writing during our handwriting time, stressing that we always start our numbers at the top!  This week we wrote number 2, 3 and 4.  We drew pictures to show their number sense like 2 flowers,3 balloons, 4 apples.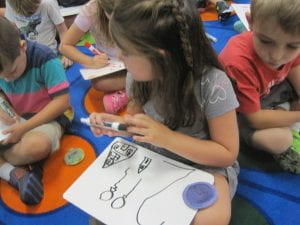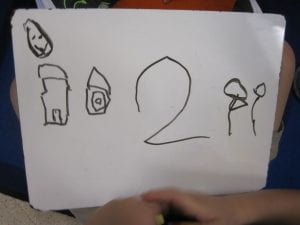 We read Anno's Counting Book, discussed numbers 1-10 and went on an I Spy hunt on the book pages for objects that corresponded to  that number. 
We explored with our math manipulatives!  The kinders were introduced to the number tiles 1-5, 10 counters and the math tray.  We also learned how to count a group of objects and find different ways to arrange them.  For example: 3 can be shown with 1 red tile and 2 blue tiles or 3 can be shown with 3 red tiles and 0 blue tiles.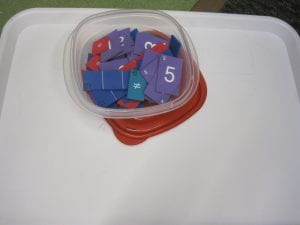 Quiet Time:  Each day we have quiet time after lunch for 15-20 min.  The kinders  have a chance to rest their bodies and brains so they will be ready to learn for the rest of the afternoon.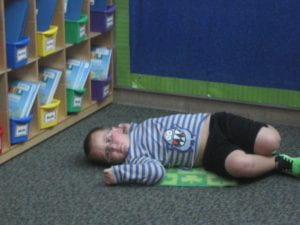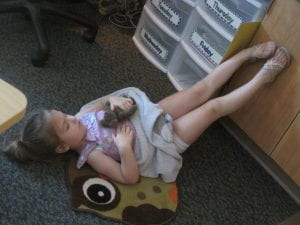 SOAR:  As a class we are learning how to SOAR- Be Safe, Own It, Act Responsibly and Be Respectful at school!  This week we learned about noise levels.  When Mrs. Bohl has a fist in the air it means that we need to be quiet.  We use this procedure in the hallway.  Please see our school wide expectations below.
A NEW FACE IN OUR CLASSROOM: Mrs. Bynum.  She is our classroom para-pro for the morning.  She has taken the place of Mrs. Rossback who is now working with other students within our school.  Mrs. Bynum will be with us all year.  We are VERY thankful to have her! 
NOTES FOR MOM AND DAD
*Outdoor clothing.—.Please send a coat or sweatshirt with your child if needed in the mornings.  The weather can quickly change so it is good to be prepared.
*Backpack snack.—Pack TWO quick, heathy snackS each day.  Be sure to place it in a special small pocket so that it is easy for them to locate.
*Blue folders—send them to school each day (you are all doing a great job with this!  Thank you!!)
*If ordering a hot lunch or milk, please discuss with your child what they will be ordering so that they are comfortable and secure with their selections.
*Parents, please subscribe to this blog so that you are alerted when information is posted about happenings in our classroom.
UPCOMING DATES:
Monday, Sept. 9–ART; Kool Kinder: Rowan
Tuesday, Sept 10—STEAM;  Kool Kinder: Nora
Wednesday, Sept 11—MUSIC; Library  Kool Kinder: Kylie
Thursday Sept 12—GYM;  Kool Kinder: Sutton  Jet's Pizza Night   Happy Birthday to Elliott! 🙂
Friday, Sept 13—ART, Kool Kinder:  Ariya  COLOR DAY….Wear YELLOW! Happy Birthday to Evelyn! 🙂
Friday, Sept. 20–Fast Friday (Early Release)  Dismissal at 12:15pm.
Thursday, Sept. 26—School Pictures….ordering information will be sent home soon.  
Have a restful weekend. Sleep well. We have a 5 day week ahead. Thank you for sharing your kinder with me. They are wonderful!  Mrs. Bohl