COLOR WORD:    ORANGE     We read some pumpkin books to celebrate the color orange.  We made a cute orange tiger and so much more.
POPCORN WORDS:   YES   NO  STOP  GO   We wrote these words in our journals, found/wrote them in our popcorn paper books, used magnets to create new words by changing the beginning sound (go, no, so, OR stop, mop, top, hop) and in our shared reading poem.  
READING: We were introduced to some new strategies to use when we get stuck on unknown words. We learned about Tryin' Lion, Stretchy Snake, Eagle Eye and Lips the Fish. Tryin' Lion taught us that if what you're reading doesn't make sense, go back and try it again. Stretchy Snake taught us to s-t-r-e-t-c-h out the sounds and then blend them together. Eagle Eye taught us to use the picture on the page to figure out the word. Lips the Fish taught us to get our mouth ready to say the sounds in words. We practiced those skills in our books. We also looked at our popcorn word books and labeled some pictures to help us read them better. In our books we looked for what characters are feeling and labeled that feeling with a sticky note that tells the feeling . 
MATH: This week the kinders found out that they can tell math stories and solve the answers to their math stories. For example:  3 teddy bears came and sat at a table.  2 more teddy bears joined them.  How many teddy bears are at the table?"  3+2=5. They used their math toolboxes to show groups of 5 within numbers (5+1=6) and to compare numbers by using a 5 strip and extra one tiles.  They drew groups of 5 and extra ones and counted groups of objects inside their workbooks.  Friday math games were APPLE ORCHARD I SPY and PUMPKIN RACE.  What fun!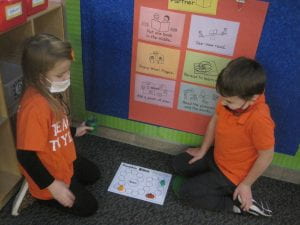 WRITING:  This week we wrote about our Homes. We learned about how writers think about their important topic, draw it, label the pictures, write words and then write more words. We ended the week by making them colorful and sharing them with our table partner! They are doing a fabulous job drawing detailed pictures, labeling parts of their drawings and trying their best to write a matching sentence such as "I eat at the table. I sleep in my bed. I play in the playroom."
PHONICS:  We are Word Scientists!  We began to look closely at an alphabet charts to notice which letters have straight or curvy lines, how it can help us match a picture to a letter and noticing things that are the same and different about the ABC charts. We also practiced learning a letter – naming it, sounding it, writing it and using it. We did the same thing practicing our popcorn words.
SPLIT LIT/LITERACY:  The kinders worked on rhyming, identifying letters, producing the sounds, identifying beginning and ending sounds by playing games.  
PBIS Outstanding Mission:  On Monday we departed on a mission brought to us by the PBIS team at Georgetown.  Our mission at our first stop was to determine the best way to SOAR at school which was by Detective Stauffer.  Our second and last stop was led by Mr. Waldie where we discussed who the secret agents are at Georgetown that give Outstandings to students.  This was fun little hunt to introduce Outstandings and remind our students of how we SOAR at school.  Ask your kinder about how they can SOAR daily at Georgetown. 
SOME REMINDERS FOR YOU 
KOOL KINDERS:   What fun to see and hear about this week Kool Kinders' show and tell items of Ryan's World, Fancy Nancy doll, mini car that fit inside a small container, a Leap Frog game and a cuddle buddy mouse.
TURKEY TROT:  The Turkey Trot is going to be a virtual race this year. Check out the PE blog for the Turkey Trot information.   http://mvankoev.edublogs.org
LUNCH:  On October 9, the USDA announced that they would be extending the Summer Food Service Program's free meals for all students at all schools through June 30, 2021. The SFSP is a continuation of the operating rules in place during the spring/summer school closure from March-August 2020.  If your kinder orders milk with their home lunch that is a charge.
BACKPACK SNACKS: THANK YOU SO MUCH for being conscientious about sending ONLY TWO healthy, NUT FREE snacks…one for the morning, one for the afternoon.  Our snack time is short but enough time to become refueled.  Don't forget those water bottles! 🙂
Please remember to send your kinder in a coat each day to school. With this changing weather, it is important for the kinders to be warm at recess. Thank you!
UPCOMING DATES
*Monday, Oct 19—MUSIC
*Tuesday, Oct 20—GYM 
*Wednesday, Oct 21—ART; Library…Bring back your library book, Homework packet due.   
*Thursday, Oct 22–STEAM EMAIL ME OR SEND A NOTE BY THURSDAY (10/22) IF YOUR KINDER WOULD LIKE A SACK LUNCH. 
 *Friday, Oct 23—STEAM;   Fast Friday (early release) Dismissal 12:15 COLOR DAY: Wear BROWN
*Wednesday, Oct 28–Fall Party Donations due at school
*Friday, Oct 30–Fall Party day
Have a fabulous fall weekend. If you have any questions or concerns, please contact me at kbohl@hpseagles.net  YOUR KINDER IS SPECIAL TO ME! 🙂  ~~Mrs. Bohl