POPCORN WORDS:   COME.  SOME
WRITING:  We read books and watched some videos about COWS before we wrote facts onto our "have, can, are" charts. The kinders decided which facts they wanted to include in their own All About Cows books.  They worked independently to put their facts into sentences, remembering to use capital letters, spaces between words and sentence stoppers, before drawing detailed pictures.  This was their "on-demand/test" of our All About ___ writing genre. This informational book will be graded and used for our final report card grade on informational writing. The kinders did a fabulous job!  I can't wait to share how well they did with you.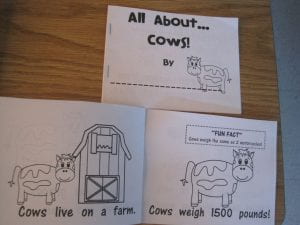 We made a cute cow craft on Friday.  It was 'moo'arvlous fun! 🙂
READING: We began a new unit called Character Round-Up.  In this unit, we will dive deeper into learning about characters. We started by learning that a character can be an animal, person or thing, characters can talk and characters can change, plus more. Then we took time to look closely at what characters look like. We learned more about characters by studying what they say or do and asking ourselves "Are they nice? Are they mean?".  We can also learn about characters through what other characters do and comparing them to the main character.
MATH:  We worked on finding partners of number 7 by using 2 colors of unifix cubes.  What fun!  We also worked in our math books making groups of objects equal by drawing more objects, comparing objects that are Greater than or Less than, solving addition and subtraction problems and found totals of number partners. We had fun playing FLOWER POWER to practice writing addition and subtraction equations.
LITERACY/PHONICS: We learned that every word has at least one vowel.  Mabel told us we can use a new super power…VOWEL POWER when we look at words.  She gave each of us our own vowel shields to help us accomplish this. We searched through big books to find as many vowels as we could. We also worked on…
reading a short story and answering comprehension questions

making words in the -IT family

listening for and writing vowels

sentence dictation – writing all the sounds we hear in the words
KOOL KINDER AND THE SURPRISE BAG AND THE GUESSING BAG:  The items this week were legos, popcorn, chocolate chips and mint candies
STUFFED ANIMAL DAY FUN
REMINDERS
Bring 2 snacks each day to school and a water bottle with a spill proof lid please. 

Return take home books and library books on Wednesday

Watch the weather. Please keep in mind that even though the season is spring, some days will be cold, wet and rainy.  Please continue to send a coat, with your kinder. Boots are not needed unless it rains. Thanks!
*MAY/JUNE CALENDAR:  The MAY calendar and JUNE calendar can be found at the top of our blog under CALENDARS.  You can also refer to the paper copy that was sent home this week.  
UPCOMING DATES
*Monday, May 3—GYM
*Tuesday, May 4—ART
*Wednesday, May 5—STEAM; TAKE HOME BOOKS & LIBRARY Don't forget your books! Thank you for taking the time to write comments about your kinder's reading of their TAKE HOME books.  That is so helpful 🙂
*Thursday, May 6—MUSIC 
*Friday, May 7–GYM. Bring a joke to school today!
***Have a fabulous weekend. Mrs. Bohl