A fun week in kindergarten…..
SPRIT WEEK FUN:  Thank you for participating!  🙂
PAJAMA DAY:  Totally forgot to take pictures.  The kinders wore fun jamies though. 🙂
CRAZY SOCKS DAY: 
CRAZY WILD HAIR DAY: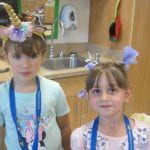 HAT DAY:
MAIZE AND BLUE DAY:
MATH:  The kinders sorted shapes into two groups….circles and not circles.  They did a great job recognizing the differences in shapes. They were so excited to use their own math tool boxes to practice number sense and comparing numbers using graphs. They also practiced writing numbers, especially 1-3 and identifying groups of numbers 1-5 in our workbooks. 
POPCORN WORDS:       IS   HIS   THIS     The kinders found out that when you add a letter (or two) at the beginning of "is" you can create new words.  We also noticed that sometimes the letter s makes a /z/ sound like in "is" and "his" but also makes a /s/ sound in "this".  We highlighted these words in our weekly poem This is us and found them inside our popcorn book A Fireman.
COLOR WORD:  GREEN  It was fun to read Froggy books, make a green flip book and make a fun frog craft.  We read Little Blue and Little Yellow too.  What fun the kinders had experimenting with blue and yellow playdough to see if mixed it would turn green.  Of course, wearing green clothing was pretty cool too.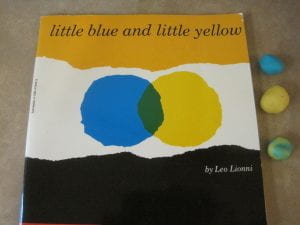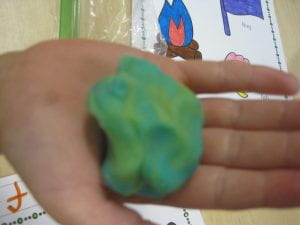 WRITING:  We continued writing our three page story about SCHOOL, writing about the playground and our classroom. We drew pictures, added labels and even added a sentence. It is important to make sure that the sentence we write matches our drawings. They added color and extra details to their pictures to make their story the best it can be. This was hard work but we kept reminding ourselves when something gets hard we should say, "I think I can, I think I can, I think I can." The kinders did an amazing job!!
LITERACY:  ABC Boot Camp letters this week were Mm, Nn, Oo, Pp, Qq.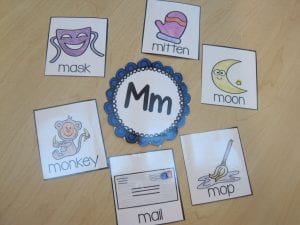 READING:  The kinders practiced sounding like a teacher when they read. They also started to learn how to be storybook readers.  Storybooks are books that readers may have read before and can enjoy reading again and again.  We also practiced telling familiar stories and making sure our words match what is in the picture.  Sound familiar?  It was pretty cool to make the connection that is what we were doing during writing time too.  One of the stories we had fun practicing this with is the story, The Three Billy Goats Gruff.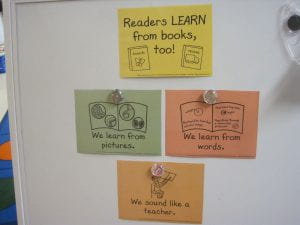 PHONICS:  Meet Mabel the elephant.  She is the main character in a new phonics program that began this week.  Mabel will help teach the kinders the ins and outs of phonics…learning more about letters & sounds, rhyming words, syllables, making of words, formation of letters and more.  Learning about names will be the focus of the lessons for the next few weeks.  The kinders looked at the letters in Mabel's name and their friends' names. They learned how to identify a letter by NAME IT, SOUND IT, WRITE IT, USE IT. We collected M items to put inside of Mabel's bed such as a mini mirror, mouse, milk, M magnet. They had fun clapping the syllable beats in Mabel's name (Ma  bel) and in their friends' names.
INTRODUCING:  We are so grateful that 3 special para-professionals stop by throughout our day and week to learn and work with us in kindergarten.  
.  Mrs. Bynum  
     Mrs. De Groot
.   Mrs. Santana
IMPORTANT INFORMATION
*OUTDOOR CLOTHING….Please continue to send a coat or sweatshirt with your child.  The weather can quickly change so it is good to be prepared.  Next week is predicted to be cooler weather.
*BACKPACK SNACK…THANK YOU SO MUCH for being conscientious about sending TWO healthy, NUT FREE snacks…one for the morning, one for the afternoon.  
*LIBRARY BOOK…When you are finished reading your kinder's library book, you can return it to school.  We have a box where the books will be kept until we go to the library on Wednesday.  Your kinder will be able to check out another library book ONLY when the other book is returned.
*CALENDARS..You can view this month's food service lunch menu on the side bar AND the OCTOBER calendar at the top of the blog under CALENDARS.
UPCOMING DATES
*Monday, Sept. 28—GYM, KOOL KINDER: Hannah 
*Tuesday, Sept. 29—ART;  KOOL KINDER: Cameron  
*Wednesday, Sept 30—STEAM; Library…Bring back your library book, Homework packet due.    KOOL KINDER: Jack 
*Thursday, Oct 1–MUSIC; KOOL KINDER: Cade. SCHOOL PICTURE DAY!
 *Friday, Oct 2—GYM; KOOL KINDER: Parker  Wear PURPLE