Fabulous fall is here!  The weather this week has been fall like….cool mornings and some warm up during a few of the days. Thank you for sending a coat/sweatshirt along with your kinder each morning.  
Here is a peek of what your kinder did at school this week
POPCORN WORDS:        DO   TO   YOU      While stretching out the sounds in our popcorn words, we noticed that letter O can sound like /oo/ while containing either one O or OU. We could also hear that they rhyme.  We also took note that "to" can be written other ways like "too" and "two".
MATH:  We also continued to practice writing our numbers, especially 1-5, identifying groups of numbers 1-5 and practiced telling addition and subtraction stories. We learned that writing a 5 can be a bit tricky!  The students are learning that 5 is a small down, curve and a slide at the top.  We are using Peterson's Language when making our letters and numbers.  Next week, we will have our very first math test to assess the skills that we have learned.  Friday math games (for the most part) related to fire safety, by playing RACE TO THE FIRE (number writing 1-6), PUT OUT THE FIRE (1 to 1 correspondence, counting and number identification), ROLL AND COVER (number identification) and explored making patterns with teddy bear counters.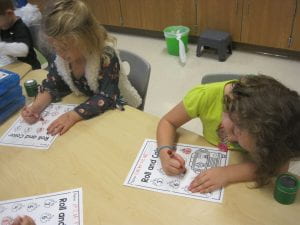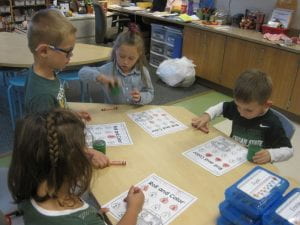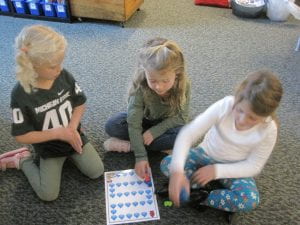 LITERACY: We started diving into the structure and function of letters.!  We distinguished between letters / words / sentences.  We incorporated this learning into our handwriting time too.  Learning to identifying our alphabet letters and practicing the sounds these letters make has been our focus.  ABC Boot Camp letters were Ss, Tt, Uu, Vv.  In our small groups we played rhyming and letter/sounds games.  We enjoyed reading together The Birthday Cake by Joy Cowley, while noticing popcorn words, front cover, title page, and more.
READING WORKSHOP:  We are continuing on with our favorite stories in reading this week!  The kinders are learning to sound exactly like the characters in some of our favorites while they are reading their books!  They are also learning to use the picture when reading their book.
We used this book to sound exactly like the characters in the, "Three Billy Goats Gruff".  The students had a blast changing their voice to sound exactly like the troll and billy goats in this story.  This little paper book is now in their blue book bin.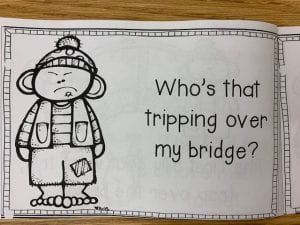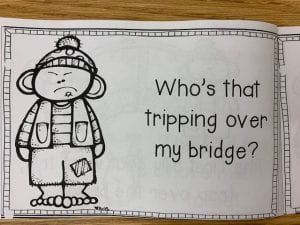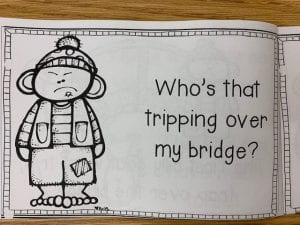 COLOR WORD:  GREEN  It was fun to read Froggy books, make a green flip book and make a fun frog craft.  We read Little Blue and Little Yellow too.  What fun the kinders had experimenting with blue and yellow playdough to see if mixed it would turn green.  Of course, wearing green clothing was pretty cool too.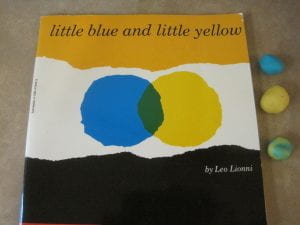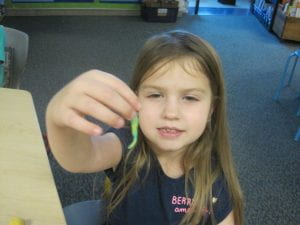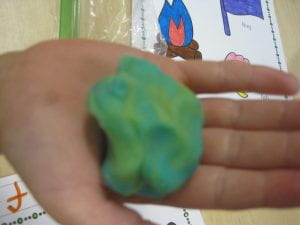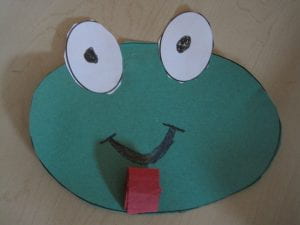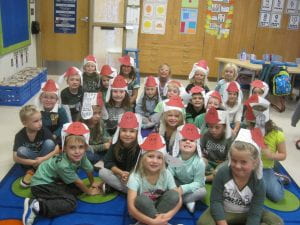 WRITING: The kinders were so excited to show and tell their item from home in our writing! The kinders pulled their object out of their brown bag, told their partner about it and then they were asked to draw and label it.  Labeling is tricky but we are learning to stretch words slowly and write all of the sounds that we hear.  Thank you for participating!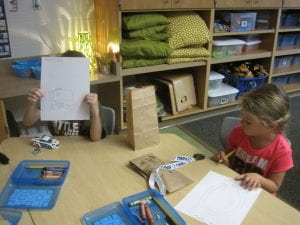 MYSTERY READERS:  On Wednesday,  Evelyn jumped up with smiles to greet her mom.  We heard a favorite book that they read at bedtime each night, Thank You and Good Night.  Evelyn's mom even brought their stuffed animals they snuggle with during their nightly reading.
Friday Skyler was happy to see her grandma come through the door.  She read Pinkalious Apples, Apples, Apples.  A perfect story for apple picking season.  Skyler's grandma surprise all of the kinders by bringing a Pink Lady apple for everyone!  Thank you so much for the thoughtful gift.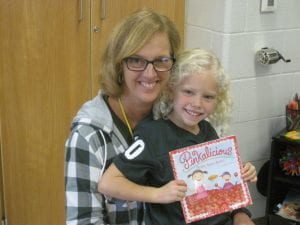 IMPORTANT INFORMATION
BACKPACKS…Please take time to clean out your kinder's backpack of unnecessary items like snuggle buddies, blankets, toys, extra notebooks, etc.  When backpacks are full of these items there is not enough room for their folders and lunch boxes.  
OUTDOOR CLOTHING….Please continue to send a coat or sweatshirt with your child.  The weather can quickly change so it is good to be prepared.
BACKPACK SNACK…THANK YOU SO MUCH for being conscientious about sending ONLY TWO healthy, NUT FREE snacks…one for the morning, one for the afternoon.  Our snack time is short but enough time to become refueled.
BLUE FOLDERS:  Please get in the habit of taking out your kinder's blue folder each night and removing the papers, art work, etc.  Please place any notes back inside the folder.  That is the best place for me to find them.  Thank you!
LUNCH MONEY… When sending in lunch money, please place in a baggy or envelope and include your kinder's first/last name and my name on it.  This will make it much easier when passing it on to the lunch staff.
UPCOMING DATES
*Monday, Oct 7—MUSIC, Culver's Night—support Georgetown and eat at Culver's.  *I am planning to work the 5:00-5:30pm shift!* KOOL KINDER: Elliott
*Tuesday, Oct 8—GYM;  KOOL KINDER: Kennedy
*Wednesday, Oct 9—ART; Library–Please help your kinder remember their library book.  Homework packet is due;  KOOL KINDER: Reagan
*Thursday, Oct 10–STEAM;  KOOL KINDER: Kieran
 *Friday, Oct 11—MUSIC;  KOOL KINDER: Allan  Wear PURPLE
*Thursday, Oct. 31—Fall Class Party, 2:00-3:00 p.m.  Sign-up list for donations will be coming soon!