Wearing comfy pajamas was just right for boarding the Polar Express today.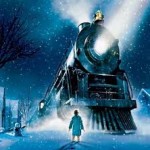 The day was filled with reading the book The Polar Express, finding rhyming pictures based on the Polar Express, watching the movie, making CVC words, drinking hot chocolate (with and without marshmallows), writing teen numbers, solving addition & subtraction stories using marshmallows and so much more!
The day ended with a package delivered to our classroom!  Inside were silver jingle bells from Santa Claus!!!  They were super cold…probably because they arrived right from the North Pole.  WE BELIEVE!!