POPCORN WORDS:  AS    HAS   
MATH:  We reviewed various math concepts such as solving addition & subtraction problems, drawing & writing partner equations for story problems, identifying 3D shapes, writing number partner equations, drawing tens & extra ones for teen numbers on Monday.  On Tuesday, the kinders worked inside their "office spaces" to take the Unit #4 test.  These tests will come home soon.  We began Unit #5 by telling math stories and drawing scenes with teen numbers. We looked for partners of 10 by using Stars in the Night sky.  We solved addition problems by cracking open Easter eggs and rolling a giant die to find partners of 6. We ended the week by playing a fun game called BUNNY HOP.  The kinders LOVED hopping out addition equations to find the answer.
WRITING:  We began a new style of writing….NON FICTION. We read a collection of non-fictional books about pigs and located many interesting facts to write on our chart paper.  We used this information to help us write our information writings All About Pigs.  The kinders are beginning to use spaces between words, popcorn words and sentence stoppers with more regularity.  Hooray for them!
FAIRY TALES:  THE THREE LITTLE PIGS:  We also read the classic story The Three LIttle Pigs as well as some books with a twist The True Story of the Three Little Pigs, The Three Horrid Pigs and the Big Friendly Wolf and The Three Little Pigs and the somewhat bad pig.  Of course we needed to practice our retelling skills by creating props (character puppets and the straw, stick and brick houses out of a milk carton!) so that your kinder can tell you the story at home. We sang this fun song (using my CD) frequently this week. I found it on YouTube so that you can enjoy it at home. Here is the link to The 3 Little Pigs Blues by Greg and Steve.They also practiced reading popcorn words by playing RUN, PIGGY, RUN. Look for this game inside your kinder's folder.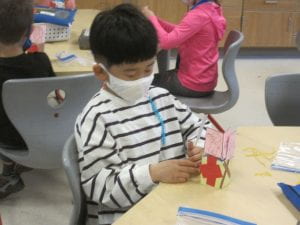 READING: We started a new reading unit learning about non-fiction books.  The kinders first reviewed what fiction and non-fiction books are.  Then they learned that reading non-fiction books isn't that different from fiction books. Readers look closely, ask questions, point and talk so that they become experts on topics. Readers also ask questions, just like reporters do by saying  "This just in…".  The kinders had fun practicing this after we read a Let's Find Out newspaper about beavers.  We said "This newspaper was mostly about how beavers build their homes.  One example was………."  Have fun listening to your reporter give you some facts at home!
LITERACY/PHONICS:  We practiced writing CVC (consonant-vowel-consonant) words, unscrambling sight words and reading sight words, We learned that rhyming words are sometimes spelled the same at the end. Word part power can help us hear and see what is the same in a tricky word so that we can read and write them. Example: hop, top, stop, flop.
KOOL KINDER AND THE SURPRISE BAG:  The items this week were: a football, Biscuit the dog, a pet cage, a motorcycle and a parrot
USING OUR 5 SENSES:  We reviewed what our 5 senses were…hearing, seeing, smelling, tasting and touching.  The kinders were then asked to use their 5 senses to observe and describe a bunny Peep.  What fun!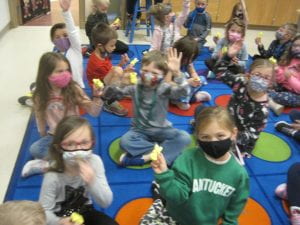 REMINDERS
Bring 2 snacks each day to school and a water bottle with a spill proof lid please.

Return take home books and library books on Wednesday

Watch the weather. Please keep in mind that even though the season is spring, some days will be wet and rainy and maybe snowy :(.  Please continue to send a hat and mittens, along with a coat, with your kinder. Boots are not needed unless it snows or rains. Thanks!  

Change of clothes check.  Be sure to check the extra clothes baggy in your kinder's backpack that they are season and size appropriate.  With spring weather, recess can sometimes get messy.

TAKE HOME Books:  Your kinder will not have a book to take home over Spring Break.  They will be taking home a new book to read on Wednesday, April 14.  If you have free time, continue to practice popcorn words, addition & subtraction stories with written partner equations and write various kinds of stories…narrative, informational and pattern books.
MONTHLY CALENDARS:  The APRIL calendar can be found under CALENDARS at the top of our blog.  It lists birthdays, events, and more.  Please take time to read it.  I also sent home a paper copy today. Here is the link to the April lunch menu.
WEEKLY HOMEWORK:  The subtraction page was missing from the homework packet that was passed out on Wednesday afternoon.  I placed it in your kinder's return to school section of their Blue Daily Folder.  Please look for it and return it with the homework next Wednesday!
UPCOMING DATES
*Monday, March 29—STEAM
*Tuesday, March 30—MUSIC
*Wednesday, March 31—GYM; TAKE HOME BOOKS & LIBRARY Don't forget your books!   Homework packet due  
*Thursday, April 1—ART. Read and Feed:  Wear pj's or comfy clothes for reading!
*Friday, April 2-Friday, April 9 Spring Break—NO SCHOOL
*Monday, April 12. WELCOME BACK TO SCHOOL
***Have a wonderful weekend!   Mrs. Bohl