POPCORN WORDS:   
They were 'popping' up all the time this week in our daily messages and in books. We learned that sometimes "E" is quiet and tells other hard worker letters (vowels) to do a flip and say their letter name. We saw this happening in "like" and "here".  Our shared reading poem "I like to play." and book The Balloon included our popcorn words this week.
COLOR WORD:     BROWN    The kinders had fun reading many Bear books…a character who is becoming a favorite.  We also read Brown Bear, Brown Bear, What do you see? .  We continued to practice our storytelling skills as we retold (and sang) the story many times this week.  Enjoy having your kinder practice their skills at home when they retell the story for you using their storytelling strip.  We made a brown bear hat while wearing brown. Thank you for helping your kinder participate in our color days by wearing particular colors.  The kinders (and I) looked forward to these fun days. 
 READING:  We learned that readers read patterned sentences.  We read a poem about the zoo and noticed the pattern of "______ are in the zoo." With our reading partners, we worked hard to find places in our storybooks that were "Wow!, "Huh?", "That's cool!"  Storybooks are filled with these parts to make the story exciting!  We also reviewed looking for character feelings. Little Critter in I was so mad! by M. Mayer displayed a lot of feelings. We are all learning!  Just like when we were little we didn't walk right away, we had to crawl, scoot, hold onto things and then we could walk, jog and then run!  Reading is like that too.  We have to learn some sounds, put those sounds together and then use all of our reading tools to practice being a reader. Reading by ourselves or with our partners help us grow as readers!
WRITING:  The kinders learned that writers also write books with a pattern.  After investigating a real pumpkin that Mrs. Bohl brought in, we wrote a book about the parts of the pumpkin using the pattern "I see the _______." (stem, ribs, rind,  orange pumpkin) . We also wrote a book about ourselves after listening to the song Mat Man.  This song reminds us to include details in drawing a person. This book used the pattern of "Here is my ______." (head, body, hair, friend).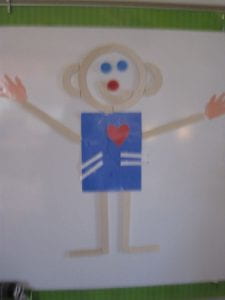 SPLIT LIT/LITERACY: The kinders did activities to strengthen their skills in letter ID, letter sounds, hearing syllables in words, rhyming, blending sounds.  I am SO excited about the progress I am noticing.  Thank you for working and supporting your kinder at home.  It is making a BIG difference!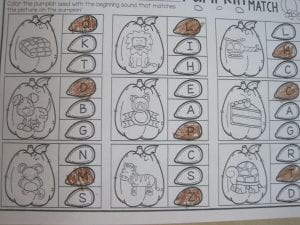 MATH:   We did a little bit of everything in math this week as we continued to work on Unit #2.  We worked on telling math stories (both + -), writing numbers in correct order, noticing 5 groups and extra ones in numbers 6-10, writing numbers 0-7, noticing partners of 5 and comparing numbers by using equal (= )and not equal (= with / through) symbols.  It was a busy week of learning!
HANDWRITING: We learned about the three different handwriting lines and how some letters are small, some are tall, and some fall below the lines.  We practiced writing "counterclockwise" letters (f,c,a,d) as well as our names. They did great but some upcoming letters are more difficult than others to form properly, so extra practice is always beneficial.  Writing with markers, chalk, bathroom crayons and even in shaving cream are some fun different ways to inspire your kinder.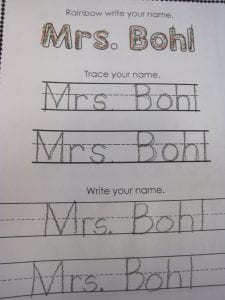 PHONICS: We spent most of the week studying alphabet charts.  The kinders worked in table groups to match pictures to the letters.  They learned that we can add new pictures to an alphabet chart to improve them and make them better. (ex: covering a picture of a rat with a picture of a rabbit). We practiced finding the beginning and ending letter quickly on a chart when shown a picture.  It was so fun to teach our stuffed animals everything we learned about alphabet charts at ABC School and to take an alphabet chart home.
SOME REMINDERS
KOOL KINDERS:   What fun to see and hear about this week Kool Kinders' show and tell items of a Barbie, a stuffed dragon, a zoo keeper doll and white stuffed dog.
TURKEY TROT:  The Turkey Trot is going to be a virtual race this year. Check out the PE blog for the Turkey Trot information.   http://mvankoev.edublogs.org
LUNCH:  Hot lunch is free for all students through the entire school year.  If your kinder orders milk with their home lunch that is a charge.
BACKPACK SNACKS: THANK YOU SO MUCH for being conscientious about sending ONLY TWO healthy, NUT FREE snacks…one for the morning, one for the afternoon.  Our snack time is short but enough time to become refueled.  Don't forget those water bottles! 🙂
Please remember to send your kinder in a coat each day to school. With this changing weather, it is important for the kinders to be warm at recess. Thank you!
UPCOMING DATES
*Monday, Oct 26—NO SCHOOL
*Tuesday, Oct 27—MUSIC
*Wednesday, Oct 28—GYM; Library…Bring back your library book, Homework packet due.   Fall Celebration donations due
*Thursday, Oct 29–ART  COLOR DAY: wear RAINBOW colors
 *Friday, Oct 30—STEAM;   Fall Celebration day. If you kinder chooses to wear a costume to school PLEASE make sure they can move freely, use the bathroom independently and quickly and wear it all day.  Keep all extra props, weapons, etc at home. Thank you! 🙂
*Friday, Nov 13–Fast Friday (early release) Dismiss at 12:15pm
*Nov 16 & 18–Virtual Parent/Teacher Conferences and Book Fair.  More information on conferences will be sent out soon!
*Nov 25-Nov 27–NO SCHOOL. Thanksgiving Vacation
Have a fabulous long fall weekend.  I will see my sweet kinders on Tuesday ~~Mrs. Bohl