A busy week of learning in school.
FIRE PREVENTION:  We spent some time reviewing fire safety rules for in school and at home.  We watched one of my favorite movies called Snuffy's Fire Bargade.  A great short movie that helped the kinders learn more about "hot spots", "Stop, Drop, Roll", "stay low and get out".  It is now available on youtube if your kinder wants to watch it again.  I didn't dare tell the kinders that I first showed this movie using a film projector with reels at the start of my teaching career. Oh, my!  That really tells you how old I am. 🙂 The movie will jump for a few seconds at the start but smooths out.  Don't miss the dragon…it is my favorite part. 🙂  We also read many fire safety books and our weekly newspaper to learn more information and just for fun.  Fire Truck by Ivan Ulz became a favorite of every kinder.  Here is a link on youtube if your kinder wants to listen to the story again and sing the song!  Here are some of the fire safety tips that we learned:
Check the smoke detectors in your house to make sure they work properly. Change the batteries yearly.

Go outside!  Talk about a safety plan for your family in case of a fire – where is your meeting spot? 

Call 911 immediately! 

Do not play with matches or lighters– they are dangerous and can cause fires! They are tools for grown-ups only!

If a part of your clothing or your body catches on fire, STOP, DROP, and ROLL. 
Many of the kinders already knew these fire safety rules.  It is good to "not be scared but be prepared". 
POPCORN WORDS:  ME   BE   WE   WILL   The kinders were excited to see that our popcorn words rhymed (at least 3 of them).  We found these words inside our daily message, we unscrambled the letters to spell them correctly and found them in books. Thank you for working with your kinder at home.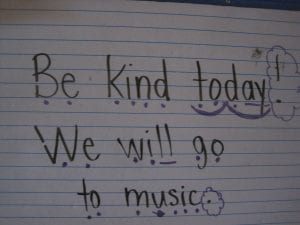 COLOR WORDS: BLACK    WHITE       We read many books with black and white characters such as Harry the Dirty Dog, Harry and the Neighbor, Harry goes to the sea, Please, Mr. Panda and Thank you, Mr. Panda .  We also watched a non-fiction video about panda bears. We all agreed they are cute black and white bears so it was obvious that we needed to make panda bears.  It was fun to use a fork as our paint brush. Thanks for participating by wearing black and white! 🙂 We also made our weekly color flip book, went on a I Spy hunt for black & white pictures and made a picture of Harry the Dirty Dog.  
MATH:  We spent the first part of the week reviewing the math skills that we learned…writing, identifying and counting object for numbers 1-5, identifying and drawing shapes, completing dot to dot pictures.  On Thursday we took our first math test using individual "office spaces" (a folder separating them from their neighbor) .  They settled in and did a GREAT job of working hard on answering all the questions.  These tests will be graded and given to you soon. I am amazed at how much each kinder has grown in their math skills and abilities!! Thank you for working and supporting them at home.  We will begin Unit #2 next week. 
We had fun practicing writing numbers 1-6 by playing PUT OUT THE FIRE on Friday.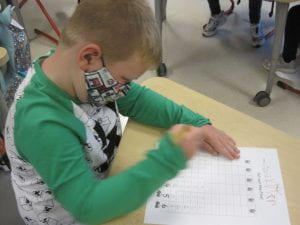 PHONICS:   Mabel, our stuffed elephant kept us busy this week.  We used our names to build new words which was really fun. (ex: Cade=Bade) We labeled various things in our classroom, stretching out the sounds of each word. We practiced handwriting & learning more words by writing some popcorn words and friends' names in our journals.  
READING: We used storybooks like Piggy and Elephant  to help us notice that characters have feelings.  Sometimes the characters even show strong feelings, as in the book Ilama llama mad at Mama. . 
WRITING: The kinders learned that Show and Tell writing can be about important places.  Together we wrote a Show and Tell 3 page book about the library. We learned (once again) that we can write across pages and add many details to each page.  While doing this we are working on stretching our words to add labels and add sentences to our writing. Writers and illustrators make decisions on what to draw and label.  The kinders worked hard to do this on each page.  Our Show and Tell book sounded like this:  We will hear a book. We will pick a book.  We will get a book.  The kinders are turning into fantastic writers!
LITERACY/SPLIT LIT:  We finished ABC Boot Camp with letters Ww,Xx,Yy, Zz.  We will continue to review these letters, practice producing their sounds in small groups and in large group. We worked in small groups with Mrs. Bynum, Mrs. DeGroot and Mrs. Bohl to practice identifying letters, producing the sounds and recognizing rhyming words. Our shared reading book for the week was It Is Too Hot!.  Reading this book together helps us in identifying parts of a book, noticing patterns, rhymes, popcorn words and more. It was pretty cool that our poem was about fall leaves. It is becoming a favorite part of our morning.
BIRTHDAY CELEBRATION:  Cora turned 6 on Oct 6! 
IMPORTANT INFORMATION
FALL PARTY:  Thank you so much for the quick response in willing to donate supplies to our upcoming Fall Party.  All requested items have been spoken for.  
BACKPACK SNACKS: THANK YOU SO MUCH for being conscientious about sending ONLY TWO healthy, NUT FREE snacks…one for the morning, one for the afternoon.  Our snack time is short but enough time to become refueled.
KOOL KINDERS:   The kinders are excited to be the Kool Kinder again.  We are now drawing out a stick with a kinder's name on it to determine the next day's Kool Kinder.  A yellow reminder note will come home the day prior. The kinders are asked to bring a show and tell item from home.  After you choose the show and tell item, please talk with your kinder about what information they are going to share with the class.  We love to hear why they chose it, who gave it to them or where did they get it, etc. 
LUNCH: Hot lunch is FREE to ALL students until Dec. 31, 2020.  If your kinder orders milk with their home lunch that is a charge.
BLUE FOLDERS and BACKPACKS:  Please get in the habit of taking out your kinder's blue folder each night and removing the papers, art work, etc.  Please place any notes back inside the folder.  That is the best place for me to find them.  Cleaning out your kinder's backpack of extra things will make it less heavy and allow more room for their folder and lunch box.  Thank you!
TURKEY TROT:  The Turkey Trot is going to be a virtual race this year. Check out the PE blog for the Turkey Trot information.   http://mvankoev.edublogs.org
UPCOMING DATES
*Monday, Oct 12—STEAM 
*Tuesday, Oct 13—MUSIC 
*Wednesday, Oct 14—GYM; Library…Bring back your library book, Homework packet due.   
*Thursday, Oct 15–ART 
 *Friday, Oct 16—STEAM;  Wear ORANGE
Have a fabulous weekend.  ~~Mrs. Bohl