Here is a peek at what your kinder did at school this week:
POPCORN WORDS:     I       SEE                                                                                      
COLOR WORD:        YELLOW     We learned another song to sing to help us spell yellow.  We read many books with yellow characters such as Pete the Cat…The Wheels on the Bus and Curious George books. We learned about different things that are yellow, practiced writing the word, made a yellow flip book and made a yellow bus craft, adding a fun message using our popcorn words, I see a yellow bus. I was able to get a safe social distance unmasked picture of all of our friends when they finished.  Mrs. Bohl LOVED getting to see our faces!!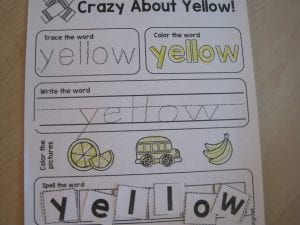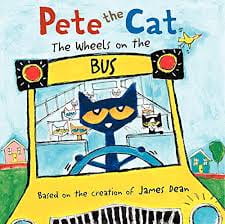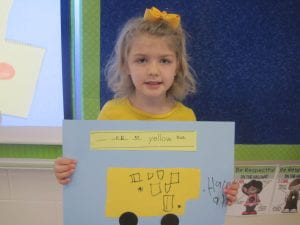 SHARED READING:  We have been practicing our reading skills by doing shared reading each day. Shared reading is a time when the kinders and I all read a poem or story together at the same time. This helps build fluency and some important concepts of reading for our little ones!  We read a poem called I See. There were familiar words in the poem (I, see, a). We highlighted the words we know and then put them in our 3 ring binder to practice at school. We also added a paper book to our book boxes, the book included our popcorn words. 
COOL TOOLS: We finished learning about the last two cool tools and then read two more books to help us know how we can further use our cool tools. 
Being Friends was a great book that showed us that it is okay that we are not all the same…we are different and special, just like a KALEIDOSCOPE. It was fun to look through a real kaleidoscope and then color our own.
We read Mine-a-saurs and learned that we can tell a friend to STOP in a kind way by saying "It bugs me when ______, I wish that you would stop."  A ladybug and a wishing wand helps us remember this. 
We read Howard B. Wigglebotttoms learns about bullies and learned about what bullying is.  The kinders were reminded about how important and useful it is to use our cool tools. We talked about how we need to care of our friends and stand up for them when someone teases them.  We are a class family….inside our room and on the playground.  We have very caring kinders.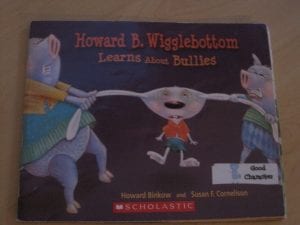 We also read A Monster who lost his mean. Monster lost his M and was now called "Onster".  We were reminded that being kind and doing kind actions is much more fun that doing monster actions. The kinders did an amazing job figuring out which actions a FRIEND would do OR a BULLY would do.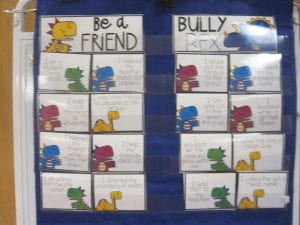 WRITER'S WORKSHOP: We practiced drawing a picture and adding a label to go with it. We listened for the first sound in the word and labeled the picture with the first sound. For example, we drew a picture of us lining up at the door. We drew ourselves and the door and then added other people to the picture. We labeled the door with a D for door and the floor with an F for floor. We also labeled ourselves. We finished our writing this week by doing a shared writing – we added pictures of our playground and labeled the pictures with the first letter sound. It was a fun way to do writing! 
ABC BOOTCAMP:  We learned about the letters Ff, Gg, Hh and Ii this week. We will continue to review letters and learn new ones.
READER'S WORKSHOP: The kinders learned what jobs the teacher and kinders do during Reader's Workshop time.
This week in readers workshop we focused on what it means to private read and partner read. They practiced reading real world books (non-fiction) using a level 1 voice (a whisper voice). We learned that we can read the pictures in the book and we need to start reading at the cover.  We then read page by page until we get to the end. We also worked on partner reading with our table buddies.  They did a great job and had fun reading together! 
LIBRARY:  We visited the library for the first time on Wednesday! Mrs. VandenBerg, our school librarian, read the book, Mr. Wiggle's Book.  This book is about how to take care of books and to be a book lover!  We learned that we must treat them very gently and be kind to them, otherwise they may break.  We also took a tour of the library and learned where we can find books to check out!  Next week we are planning to check out books.
MATH:  We read Anno's Counting again to help us better understand "number scenes," which are pictures that have a specific number of objects (3 buildings, 3 people, 3 birds, 3 bridges, etc.)  before we drew our own scenes of 2,3,4 & 5 on paper.  We also practiced ordering, counting and visualizing the numbers 1-5 by using our white boards.  The kinders enjoyed working on counting by placing play dough balls on a bus mat.  We did this all together and discussed the concept of adding one more to get the next number.
Mask Free Work Spots:  In our classroom, I have set up 2 mask free work spots for the kinders. These spots are 6 feet from peers. If at any point they would like a mask break, they may move to one of these spots with their work and unmask. They have done a great job learning our sign for this and letting their friends have a turn.  I will add more mask free spots as necessary.
IMPORTANT INFORMATION:
*OUTDOOR CLOTHING….Please continue to send a coat or sweatshirt with your child.  The weather can quickly change so it is good to be prepared.
*BACKPACK SNACK…THANK YOU SO MUCH for being conscientious about sending TWO healthy, NUT FREE snacks…one for the morning, one for the afternoon.  Many kinders are bringing multiple snacks.  Our snack time is short but enough time to become refueled.
*GYM DAYS..Please consider having your kinder keep a pair of socks either in their cubby or backpack to wear during gym days.  On these warm days, many kinders do not like to wear their gym shoes without socks when they come to school wear sandals or flip flops.
*TOWELS..Please send your kinder's towel back to school on Monday.  The towels went home on today so they could be washed over the weekend.
*LUNCH MONEY..Hot lunch is now FREE for ALL students until Dec. 31st.  Therefore, if your kinder would like hot lunch you do not need to send in money until after the holiday break.  If your kinder currently has money in their account it will be held until they take hot lunch after December 31st. 
IMPORTANT DATES:
*Monday, Sept. 14–MUSIC; Kool Kinder: Avery.  Bring back washed towels
*Tuesday, Sept 15—GYM;   Kool Kinder: Cora 
*Wednesday, Sept 16—ART; Homework due; Library….we will be taking home a book   Kool Kinder: Sawyer  Birthday celebration for Mrs. Bohl
*Thursday Sept 17—STEAM;  Kool Kinder: Marissa  EMAIL ME OR SEND A NOTE BY THURSDAY (9/17) IF YOUR KINDER WOULD LIKE A SACK LUNCH.
*Friday, Sept 18—EXTRA RECESS;  COLOR DAY…Wear BLUE!   Fast Friday (early release) Dismiss at 12:15  
*Thursday, Sept. 24—Walk-a-Thon: Please note the date change from our September calendar
~~~Have a great weekend.  If you have any questions or concerns, please contact me at kbohl@hpseagles.net  YOUR KINDER IS SPECIAL TO ME! 🙂   Mrs. Bohl