We had a great 4 day week in kindergarten, many sunny warm days to play outside.  Consider sending your kinder with a sweatshirt/coat for the cooler mornings.  We play outside unless it is raining or the wind chill is below O.  Be sure to label your kinder's coat as it is hard for them to remember which coat/sweatshirt belongs to them.  
Here is a peek at what your kinder did at school this week:
POPCORN WORDS:     A       COLOR WORD:      RED                                                            The kinders had fun celebrating the color RED today! We colored pictures, sang a red song,  read many books about a big, red dog…..Clifford.  Making a fun craft of Clifford helped us practice our cutting skills and listen to and follow directions.  It was fun to see RED shirts, RED pants, RED socks, RED hair ribbons and RED hair on Thursday.  
PROCEDURES:  We have been learning and practicing how to do many things in our classroom. From how to daily turn in our blue folders and ordering lunch to remembering our number in line and walking down the hallway at school.  They have done a GREAT job practicing this throughout our movement around our school. The kinders are working very hard to keep their hands in their own bubble space when sitting on the floor and in their lap when sitting at their table spots—and not touching their supplies when listening for directions.  Each day I see improvement.  I have a FABULOUS bunch of kinders!!!
COOL TOOLS: The kinders are continuing to work hard each day to being ready to learn by….looking with eyes, listening with ears, voices quiet, hands in own bubble space and sitting like a pretzel (when on the rug).  We are becoming mindful of each other and the climate of our learning classroom.  Our lessons about the cool tools are helping us be aware of others and how to deal with situations.   
Franklin's Bad Day helped us learn to walk away before saying toothpaste words or doing toothpaste actions to our friends.  The BIG INFLATABLE SHOE is our visual reminder.  We decorated our own shoe to take home.
 When I am angry helped us learn that taking time to chill out when we feel upset is okay. We learned about our Calm Spot or other things we could do like talk to an adult, take a walk with an adult, etc…  The ICE CUBE TRAY is a good reminder.  We played a fun game using a real ice cube and said it was important for us to cool down when we feel angry or upset.  It was COOL! 🙂 .   
We read Hurty Feelings and learned that the tone of your voice and how we say words is very important.  The microphone helps us remember this. 
WRITER'S  WORKSHOP:  The kinders found that writers share information with others about what they know. Examples of these topics were WHAT IS YOUR FAVORITE COLOR? WHAT DO YOU LIKE TO EAT FOR BREAKFAST?  They practiced this by taking turns with their table buddies to be the jelly (speaker) and the peanut butter (listener). The kinders did AWESOME!!!  We also learned that we can think of something that we know about, talk about it and then draw it.  Our topic….wearing masks!  :). It is fun seeing all the different designs on everyone's masks. 
SPECIAL READER:  We were SO EXCITED to have our principal, Mr. Waldie visit us and read one of his favorite books to us, Elephant and Piggie, A Big Guy Took My Ball! by Mo Willems. He even had a mask with Elephant and Piggie on it!  We laughed a lot because the characters in the book were so funny. It was nice to have him visit our room!
READER'S WORKSHOP:  During our first reading workshop lesson, the kinders learned that readers walk through the world in a special way.  They don't just see things, they read things too!  We learned that we are readers and can already read different signs in our school, in our classroom and out in our world!  The kinders were excited know that they were able to read familiar environmental print signs. We are learning to LOOK, READ, THINK, LEARN!
We also talked about what it means to be a "Book Lover".  We learned that a book lover takes care of their books by being gentle with them, not eating or using supplies around them and putting them back where we got them from.  We practiced being a book lover with books at our table spot.
MATH: We started number writing during our handwriting time, stressing that we always start our numbers at the top!  This week we wrote numbers 0,1,2.   We drew pictures to show their number sense like 1 flower, 2 balloons.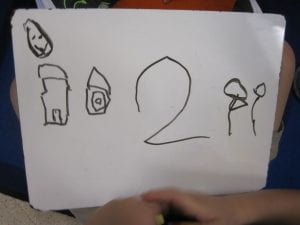 We read Anno's Counting Book, discussed numbers 1-10 and went on an I Spy hunt on the book pages for objects that corresponded to  that number. 
The kinders were introduced to the number tiles 1-5 and 10 counters.  We also learned how to count a group of objects and find different ways to arrange them.  For example: 3 can be shown with 1 red tile and 2 blue tiles or 3 can be shown with 3 red tiles and 0 blue tiles.
Quiet Time:  Each day we have quiet time after lunch for 20-25 min.  The kinders  have a chance to rest their bodies and brains so they will be ready to learn for the rest of the afternoon.  
ABC BOOT CAMP:  Letters Bb, Cc, Dd and Ee were spotlighted this week.  We are practicing identifying the letters and making their sounds by singing fun songs too.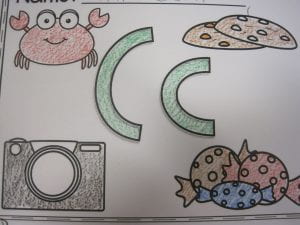 NOTES FOR MOM AND DAD
*Backpack snack.—Pack TWO quick, heathy snackS each day.  Be sure to place it in a special small pocket so that it is easy for them to locate.
*Blue folders—send them to school each day (you are all doing a great job with this!  Thank you!!)
*If ordering a hot lunch or milk, please discuss with your kinder what they will be ordering so that they are comfortable and secure with their selections.  
*Parents, please subscribe to this blog so that you are alerted when information is posted about happenings in our classroom.
UPCOMING DATES:
Monday, Sept. 7–No school. Labor Day
Tuesday, Sept 8—MUSIC;  Return a washed SMALL beach towel. Book Orders due (online…class code L77G6 or paper form/check)   Kool Kinder: Valentina
Wednesday, Sept 9—GYM; Library  Kool Kinder: Braydon
Thursday Sept 10—ART;  Kool Kinder: Aryana 
Friday, Sept 11—STEAM, Kool Kinder:  Anora  COLOR DAY….Wear YELLOW!   
Have a restful weekend. Sleep well. We have a 4 day week ahead. Thank you for sharing your kinder with me. They are wonderful!  Mrs. Bohl