Good morning my wonderful kinders!  What can you do today that would make your family happy?  Be creative!  Today's video: 
. We will have our weekly class ZOOM meeting tonight at 6:30pm.  I hope that you are able to join us.  We will do a  rhyming scavenger hunt and listen to a story.  Check your email for the link soon.
Kinders at Work: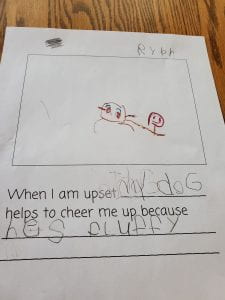 Today's read aloud is The New Baby by Mercer Mayer.  Congratulations to Emmie and her family.  She is a big sister to a new little sister, Lainey Celine, who joined their family April, 28th at 3:45pm weighing 7 lbs 1 oz.