Welcome to March and the anticipation of spring.  We learned this week that the weather during March can be like a lion (wintery, cold) or a lamb (spring-like,warm breeze). The kinders made a lion or lamb based on how they think March will begin.  Check out our results….I think that there might be quite a few disappointed kinders if we don't have spring like weather. 🙂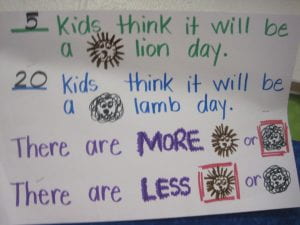 MATH: Number bonds were introduced to the kinders this week. This is just another way to see number partners.  The kinders did an amazing job working with this new skill. Tiny Tumblers who live on Math Mountains were practiced again. The Tiny Tumblers practice their tumbling all day long.  Some Math Mountains have a lot of Tiny Tumblers on one side of the mountain and not so many on the other side, but when you count all of the Tiny Tumblers they equal the Math Mountain number. These math mountains help the kinders learn and practice number partners. For example, on math mountain 6 there are 4 tiny tumblers living on one side and 2 tiny tumblers living on the other side.  (4+2=6)   We also practiced identifying 3D shapes and positional words such as under, above, behind, between, in front of, etc.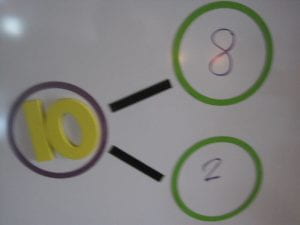 Friday math games focused on math skills like number partners, identifying teen numbers by showing the ten and extra ones in ten frames, identifying numbers 1-20 and solving addition problems.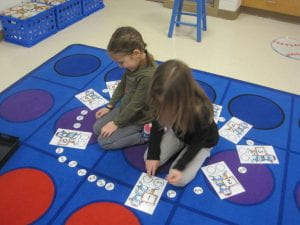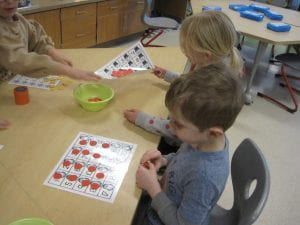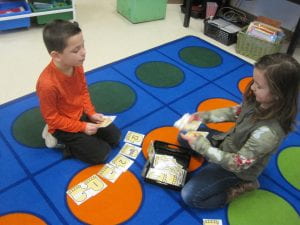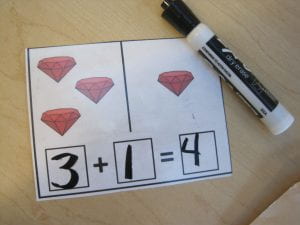 POPCORN WORDS:  AND    GET  The popcorn words are becoming a bit harder to recognize so I can not stress it enough that practice at home is so crucial to your child's growth.  We practice identifying our words many times and in many different ways throughout the day but your child needs to practice them at home too.  Thanks for taking on this important role. Your February flash cards are inside your kinder's folder.
WRITING WORKSHOP:  We started to learn about PERSUASIVE WRITING.  First we thought of a problem like "not all kids are walking in the halls".  Next we thought of how we could convince others why you need to walk in the halls.  Our reasons were "Kids can get hurt.  It is a school rule." Then we figured out a solution such as "Kids need to walk looking forward."  Finally we learned that we can tell others by making a sign or poster.  Celebrate with your kinder as they show you their writing & sign this weekend.  This was hard work but everyone persevered.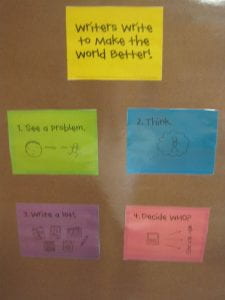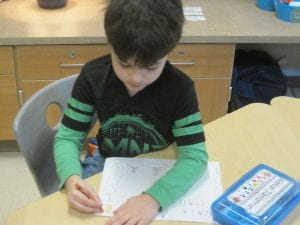 SOCIAL STUDIES: We finished up our learning of Me on the Map.  This week we learned that our town is called Hudsonville.  We used symbols to locate various buildings on a map. Each of the kinders were able to write their own street and house number inside of the booklets.  It was fun to hear that some of the kinders live on the same street. The kinders' bedroom map was included inside of your kinder's booklet if they brought it back.  We are SO lucky to live in the fabulous state of Michigan and this amazing town of Hudsonville.
READING: We started learning about reading playdates!  We learned that avid readers don't only share books, they are always inventing fun things to do with books and friends.  We used the chart below to guide us with our reading play dates!  Students were able to pick if they wanted to play school, play games or play pretend! The students had fun working with their partners and taking part in the reading playdates!  We also learned that really good readers act out the story in their mind, every time they read.  We are learning that reading is a lot like going to the movies because of all the pretending we are doing!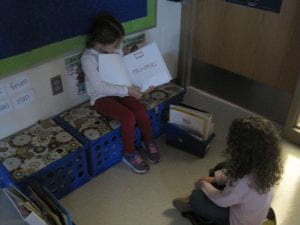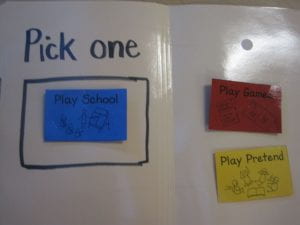 MYSTERY READER: Landon was happy to see his grandma come to school.  She read Pancakes! Pancakes! by Eric Carle because she likes to bake and make pancakes with Landon.  Thank you so much for stopping by.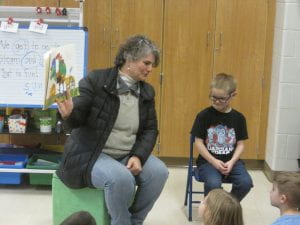 KOOL KINDERS ARE BOOK LOVERS: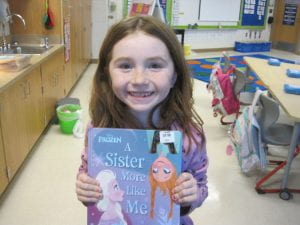 Ariya likes Frozen so A Sister Like Me is a favorite book.
Sutton enjoys reading Be my Valentine, Peter Rabbit.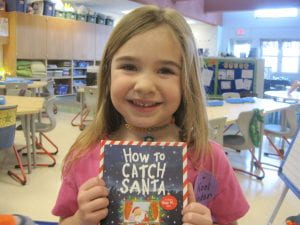 Sabrina likes to follow the steps at Christmas for How to Catch Santa.
Landon likes bugs and There was an Old Lady who swallowed a Fly!
Major brought in a cool book filled with fun facts about Undercover Animals.
REMINDERS
*WINTER GEAR:  The cold weather is still here.  THANK YOU for sending your kinder with all that they need to stay warm outside.  Just a reminder, we will be outside for recess if the temperature is above O degrees.  Keep watching the weather forecast each day.  The playground is dirty, please continue to send your kinder with boots and snow pants! Thank you!
*BACKPACK SNACK: Please, please remember to send 2 quick, healthy snacks for your kinder, as we take a moment to refuel each day. Thank you.
*TAKE HOME books: Your kinder is doing an awesome job reading books.  You may have noticed that many of the kinders have moved up a level and there are different colored stickers on their books. Continue to assist and encourage them as needed.  Please help your kinder to remember to return their book baggie EACH Monday and Thursday so that they are consistent with their read aloud practice and are able to check out a new book each time to build their reading experiences.  Don't forget to sign the parent sheet and include comments or observations you feel may be helpful.  The kinders are doing a fabulous job…thanks to your work at home and the reading volunteers.
MONTHLY CALENDARS: Three March calendars are available for you to view.  Hot lunch calendar,  March calendarPlease take note of the REVISED copy that was sent home today.  It has the correct weekly popcorn words listed .  March is Reading calendar . Watch for a sign up for opportunities to donate special snacks for celebrating March is Reading month!
  UPCOMING DATES:
*MONDAY, MARCH 2––ART; reading TAKE HOME books; Dr. Seuss celebration–wear red, black & white
*TUESDAY, MARCH 3––STEAM
*WEDNESDAY. MARCH 4––MUSIC; LIBRARY  Please remember to return your kinder's book.
*THURSDAY, MARCH 5–—GYM; reading TAKE HOME BOOKS;  EMAIL ME OR SEND A NOTE BY THURSDAY (3/5) IF YOUR KINDER WOULD LIKE A SACK LUNCH.
*FRIDAY, MARCH 6—ART;  FAST FRIDAY Dismissal at 12:15pm  SHINE A LIGHT ON READING—Bring a Flashlight!
*MARCH 8: Daylight Savings…spring forward! 
*MARCH 9 & 11–—Parent-Teacher Conferences: Parent slips stating your specific date and time were sent home.  I am looking forward to sharing your kinder's awesome progress with you.
*MARCH 9-12–SPRING BOOK FAIR:  We are scheduled to purchase books on Wednesday, March 11. If you would like to have your kinder purchase books, please send the money inside an envelope labeled with their name.  Parent volunteers will be available to help your kinder shop.  The Book Fair will be open during the conference evenings.
*APRIL 2-—Kindergarten PJ Day!  Wear jamies (or comfy) clothes.
*APRIL 3-10––SPRING BREAK:  NO SCHOOL
~~Have a great weekend.  Mrs. Bohl