It was a short week but still full of learning!  Our class is filled with outstanding kinders who are working hard at school.  One of the most  challenging things the kinders are working on is to stop talking to friends and choose to listen to directions/information when teaching is occurring.  Any encouragement you can give your kinder at home would be appreciated and helpful.  🙂
POPCORN WORDS:  HOW   NOW   The kinders noticed right away that these two words rhyme and that we wrote "how" A LOT of times during our How to….writing.  The kinders thought it was pretty neat that /ow/  has two different sounds in words.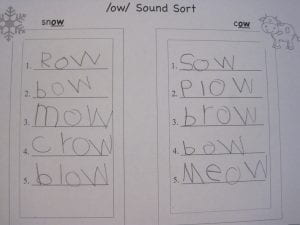 READING:  We focused on comprehension this week.  We read a book and talked about what the character did first, next and finally the last!  We also discussed the setting of the story, who was in it and what the characters were doing. This type of retell was great for building our comprehension skills.  Feel free to work on retelling when reading storybooks with your kinder at home.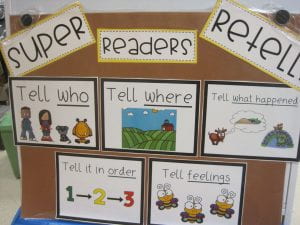 MATH:  Wednesday was filled with math activities because of Day 100. (See the earlier posting.)   Thursday we made teen numbers 11-20 using a 10 group and extra ones using ten sticks and mini cubes.  We also practiced writing and drawing teen equations (10+3=13).  During Friday math games we worked on our math skills of identifying shapes, adding 2 numbers and graphing.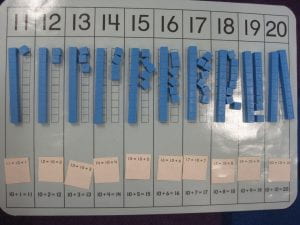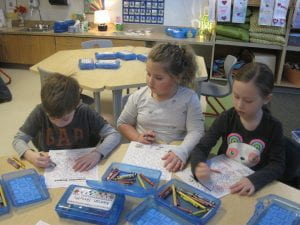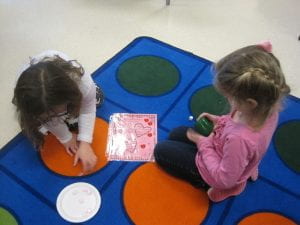 CRAFT:  I introduced the kinders to one of my favorite book characters, Love Monster. We read Love Monster and learned about making friends.  The kinders had fun making their own Love Monsters!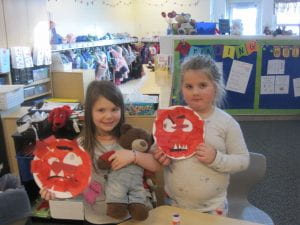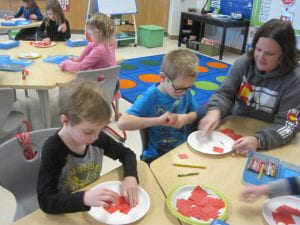 WE HAVE MAIL:  Yes, we have mail inside our of valentine mail bags.  How exciting!  The kinders were able to begin mailing the valentines this week. They were a bit disappointed that the mail bags were not coming home right away but they became excited when they found out more valentines are coming their way.  Memory kind of moments.  🙂  I also wish that I could include the conversations that took place during these first mailings.  So many kinders filling each others' buckets by offering to help and squealing with excitement when they saw similar valentines.  Oh my…I love this time of the year!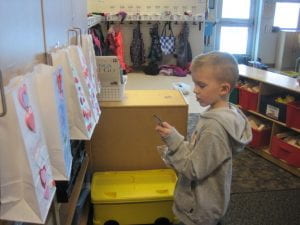 *KOOL KINDERS ARE BOOK LOVERS:
 Lucas' favorite super hero is Batman so he brought the book Batman 5 minute stories.
 Kieran really thinks Dr. Seuss writes funny books so he brought One Fish, Two Fish, Red Fish, Blue Fish.
 Ryleigh brought two books but we only read her second favorite book, Ryleigh Saves the Day because her most favorite book 50 States in Every Vehicle was too long to read. 🙂
BIRTHDAY CELEBRATIONS:  Thank you for all of the birthday treats!
  Reagan had a birthday on Monday, Feb 3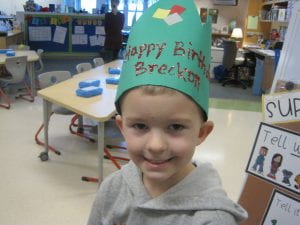 Breckon had a birthday on Tuesday, Feb. 4
REMINDERS
*VALENTINE PARTY:  We will celebrate as a class Friday, Feb 14 from 2:00-3:00pm. Party center volunteers please arrive by 1:35pm for instructions and set up. PLEASE HAVE NON FOOD DONATIONS BROUGHT INTO SCHOOL BY TUESDAY, FEB 11. FOOD DONATIONS DUE ON FRIDAY, FEB 14. Thank you to all the parents who are donating and preparing our activities.   Here is the link to the sign up list 
*WINTER GEAR:  Please send your kinder with all that they need to stay warm on the bus ride and while playing outside….snow pants, hats, mittens, boots. Just a reminder,  we will be outside for recess if the temperature is above 0 degrees. We play out in the fields, and our playground does not get plowed, thank you for your help. 
*MONDAY, FEB 10—MUSIC; TAKE HOME books;  Bring 5-6 valentines to mail   Celebrate Isla's birthday 2/9
*TUESDAY, FEB 11—GYM:  Bring 5-6 valentines to mail;  NON FOOD DONATIONS FOR THE VALENTINE PARTY DUE
*WEDNESDAY. FEB. 12—ART;  LIBRARY Return library book!  Homework due.  Bring 5-6 valentines to mail
*THURSDAY. FEB. 13—STEAM
*FRIDAY. FEB. 14—- MUSIC;  Valentine's Day Party  1:50-3:00pm FOOD DONATIONS FOR PARTY DUE
~~~~Have a fantastic weekend.  Stay safe and warm . Mrs. Bohl