IT IS SO GOOD TO BE BACK WITH MY KINDERS!  I AM FEELING BETTER EACH DAY.  THANK YOU TO ALL OF THE KINDERS WHO MADE ME FABULOUS GET WELL CARDS.  I LOVED READING THEM!  I HAD SUCH A SWEET SURPRISE WAITING FOR ME MONDAY AFTERNOON….AN AWESOME GIANT WELCOME BACK CARD (SIGNED BY ALL OF THE KINDERS) AND THESE LOVELY FLOWERS (COURTESY OF MRS. BYNUM & MRS. SREMBA) . I AM TRUELY BLESSED TO WORK WITH THOUGHTFUL CO-WORKERS AND HAVE SWEET KINDERS IN MY CLASS!  
MARTIN LUTHER KING JR DAY:  On Monday, we celebrated Martin Luther King Jr.  We learned that he was a famous American who was known for his dream that all the people in America would learn to get along and live in peace with each other, regardless of the color of their skin.  We spent the day reflecting on Dr. King and discussing how we can continue his legacy by being kind to others.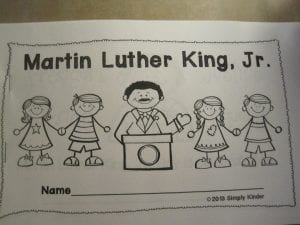 SPLIT LIT:  This week's activities focused on building a sentence, writing popcorn words, identifying popcorn words, listening for initial, medial and final sounds in words, changing initial letter to make new words & syllables. I am so proud of the progress that they are making.  It was a good week of working hard during this time.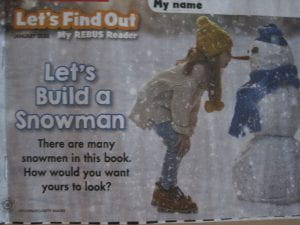 MATH: Here are few math skills we covered this week.  Decomposing teen numbers to show ten and extra ones.
Writing number partners, teen numbers and solving addition & subtraction problems.
The kinders played math games on Friday of BEARS IN THE CAVE (number partners of 7); TEEN MEMORY GAME (matching teen partners & totals); MAKE A FAMILY OF 5 SNOWMEN (number partners of 5): ROLL & COVER (addition)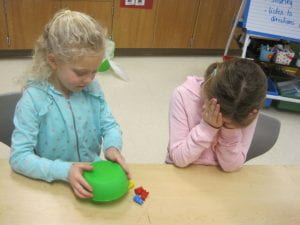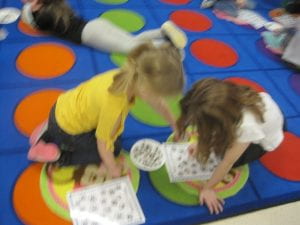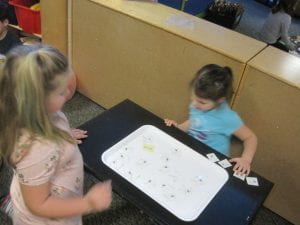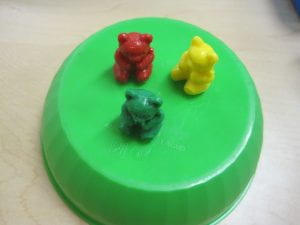 We will become "office workers" by taking our unit #3 test next week. The test will cover number partners, showing teen numbers as tens and extra ones, solving addition & subtraction problems, combing shapes to make new shapes and more.
POPCORN WORDS:  HE   SHE   It was fun to see that if you add "s" to "he", you have "she".  We learned that SH is part of the "h brothers" family (sh,ch,wh,th).  The kinders did a fabulous job identifying if the /sh/ sound is at the beginning or ending of words.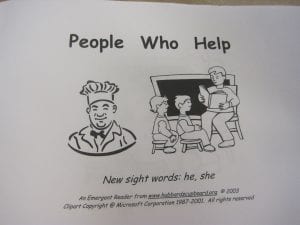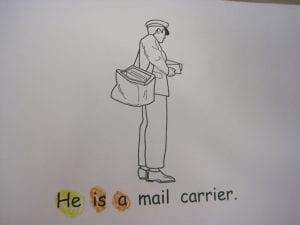 WRITING:  We wrote HOW TO… stories using another new format….a booklet form.  That was exciting!  We wrote about How to eat a snack, How to make a friend and How to make birthday wishes. The Kinders are getting more and more comfortable writing how-to papers, trying a little more on their own each time. Way to go Kinders!
READER'S WORKSHOP:  We used a book this week called Can you see our eggs? to help us learn that readers notice blends, like "gr" in "ground" or "fl" in "flower" to solve tricky words. We reminded ourselves that we can do this through sound power; looking closely at the beginning and the ending sound to solve the word.  We also learned that when we come to a word we may not know, we can bring out a magnifying glass to look closely at the letters.  We come to a snap word, we put the magnify glass away because we should know that word in a snap! It is so exciting to see the kinders making a connection to these reading skills when we are reading or writing together. Keep practicing those snap/popcorn words at home with your kinder!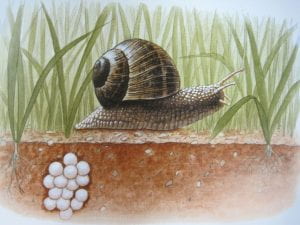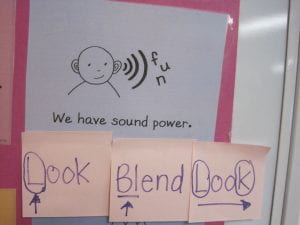 HANDWRITING: We practiced writing our full names….first and last names correctly.  Any extra practice at home would be helpful.  Some ideas to make writing fun is to use shaving cream (messy but oh so fun!), markers, pour salt in small tin, covering just the bottom and use finger to write, build name using blocks, legos, Cheerios, etc.
MYSTERY READERS: We were lucky to have 2 mystery readers this week.  On Wednesday, Evelyn was surprised to see her mom step into the room.  She read What Should Danny Do?  A fun book that we allowed us to make choices throughout the book to see how it would end.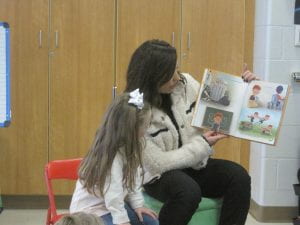 On Friday, it was Kennedy's turn to be surprised.  Her mom chose the book, 10 Rules of Birthday Wishes because it was Kennedy's birthday.  What a special book that told us how to make birthday wishes.
Here are pictures of the Mystery Readers when I was gone.  Thanks so much for coming in!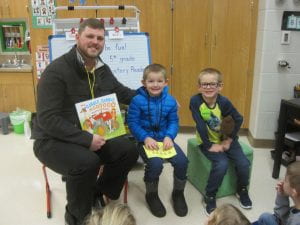 HAPPY BIRTHDAY to Kennedy.  She turned 6 on Friday.  Thanks for the fun treat!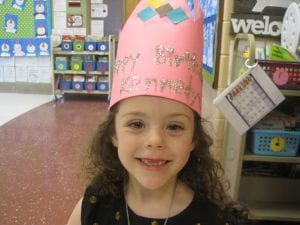 KOOL KINDER:  Snuggles had so much fun visiting your homes.  The kinders are going to enjoy their time with Snuggles at school.  For this turn of being the Kool Kinder, they are choosing a favorite storybook from home and bringing it to school so that we can read it together.
Allan brought Chicka Chicka Boom Boom because he loves learning about the alphabet.
Breckon chose Tyranosaurs Rex because he likes dinosaurs and this book was filled with popcorn word so he could read it by himself!
Kennedy shared her book of Princess! Fairy! Ballerina! because she wants to be a ballerina.
REMINDERS:
VALENTINE FUN:  A note arrived home this week about our upcoming Valentine Party.  It will be on Friday, February 14, from 2:00-3:00 p.m. As part of our Valentine celebration, we will be making Valentine "mailboxes" at school.  If your kinder would like to bring in valentines for their classmates, please use the labels that were sent home for easier valentine addressing.  You can begin sending valentines on Feb. 6, allowing the kinders time to deliver their Valentines in class. 
WINTER GEAR: Please remember to send your kinder with snow pants, boots, a hat, gloves/mittens and coat every day!  
SNACK:  Please remember to send 2 healthy snacks with your kinder each day.
TAKE HOME BOOKS – Please remember to return TAKE HOME books every Monday and  Thursday.  Look for new books to be coming home on those days too! Happy Reading!
CALENDARS:  Here is the  FEBRUARY calendar   You can read about upcoming events, birthdays and more.
UPCOMING DATES:
*Monday, January 27— GYM, Bring back TAKE HOME books
*Tuesday, January 28—ART
*Wednesday, January 29—STEAM;  LIBRARY Don't forget your book!  Homework packets due
*Thursday, January 30—MUSIC. Bring back TAKE HOME books;  Email me by 1/30 if your kinder would like a snack lunch tomorrow 1/31
*Friday, January 31—MUSIC;  Fast Friday (Early Release) @ 12:15pm
*Mon. Feb 3 & Tues. Feb 4—Winter Break
*Wed. Feb 5—School again!   Day 100 celebration  Bring in 100 collection! (see note that was sent home)
*Friday, Feb 14–Valentine Day Party 2:00-3:00pm Parent volunteers for this party have been contacted.  Watch for a sign up list coming this week for party donations!
Have a great weekend!   Mrs. Bohl