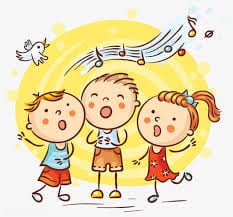 Important Music Program Details
Your kinder's first Georgetown Holiday Music Program is this Thursday, December 12! We are SO excited to perform for you!! Here are all of the details regarding this year's program:
Georgetown Holiday Music Program
December 12, 2019
Fair Haven Church
6:30 – 7:00   K-2nd     
(kinders report at 6:15)

7:45 – 8:15   3rd-5th   
(Students report at 7:30)


Where is the church?
Address: 2900 Baldwin Street  Hudsonville, MI 49426.
Fair Haven Ministries is located down the road from Georgetown Elementary at the corner of Baldwin Street and 28th Ave.   Our school has grown so big that we need a big space to perform!  They graciously let us rent their auditoritum for our performance.  
What time do kinders need to be at the church?
Kinders need to report to their assigned classroom 15 MINUTES PRIOR TO THE PROGRAM. 
It is very important not to be late so teachers have enough time to line up kinders in their riser orders, pass out props and make sure everyone who has a special part is accounted for. Please do not send your kinder to the classroom unsupervised or prior to their scheduled time.
Where does my kinder need to go when they get to the church?
There will be signs at the church directing you to your kinders' classroom.
Below is the room assignment for kinders
K – Family Life Center
How long will the program be?
Each group will perform for about 30 minutes. There will be 45 minutes between the two programs for K-2nd grade students to leave and upper elementary students to arrive for the next program.
What order are the grades singing?
The grades are singing in order of age: Kindergarten perform first, then 1st/2nd grade, then 3rd grade and finally 4th/5th grade.
Your kinder will sit as a class (with the audience) after their performance.  They will watch their peers perform. 

PLEASE KEEP YOUR KINDER'S COAT WITH YOU. MRS REAGAN WILL DISMISS YOUR KINDER TO YOU AFTER THE ENTIRE PROGRAM IS DONE

.
Can we save seats early in the day?
No. The only reserved seats will be for the directors, videographers, and teachers. 
Seating is first come first served at that time. 
PLEASE be respectful and courteous to other families. Everyone wants a good seat and we will do our best to fit everyone into the auditorium.  Please try to keep young children on your laps and not to take up unnecessary seats in order to leave more space for others.  
Is food or drink allowed in the church?
No food or drink is allowed in the church. This is strictly enforced.
We are so gracious to Fair Haven for allowing us to rent their facility and we need to abide by their rules.
 
Do the kinders need to wear anything special?
No. Most kinders love to dress up and will wear special holiday dresses or outfits, but there is no requirement.
The exception to this is if your kinder has a special part. Some parts require special costumes. Many costumes are provided, but some may have to be brought from home. If your kinder has a special part, they should have brought home a "congratulations" letter that would say if they need to wear or bring anything special. Please note that if your kinder has a special part that requires a costume, they will NOT have time to change in between songs and will need to wear their costume for the entire performance.
How do students get special parts?
For most parts, students audition during the school day. Sometimes if Mrs. Bretz has simple parts she randomly choose students or choose random class numbers. She also keeps track of every student who has ever had a Christmas program part from Kindergarten through 5th grade. Whenever possible, Mrs. Bretz tries to give parts to students who have not ever had parts or who have not had parts in the past couple years. Typically, she will have about 50-100 students audition for one part! She narrows the students down to about 20 and puts those names in a bowl and draws out a lucky winner. Although Mrs. Bretz would love everyone to have a part, having almost 600 students and only a handful of parts each year is very difficult. She discusses this with the students and they realize everyone cannot have a solo part, but that EVERY single person is important to the success of the program. Most songs have special props or motions that involve everyone as well.
Who do I contact if I have questions?
Please email Mrs. Bretz (our music teacher and holiday program director) at abretz@hpseagles.net.