POPCORN WORDS:     LOOK      RUN     FROM  Like always, we used them in the our writing and found them in books!  Our shared poem and book also contained words that we could read.  We had fun making some new words by adding a new letter at the start of "an".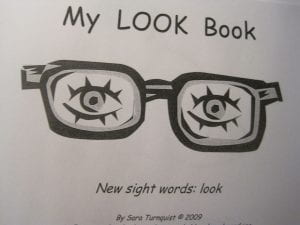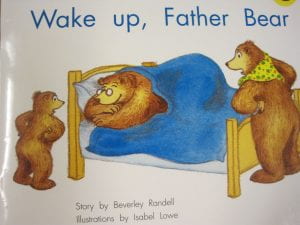 GINGERBREAD MAN:  He likes to run!  The gingerbread man has many ways of avoiding being caught! We found this out by reading  The Gingerbread Man by Karen Schimdt.  Next week we will be reading different versions of this story.  Will he get caught?  Will he escape?  Wait and see! Even our newspaper was about how to make a gingerbread man cookie and more at a bakery!
I hope that you had fun decorating your gingerbread boy/girl at home.  They are fantastic and special.  Hopefully, these gingerbread men won't run away!! 🙂  For now they are on our board. 
MATH:   We practiced telling and solving addition and subtraction stories all week.  The kinders are doing a great job solving these problems.  We practiced seeing 5-groups and more in numbers 6-10 and building teen numbers (10+3=13). We used the break apart stick (popsicle stick) to show partners of numbers (4+2=6, 1+5=6, etc) when using math tiles.  The 3 Friday math games focused on making patterns, counting by 10's and graphing.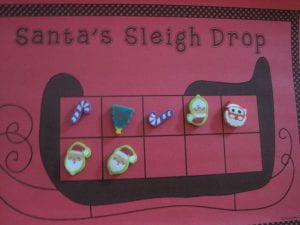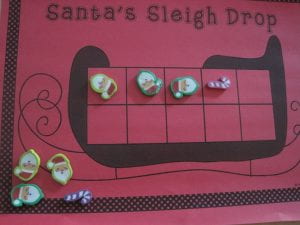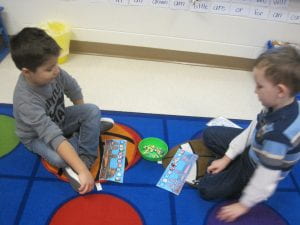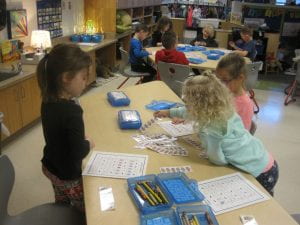 READING:  The kinders learned that readers work hard to read words they know smoothly.  We learned how to make our books come to life by paying attention to the punctuation.  We learned how to sound excited when we see exclamation points and how to have a questioning voice when we see a question mark.  We also learned on how to use a voice that pulls readers in and how understanding of our book is important, otherwise our listeners may not understand it either.  We ended the week by learning about "book talk" power.  This is when we talk about the books we just read.  We tell the listener all of the important parts.  Book talk power is great for strengthening our comprehension skills!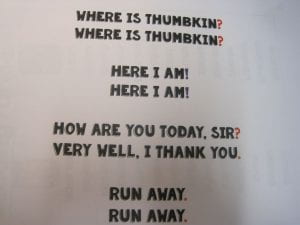 SPLIT LIT:   All of the literacy activities were holiday themed and dealt with identifying letters and their sounds, blending and segmenting sounds in words, writing popcorn words and beginning and ending sounds in words.  This is one of our favorite times of the day….having fun while learning!
WRITER'S WORKSHOP:  We learned that our writing pens have two jobs…one side is for writing and one side is for pointing when we need to reread what we wrote.  Writers use many different tools to help them write fabulous stories.  A checklist is one tool. We learned that words must have a vowel (hard worker) to sound right.  Another tool is our vowel chart which helps us remember the sounds the vowels make. The last tool we learned that that writers use is the word wall.  This chart makes it easy to find popcorn words in a snap.  We used all of these tools working together to begin writing about making Stone Soup before the kinders started writing yet another personal narrative story.  This is hard work but I am so proud of how hard the kinders work during this time.
HANDWRITING:  We started to learn the proper formation of UPPER CASE LETTERS.  This week the focus was on the STRAIGHT LINE FAMILY…LT,I.F,E,H.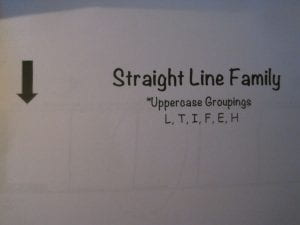 MYSTERY READERS:  We had 3 mystery readers this week.
On Monday, the kinders didn't know the mystery reader but I did.  My oldest daughter, Hannah and my granddaughters, Madeline (3) and Abigail (1) came to school. Hannah was still on Thanksgiving break from her school so it worked out perfectly.  She read Froggy Learns to Swim because Madeline LOVES to swim in Oma's (my) pool and Madeline likes to read Froggy books.
On Wednesday, Lucas was thrilled to see his mom step into the classroom.  She read one of their favorites for the holiday season Snowmen at Christmas.  What a great book to imagine what snowmen do during the night.
On Friday, Reagan was all smiles when her Dad came to read us Santa is coming to Michigan.  A nice story that follows Santa's trip to various cities in Michigan as he delivers his toys.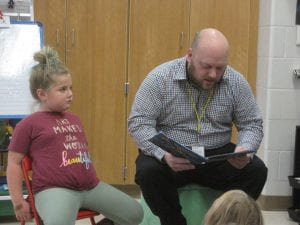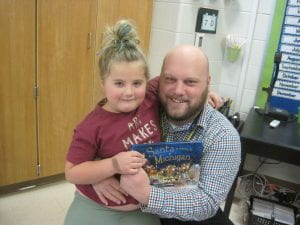 IMPORTANT INFORMATION
Books for the holiday book exchanged are due next week, Thursday (Dec 12).  Please have your kinder bring in a wrapped book.  They may fill out the "from" section but please leave who it is to blank.  If you ordered a book through our book order, I will send the book home with your kinder as soon as the books comes in or I will let you know if they are gifts. 
UPCOMING DATES
*Mon. Dec. 9  GYM
*Tues. Dec 10  ART
*Wed. Dec 11  STEAM;  Library Don't forget to return your book!
*Thurs. Dec 12 MUSIC;  Wrapped books due for our Holiday Book Exchange if you would like to participate.  Holiday Music Program… We will travel to Fair Haven to rehearse from 10:00-11:00.  6:15 kinders arrive, 6:30 p.m. program at Fair Haven Church in Jenison.  If your kinder would like a sack lunch from the lunch service, please email me or write a note by Thursday, 12/11.
*Fri. Dec 13    STEAM;  Fast Friday (Early Release…dismissal at 12:15am)   
*Dec 16—Holiday Gift Shopping  2:00-2:45pm.  Parent volunteers will be available to help your kinder shop.  More details coming soon    Wear Red and Green Day
*Dec 17—Wear Holiday Hat Day
*Dec 18—Grinch Day  
*Dec 19—Holiday Party  2:00-3:00PM Volunteers have been contacted.  If you would like to donate supplies, the sign up is HERE.  There are some open opportunities still available!
*Dec 20—Polar Express Day   Wear jamies to school
*Dec 21-Jan 5—Holiday Vacation   School resumes on Monday, January 6